Germany Berlin Festtage [2] – Wagner, Die Walküre: Soloists, Staatskapelle Berlin / Thomas Guggeis (conductor). Staatsoper Unter den Linden, Berlin, 5.4.2023. (MB)
Production:
Director, Designs – Dmitri Tcherniakov
Costumes – Elena Zaytseva
Lighting – Gleb Filshtinsky
Video – Alexey Polubpoyarinov
Dramaturgy – Tatiana Werestchagina, Christoph Lang
Cast:
Siegmund – Robert Watson
Sieglinde – Vida Miknevičiūté
Hunding – Mika Kares
Wotan – Michael Volle
Brünnhilde – Anja Kampe
Fricka – Claudia Mahnke
Gerhilde – Clara Nadeshdin
Helmwige – Christiane Kohl
Waltraute – Michael Doron
Schwetleite – Alexandra Ionis
Ortlinde – Anett Frisch
Siegrune – Natalia Skrycka
Grimgerde – Anna Lapkovskaja
Rossweisse – Kristina Stanek
A prisoner has escaped in transit. Unpredictable and aggressive, as the video report informs us during the Act I Prelude, he is sought by police to return him to his institution. Someone knows what he is doing, though, and has maybe even had a hand in his escape: Wotan watching Hunding's hut/apartment through a one-way window. If the glint and polish of the Research Institute's wood panelling have previously suggested something with roots in the German Democratic Republic, yet a little too nouveau simply to be that, here we come a little closer to source (though it may still, of course, be a similarity rather than a straightforward portrayal).
Take the U-Bahn further east from Unter den Linden, to Lichtenberg's Magdalenenstrasse, and you will alight on a platform whose walls display twenty murals by Wolfgang Frankenstein and Hartmut Hornung, depicting the history of the German workers' movement from 1848 to the founding of the GDR. Exit the station, and you will soon find your way to Normannenstraße 22, whose 'Haus 1' contains the offices of Erich Mielke, head of the Stasi. The wood panelling uncannily resembles the distinctive design of those offices, whose conference room contains the only artwork – as opposed to a documentary depiction – I can think of celebrating the construction of the Berlin Wall, another piece by Frankenstein, an emigrant from the West. This may or may not have been Tcherniakov's intention in his own designs. I still suspect, partly on the basis of other productions, that the look of both sets and costumes may represent to him something more post-Soviet and avowedly psychiatric-therapeutic, not of course that the continuation of such activities post-1989 has been unknown, whether in Russia, whose NKVD was the avowed inspiration for the Stasi, or elsewhere. Yet it surely has resonances here in Berlin, in a production concerned with scientific or pseudo-scientific experimental psychology, observation, and discipline.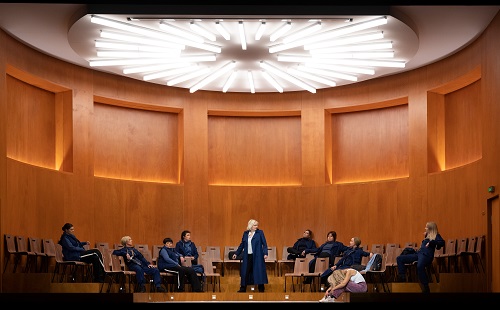 The way the gods pass in and out of an apparently human dwelling, or site for observation, has obvious parallels, whilst remaining true to exploration of what form the gods might take in the world of heroes and humans. Hunding, a police officer, doubtless thinks himself well provided for — and in many ways is. It comes, however, at a price, as does everything, and Wotan-Mielke's price will ultimately be death. (Mielke admitted that extra-judicial execution was an ultimate tool at his disposal.) Police Valkyries, learning their trade from their father, certainly entertain doubts, Brünnhilde's of course the longest-lasting, yet all but her fall in ultimately. What else could they do? Siegmund faces a similar fate, more brutal, at the hand of other Wotan underlings; he puts up a fight, yet diagnosed psychologically disturbed, the end is always in sight. All the while on another floor of the research centre, though only occasionally visible to us, the Norns continue their work of classification, of filing, of recording.
There are oddities, or at least details for which I cannot account. There remains a problem with objects that do not appear even in substitute form: not necessarily their lack of appearance, though that may present a problem in itself, but at least a lack of clarity as to why they are absent. I can speculate as to why Wotan brings a hooded Sieglinde back with him, so that she witnesses what becomes of Brünnhilde. There is no escape, after all, and this may be part of her treatment; she is clearly, unsurprisingly, traumatised by it all. I am nevertheless not sure, ultimately, what it added. More puzzling was Wotan's clearly seeing Brünnhilde, and she him, on storming in to the panelled Valkyrie lecture theatre, only for him to ask 'Wo ist Brünnhild?' It did not seem to be ironic and, if it were, the end of that irony remained obscure.
Scenically, much of that act was somewhat on the uneventful side, although to be fair, it often is. There is, though, a discernible transformation to be tracked in Brünnhilde, culminating intriguingly in what seems to be a reversion to childhood as she uses her crayons to create her own fire on the chairs. And I could forgive a great deal for the awe-inspiring denouement, in which Wotan's world recedes into the background, a chasm opening up between them, stage machinery revealed and distance attained. What that will signify for the drama to come remains to be seen, but it is full of promise as well as having provided a moment of aesthetic wonder in itself.
Thomas Guggeis's work with the Staatskapelle Berlin (and singers) continues to be excellent. The orchestra was largely kept on a tight leash, making the most of highly emotional outpourings (not entirely unlike Boulez in this opera). Yet listen more closely and it bubbled away throughout, as much a witch's cauldron as Wagner's Greek chorus. I was struck more than once by the dark malignity of much of the sound, both drawing out the best from this particular orchestra and commenting on and contributing to Wagner and Tcherniakov alike. This may not be Daniel Barenboim's Ring; it remains his orchestra.
Michael Volle's command of his role as Wotan proved exceptional throughout. In marriage of close attention to text (which, one still finds oneself continually having to point out, includes words and music) to utterly convincing external manifestation of character, he must have few if any equals today. His is certainly a modern Wotan, not only in keenness of response to strong direction, but also in strong rooting in Lied performance. The saga-like epiphanies of a Hans Hotter or even a John Tomlinson may not be for our age, which is not to say that equivalent interpretative depth is lacking; it certainly is not. But we think of Wotan differently, as we shall think of him differently in another decade or two. For now, Volle reigns pretty much supreme, a privilege to see and hear.
A further revelation was Vida Miknevičiūté's Sieglinde, an outstanding singing actress, in which the accent on singing and acting was equally powerful, both enhancing the other. Her farewell in the third act was so earth-shattering that it threatened to overshadow, yet did not, what was to come, whilst her stupefied vulnerability at the end of the previous act engendered feelings both of sympathy and of critical, almost Brechtian, distance. Robert Watson's Siegmund was largely well sung and similarly sympathetic; one rooted for his attempt to escape, even as one knew it bound to fail. Mika Kares, Fasolt in Das Rheingold, offered us a similarly considered portrayal of Sergeant Hunding. Claudia Mahnke was able to bring her Fricka more strongly into the foreground than had been permitted (perhaps by the production) in the previous instalment. She led us through the twists and turns of her dialectical argument, devastatingly victorious over Wotan — without suggesting the strange understanding voiced by some recently that somehow Fricka is in the right. Hers is the language of an old world — and here there is no doubt that that old world needs transforming, which does not of course guarantee that transformation taking place.
Anja Kampe's Brünnhilde will surely be key to the success or otherwise of that attempt. On this basis, we can conclude that she will give it her best shot, however high the stakes, and that her performance will enable considerable feeling of affinity. Her Valkyrie sisters offered a fine ensemble of soloists too. What next? More will be revealed; yet tragedy seems to be colouring and forming the musical as well as the scenic air.
Mark Berry