United States Various: Fatma Said (soprano), Rafael Aguirre (guitar). Weill Recital Hall, Carnegie Hall, New York, 4.3.2023. (RP)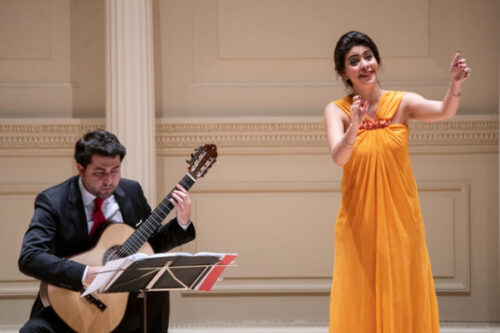 Manuel de Falla – Siete canciones populares españolas, 'Tus ojillos negros' (Canción andaluza)
Joaquín Rodrigo – 'Adela' (Tres canciones españolas)
Lorenzo Palomo – 'Madrigal y cinco canciones sefardíes'
Sherif Mohie el Din – ''aydum alnahr' (Three Poems by Amal Donqul)
José Serrano – 'La canción del olvidó: Marinela'
Francisco Tárrega – 'Gran jota'
Federico García Lorca – 'Anda, jaleo', 'Nana de Sevilla', 'Los cuatro muleros', 'Sevillanas del siglo XVIII' (Canciones españolas antiguas)
Fernando Obradors – 'Del cabello más sutil' (Canciones clásicas españolas)
Najib Hankash – 'Aatini al naya wa ghanni'
Hankash Abdel-Rahim – 'Ana bent el sultan'
Fusion can be an iffy thing, but not when it comes to the winning combination of Egyptian soprano Fatma Said and Spanish guitarist Rafael Aguirre. They embarked on an intriguing musical journey that explored the crosscurrents of European and Arabic poetry and music in their sold-out Carnegie Hall concert. This centuries-old intermixture of cultures is celebrated in architecture, literature, art and, of course, cuisine, but seldom encountered in the concert hall.
Said, a native of Cairo, has the distinction of being the first Egyptian singer to appear at La Scala Milan. One of the BBC Three's New Generation of Artists and an artist in residence at Konzerthaus Berlin, she has appeared in concerts and operas in Europe, the Middle East and the Americas. This was her long-awaited Carnegie Hall debut, which had originally been scheduled for 2020.
Aguirre began his international career in 2001 at the age of sixteen, touring as a guitar soloist with the Málaga Youth Symphony Orchestra. He made his Carnegie Hall debut in 2010 and has performed in nearly forty countries. Highlights of the acclaimed guitarist's current season include appearances with the Prague Philharmonic, Symphony of the Americas and Orchestra della Svizzera Italiana.
The two artists performed a beguiling program of music by Egyptian, Lebanese and Spanish composers. The rarities included songs by Middle Eastern composers whose works are seldom encountered in Western venues, as well as selections from Federico García Lorca's Canciones españolas antiguas ('Old Spanish Songs'). The great twentieth-century poet and dramatist was an accomplished musician with a particular interest in Spanish folk music, which he collected, arranged and performed. His settings of Spanish folk songs are a result of those endeavors.
Said's soprano is light and lyrical. Whether singing an alluring melody, tender lullaby or lively dance, she paints emotion through gorgeous sound, vocal color and her ability to express text simply and naturally. Her artistic calling card is spinning a musical line that unfurls like a silken ribbon and, when called upon to do so, she adorns the songs with delicate trills and melismas, such as in Manuel de Falla's 'Seguidilla murciana' ('Seguidilla from Murcia') and 'Asturiana' ('Asturian Song').
Her artistic palette also contains broader, more intense vocal strokes. A subtle vibrato added warmth to Said's voice in Lorca's 'Nana de Sevilla' ('Seville Lullaby'), and she produced dramatic, almost guttural sounds in Falla's 'Tus ojillos negros' ('Your Dark Eyes'). But subtle songs made more lasting impressions, including ravishing high notes in Lorenzo Palomo's 'Nana Sefardi' ('Sephardic Lullaby') and Fernando Obradors's 'Del cabello más sutil' ('From the finest hair').
Aguirre's playing brought equal rewards. He is as much a storyteller as Said, only he employs pure sound to achieve the same ends. This was music, including the works by the Egyptian and Lebanese composers, that touched his soul. His only solo turn was Francisco Tárrega's 'Gran jota' which, he explained, launched his musical journey and simultaneous farewell to his first passions – tennis and soccer – when he first heard it as a boy.
He summoned an intoxicating array of colors and sonorities as he performed the work's theme and numerous variations. Beautiful melodies contrasted with percussive effects in a performance that was as impressive for virtuosity as it was for the ease with which Aguirre played this demanding music.
A mere three songs afforded too brief a glimpse into the fascinating musical mosaic of the Middle East. The first piece was Sherif Mohie el Din's ''aydum alnahr' ('Will the River Flow Forever?'), which demonstrated the composer's effective combination of European techniques and Egyptian sounds. Najib Hankash, the so-called 'Wit of Lebanon', combined the words of Kahlil Gibran, the timbres of the ney, a form of Middle Eastern flute, and the Brazilian tango in 'Aatini al nay wa ghanni' ('Give Me a Flute and Sing').
The final work was by Gamal Abdel-Rahim. Trained in Germany and Egypt, Abdel-Rahim was among the first composers to integrate Middle Eastern elements with Western compositional techniques. Mohie el Din was among his students at the Cairo Conservatory. Abdel-Rahim's 'Ana bent el sultan' ('I am the Sultan's Daughter') offered insights into a high-spirited girl musing upon the young men competing for her favors. It was a delightful song in which Said displayed similar charms.
For an encore, Said and Aguirre performed a song that the soprano said needed no introduction, and indeed it did not. Their wistful performance of 'Over the Rainbow' ended with Said treating the audience to a different style of singing – a bit of scat as light and graceful as could be on the final 'Why, oh why, can't I?'
Rick Perdian