United States 'An Evening with Itzhak Perlman': Itzhak Perlman (violin), Rohan De Silva (piano). Presented by Tuesday Musical's Akron Concert Series, E.J. Thomas Performing Arts Hall, Akron, 27.4.2023. (MSJ)
Kreisler – 'Tempo di Menuetto', 'Tambourin Chinois'
Schubert – Serenade
Rieding – Violin Concerto (excerpt)
Fiocco – Allegro
Williams – Theme from Schindler's List
Brahms – Hungarian Dance No.1
As a boy discovering classical music, I seized on the figure of Itzhak Perlman for several reasons. By gravitating toward classical music, I was going strongly against the grain of small-town life in the rural Midwest, a place of country music and rock. But at least I could see someone like Itzhak Perlman on television, playing on The Tonight Show with Johnny Carson or appearing on the children's program Sesame Street. I could feel that there was a part of the culture at large that appreciated this kind of music.
Like any boy, I wanted to have a connection with my father. When your father is a steelworker and Bluegrass musician, classical music is a tough place to find any connection. Yet, with Itzhak Perlman we did. As a Bluegrass fiddler, my father was delighted with Perlman, and convinced that Perlman could have been a good Bluegrass fiddler if he'd wanted, especially after I played him Perlman's recording of the Grainger arrangement of the Irish reel 'Molly on the Shore'.
Last, but hardly least, I was coming into an intimidating mass of art, history and theory by entering the world of classical music. While some performing figures were alienating and intimidating, Perlman offered a friendly persona who radiated warmth and love for music. I fell in love with his playing early on and have kept in touch with his career ever since.
It is a given that I would be part of the target audience for Tuesday Musical's Akron Concert Series's 'An Evening with Itzhak Perlman', an indulgent, charming program that featured Perlman's storytelling even more than his playing. The sold-out audience of three thousand in the E.J. Thomas Hall on the University of Akron campus was enthralled by his succession of anecdotes, projected family photos and video excerpts.
Perlman opened the show with a characteristically warm rendition of Fritz Kreisler's 'Tempo di Menuetto'. Kreisler has figured hugely in Perlman's career, and Kreisler's short works suit Perlman's enthusiastic style perfectly. Though not a difficult work, the 'Tempo di Menuetto' showed that Perlman's technique at seventy-seven is still limber and accurate, if not quite as radiant as during his youthful peak. Granted, the encore-type pieces played here were certainly not ones that would push him anywhere near his limit. But Perlman has never leaned toward the epic end of the repertoire, and nothing could be better for this sort of program than short delights.
Perlman is a raconteur, as masterful at shaping a story as he is shaping a musical piece. Much like his playing, his storytelling is warm and unaffectedly direct, with one eye calculating the crowd's reaction in order to land the punchline just right. He told many tales of his childhood in Israel, which became a state when he was still a toddler. He acknowledged war and poverty without dwelling on them, reflecting the darkness of those years with a performance of Schubert's Serenade, his parents' favorite.
He gave a little more space to the subject of polio, which took away his ability to walk unaided at the age of four. Indeed, the most vulnerable part of Perlman's storytelling came with the admission that he was plagued by doubt in the early part of his career, fearing that he was only given acclaim out of sympathy for his disability. It was in concentrating on his musical pursuits that he grew beyond that, becoming arguably the most famous violinist in the world.
Perlman featured a pair of student works: a movement from Oskar Rieding's Violin Concerto and the Joseph-Hector Fiocco Allegro that is familiar from the Suzuki method, giving them both a glamorous delivery to which most students could only aspire. He then returned to Kreisler for one of his trademark favorites, 'Tambourin Chinois'. It was really remarkable to hear how much Perlman's tone has withstood the weathering of time.
He told a surprising story about how he almost declined John Williams's invitation to play the theme from the soundtrack to the Steven Spielberg film Schindler's List, complete with a hilarious imitation of Williams's voice on the phone. He decided to join that project after his wife, Toby, questioned his sanity for not leaping at it. The title theme has since become his most requested piece, and he played it as the official close of the program.
After applause, he said that he and Rohan De Silva would pretend they had left and come back for numerous bows after a ten-minute ovation and play an encore. They gave a warm and dark rendition of the Brahms Hungarian Dance No.1. This, the least violin-centric work of the evening, did show De Silva at a disadvantage, his sound buried beneath the violin. Whether that was deferential playing or star-centered sound mixing, I don't know. I presume that there was a little judicious amplification, for it was a large hall for just two instruments. Overall, the mix was fine, De Silva a gracious accompanist, and the lighting and projections of images and video excerpts smooth.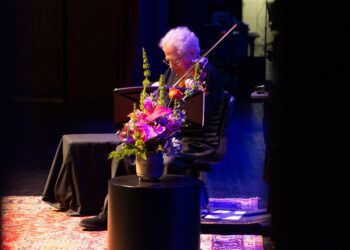 It was the sort of retrospective one might expect; full of Perlman's charm, including a good deal of Jewish humor (delivered with the skill of a Borscht-belt comedian). It also skirted anything too dark or too personal, and was light on the number of musical selections. But it was offered as an evening of indulgent warmth, and as such was received warmly by the capacity crowd. Perlman overcame the prejudices against both his disability and his ethnic background to create a triumphant career, so I see no reason he shouldn't be granted a victory lap like this.
Mark Sebastian Jordan