United Kingdom Britten, Shostakovich, Beethoven: Laura van der Heijden (cello), Scottish Chamber Orchestra / Mark Wigglesworth (conductor), Usher Hall, Edinburgh, 27.4.2023. (SRT)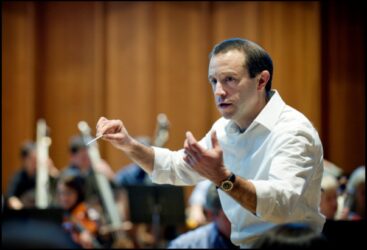 Britten – Simple Symphony
Shostakovich – Cello Concerto No.2
Beethoven – Symphony No.5
The last time Mark Wigglesworth conducted the Scottish Chamber Orchestra it was for an excoriating performance of Shostakovich's Symphony No.14 that I still remember well. Now he was back with more music from the same period of Shostakovich's life, his Second Cello Concerto, and the results were every bit as memorable. Wigglesworth seems to have a real ear for Shostakovich's wiry interiority, and he is really good at drawing out and laying bare the raw emotions that seem to drive the composer's music tortuously forwards. With this concerto, for example, the conductor looked unflinchingly into the music's inner darkness. Every shade of texture, from the harps to the double basses, seemed to reveal several shades of black, and it stayed that way throughout, even through the Scherzo, which was more of a sardonic grin than a joke, and the finale, which felt as fragmented as a cubist painting, was like the shards of a broken mirror glinting after a disaster. Only in the very final minutes did a tiny shaft of sunlight breakthrough in the percussion that ends the work, and even then it was so tentative as to leave a question mark over its whisper of hope.
In all of these penetrating insights he found a boon companion in cellist Laura van der Heijden. The penetrating maturity with which she played was utterly remarkable. The quiet, desperate keening of the solo opening was a heartfelt song of mourning, and she opened up the instrument's lowest, darkest registers like a window into the void. When she pared her sound right down to the very edge of audibility, it only increased its dramatic power, and she and Wigglesworth seemed joined by a strange telepathy. It helped that they played all three movements in a continuous arc, giving no respite from the music's grip.
Alongside this study in darkness came two symphonies concerned with light: one frolics in it while the other struggles towards it. Beethoven's Fifth Symphony is the most famous of all symphonic journeys from darkness into light, yet it never loses its power to excite. In this concert that came principally from the use of natural timps and brass which made a dramatic difference to the sound, particularly at the beginning of the finale. Wigglesworth's approach was involved and pacy, perhaps a little brusque at times, but always purposeful, most notably in the Andante which was most definitely con moto. The finale was exciting, with a fantastically rich bass line. However, there was delicacy too, even humour in the pizzicato section of the Scherzo.
A much jollier pizzicato came in the second movement of Britten's Simple Symphony, which here sounded surprisingly rich as played by a biggish orchestra in the large space of the Usher Hall. Wigglesworth's real achievement, however, was to draw out what a multi-layered piece this is, almost miraculously so when you consider that it was written by a 20-year-old. The opening Bourrée contained beautiful delicacy while the Sarabande was intensely felt, and it almost goes without saying that everyone was having tremendous fun during the Playful Pizzicato.
Simon Thompson