United Kingdom Sibelius, Tchaikovsky, Shostakovich: Randall Goosby (violin). Philharmonia Orchestra / Santtu-Matias Rouvali (conductor). Royal Festival Hall, London, 27.4.2023. (JR)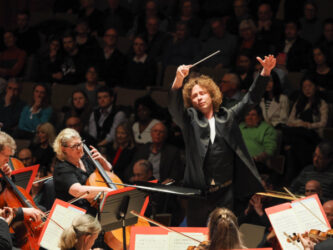 Sibelius – Karelia Suite, Op.11 (Intermezzo, Ballade and Alla Marcia)
Tchaikovsky – Violin Concerto, Op.35
Shostakovich – Symphony No.9, Op.70
The critics in America and in the UK were right: remember his name. Randall Goosby. From Memphis, Tennessee. I must admit I had not heard of him, nor heard him, before this concert and he made a profound impression on everyone in the audience. He is still only 27, a product of the Julliard School, pursuing an Artist Diploma under Itzhak Perlman and Catherine Cho. He has already performed with many major orchestras, particularly in America, and is a rising star, now becoming known in the UK and Europe. He combines impressive technique with a winning stage presence, turning to the orchestra when not playing to soak up the rhythmic impulses. Having played until now on a Guarneri del Gesù, he has now acquired on loan from the Samsung Foundation a splendid Stradivarius, the 'ex Strauss' from 1708, which he says he now prefers. Goosby played the Tchaikovsky Violin Concerto, as to be expected, not only with youthful abandon but also with great care and precision. Harmonics were spot on, fast sections taken without hesitation. In the first movement, you could hear a pin drop in the Royal Festival Hall: we were all utterly mesmerised. Goosby is riveting and commanding well beyond his years, he visibly enjoyed playing the piece, not something one can say of all soloists.
Tchaikovsky's friend and violinist Leopold Auer, who helped him with the technical aspects of the work, said when the piece had been completed – to Tchaikovsky's understandable consternation – that it was unplayable, Eduard Hanslick said the concerto 'stank'! Loose hairs from Goosby's bow were testament to his vigour. Santtu accompanied flawlessly, his control of rhythms most impressive, his chemistry with the orchestra members visible. To prevent premature applause after the first movement, Santtu stretched out the long fingers of his left hand towards the audience and we all got the message. At the end of the concerto, Goosby received a thoroughly deserved standing ovation and a deluge of cheers. We were rewarded by a jazzy encore, by black American composer Coleridge-Taylor Perkinson, 'Jettin' Blue/s', the last movement from Perkinson's 'Blues Forms for solo violin'.
Opening the concert we heard the three movement Karelia suite, with the less often heard mournful Ballade in between the stirring nationalistic 'anthems'. Santtu was at home with all three works in this concert – music from Finland and neighbouring Russia – but none more so than in the Sibelius. He kept the orchestra's powder dry until the last, dynamics controlled until the final blast and wisely kept bombast to a minimum; the orchestra clearly enjoyed playing the piece as much as we all did tapping our feet to it. Rebecca Kozam (cor anglais) rightly received special applause.
Shostakovich composed his troubled Seventh Symphony just after the long Siege of Leningrad by Nazi forces in 1941 and a few years later his bleak Eighth Symphony, both mighty works. Just before the end of the Second World War, Shostakovich composed his Ninth Symphony, and this turned out to be a far cry from his two preceding symphonies. His original plans included a huge first movement with chorus and soloists, but his confidence faltered and now there are no singers, no shouts of victory. A transparent, bright humorous mood pervades the work, from its breezy beginning, brash oom-pah entries from brass and percussion and a raucous Allegretto-Allegro finale. The piece is imbued with sardonic wit, Santtu's perky conducting style perfectly suited the work; his control of the orchestra was impressive. The slow movement gave Mark van de Wiel (clarinet) and Samuel Coles (flute) their chance to shine. Throughout the perky piccolo (Robert Looman) made its presence felt. Strings were well blended, ably led for this concert by Associate Leader Australian violinist Rebecca Chan. A hugely enjoyable concert.
John Rhodes