United Kingdom Richard Rodgers and Oscar Hammerstein II's The King and I: Cliffs Pavilion, Westcliff-on-Sea, Essex, 19.4.2023. (JPr)
When The King and I opened in 1951 it was the result of a fifth collaboration between composer Richard Rodgers and dramatist Oscar Hammerstein II and was based on Margaret Landon's 1944 novel, Anna and the King of Siam. In turn, that was derived from the memoirs of Anna Leonowens who, in the early 1860s, was governess to King Mongkut of Siam's many children. The plot of the musical shows us what happens to the British schoolteacher, Anna, when she becomes involved in the plans of the King to make Siam (now Thailand) less insular, beginning with teaching his children English and more about Western culture. Anna later shows the King how to act European so he can convince visiting British diplomats that he is not the barbarian he is portrayed as.
The relationship between Anna and the King is a fraught one throughout the piece beginning with the dispute over a house he promised her – which has conveniently been forgotten about – and climaxing in a blazing row over his young wife, Tuptim who is in love with Lun Tha who escorted her as a slave to Bangkok. [Spoiler alert] this pre-empts the heart trouble that will see the King die leaving his country ruled by his, now more enlightened, eldest son Prince Chulalongkorn. Despite the King and Anna butting heads almost constantly we are supposed to believe – in true Romcom fashion – that love blossoms between them, though neither can readily admit it. (Unfortunately, in this revival there was zero chemistry between the two leads – Darren Lee and Helen George – and it was difficult to believe they had any feelings for each other.)
The King and I premiered on March 29, 1951, at Broadway's St. James Theatre, running for nearly three years (making it the fourth longest-running Broadway musical in history at the time) It won Tony Awards then, and subsequently has had many tours and revivals, including Bartlett Sher's 2015 one (first seen on Broadway and later in London's West End in 2018) which is now touring the UK and Ireland prior to settling in at London's Dominion Theatre early in 2024. Sher's production was nominated for nine Tony Awards, winning four, including Best Revival of a Musical. Of course, we cannot forget the 1956 film with Yul Brynner, recreating his Broadway success as the King, and Deborah Kerr (with the singing voice of Marni Nixon) as Anna. I saw Brynner opposite Virginia McKenna in 1979 and Jason Scott Lee and Elaine Paige in 2000, both at the London Palladium.
The world has moved on in more recent decades and despite the musical wanting to make us think about slavery and female emancipation, there is much that is troubling about The King and I for modern eyes and ears with all its racial politics, colonialism, orientalism and blatant misogyny. Yes the play 'Small House of Uncle Thomas' – about an evil king and a runaway slave – which Tuptim, under duress, narrates for the guests at the dinner has an anti-slavery message but it is presented as a twee Siamese ballet-inspired sequence that goes on, and on, and on. Okay, there is some fun to be had when the mirror is shone on the oddities of our own behaviour in the western world: all the crinoline, the uncomfortable shoes, even the need for undergarments, as well as our obsession with etiquette and formality. This is notably in the song 'Western People Funny' for the King's chief wife, Lady Thiang, and all the other wives (though strangely this is often cut). It is also absurd to imagine that having an English dinner is the only way to give a good impression to a visiting British envoy.
None of this will prevent audiences flocking to this revival over the next seven months (and again next year); nor prevented – a largely elderly audience in the sold-out Cliffs Pavilion – giving The King and I a standing ovation. On taking your seats an impressive shimmering, gold curtain conceals the stage and the boat bringing Anna and her son, Louis, to Bangkok in 1862 is mightily impressive against a red sunset however Michael Yeargan's austere sets from then on – possibly due to restrictions imposed by touring – only give an impression of the King's palace and grounds, throne room and study, as well as the schoolroom, etc. etc. etc (!) which we need to see as the story unfolds. Catherine Zuber's costumes are wonderfully elaborate and evocative whilst Donald Holder's lighting changes provide an appropriate ambiance to several of the scenes. There was no orchestra pit at the Cliffs Pavilion and the music from a 11-strong orchestra under musical director Christopher Mundy was relayed in from elsewhere and sounded rather thin from time to time.
Apart from it being a flawed musical, the biggest problem of this current revival is in the casting of Darren Lee and Helen George as the King and Anna. Lee undoubtedly gives the King – who is struggling to adapt to the changes demanded of him – a forceful personality, yet he is neither regal nor domineering enough. He exudes a certain charisma, though his performance was spoilt, for me, by Lee shouting too much when less would be considerably more. Lee makes use of Sprechstimme (speaking-singing) – such as in 'A Puzzlement' – and it was never clearer to me how the composition of the King's 'songs' was strongly influenced by the original idea of having Rex Harrison in the part, though Yul Brynner ended up creating it.
Helen George – famous from BBC TV's popular Call the Midwife, which I have never seen – did study musical theatre but does not, it seems, have much experience of performing in it. George had the well-practiced clipped vowels and deportment of a Victorian governess however she never brought Anna to true life and, until she let rip at the King about his treatment of Tuptim at the very end, her acting was emotionless. That extended to George's singing which was not of the standard of some of those supporting her: 'I Whistle a Happy Tune', 'Hallo, Young Lovers' and 'Shall We Dance?' seemed bleached of the colouring they needed and her voice was rather too small and lacking in projection for Anna.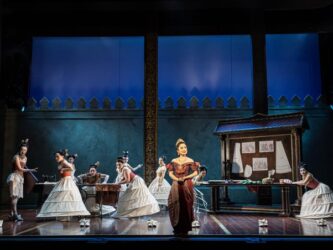 Thankfully surrounding Lee and George were a large, wonderfully talented cast enlivening the court of the King and they included the requisite 'Ahhh'-inspiring young children who featured the very confident performance of Harry Altoft as Louis Leonowens. Cezarah Bonner was Lady Thiang, the King's watchful head wife – and very keen to preserve that status – who becomes increasing sympathetic towards Anna. Her richly sung 'Something Wonderful' was a genuine showstopper, as was the deeply romantic duet 'I Have Dreamed' for Marienella Phillips's Tuptim and Dean John-Wilson's Lun Tha, whose illicit affair has an unhappy ending. Kok-Hwa Lie (Lee's understudy) impressed as the unyielding Kralahome, prime minister to the King whilst Caleb Lagayan needed to make more of Prince Chulalongkorn's words especially at the end when he – as the old King lies dying – abandons the practice of everyone prostrating themselves before the King and institutes a less elaborate show of respect.
That my companion and I were disappointed with this revival of The King and I doesn't mean you will be so do go and see it, especially if you have never seen the musical before in the theatre. (For more about the UK and Ireland tour of The King and I click here.)
Jim Pritchard
Cast:
Helen George – Anna Leonowens
Darren Lee – King of Siam
Cezarah Bonner – Lady Thiang
Sam Jenkins-Shaw – Captain Orton / Sir Edward Ramsay
Dean John-Wilson – Lun Tha
Caleb Lagayan – Prince Chulalongkorn
Kok-Hwa Lie – Kralahome
Marienella Phillips – Tuptim
Harry Altoft – Louis Leonowens
Ensemble: Chi Chan, Jeffrey Chekai, Emily Grace-Ling, Cher Nicolette Ho, Rachel Wang-Hei Lau, Daniel Len, Candy Ma, Rachel Macdougall, Amelia Kinu Muus, Yuki Ozeki, Kitt Pakapom, Prem Rai, Ria Tanaka, Hiromi Toyooka, Jasmine Triadi, Jensen Tudtud, Qinwen Xue, Jason Yang-Westland …  and Children
Production:
Director – Bartlett Sher
Music – Richard Rodgers
Book And Lyrics – Oscar Hammerstein II (based on the novel Anna and The King of Siam by Margaret Landon)
Sets – Michael Yeargan
Costumes – Catherine Zuber
Lighting – Donald Holder
Sound – Scott Lehrer
Orchestrations – Robert Russell Bennett
Dance and Incidental Music arranged by Trude Rittmann
UK Musical supervisor – Stephen Ridley
Musical director – Christopher Mundy
Choreography – Christopher Gattelli (based on the original choreography by Jerome Robbins)