United Kingdom R. Schumann and Reimann: Schumann Quartet (Erik Schumann, Ken Schumann [violins], Veit Benedikt Hertenstein [viola], Mark Schumann [cello]), Anna Vinnitskaya (piano). Wigmore Hall, London, 20.4.2023. (MB)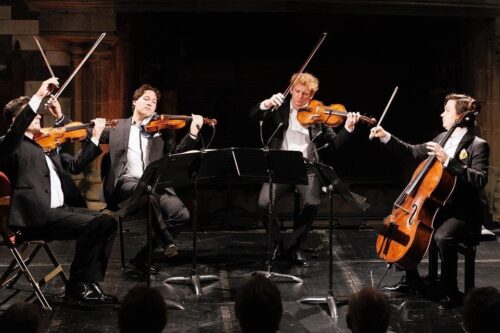 R. Schumann – String Quartet in A minor, Op.41 No.1; Piano Quintet in E-flat major, Op.44
Reimann – Adagio (Zum Gedenken an Robert Schumann)
I welcomed in February an excellent concert of Schumann and Brahms from the Schumann Quartet and Pablo Barrágan (review click here). This latest instalment of The Schumann Show – there will be a third in July – had still more Schumann: two of the composer's works, plus another derived from his material and dedicated to him. It made for a fine successor, as did pianist Anna Vinnitskaya, joining the players for the Piano Quintet.
The first of two works from 1842 was the A minor String Quartet. The first movement introduction invited us in, showing at the same time just how well Schumann knew his Bach, refracted by a Beethovenian lens. More important, its inwardness and pregnancy with possibility were very much to the fore, the surprise of Schumann's move to the major mode for the Allegro registering subtly as part of his general tonal and developmental scheme; there was no need to hammer it home. Fiery and intimate by turn, and sometimes together, this performance certainly had the movement's measure. Vigour characterised the second and four movements, though neither, rightly, was without vulnerability. Whirlwinds of different character, the former counterbalanced by a charming, sinuous trio, the latter full of post-Mendelssohnian life, they framed an Adagio rich both in secrets and in their divulgence. There was something almost operatic to it: Onegin on the Rhine, perhaps, though its heart still very much beat after Beethoven (not least his example in the Ninth Symphony).
Aribert Reimann, a composer sadly overlooked in this country and probably best known here for work as a pianist with Dietrich Fischer-Dieskau, descends from one of the doctors who treated Schumann at his Endenich asylum. In 2006, 150 years after Schumann's death, Reimann published the medical records he had inherited and composed an Adagio in memory of Schumann based on two chorale harmonisations Schumann had made at that time: 'Wenn mein Stündlein vorhanden ist' and 'Stärk uns, Mittler, dein sind wir'. The Schumanns played the first, alongside Ken Schumann's valuable spoken introduction to the piece, followed by a fine performance of Reimann's typically post-Expressionist response. Prolongation, incision, elaboration, and other procedures enabled him – and us – to encircle those sad yet noble last musical words, as did Reimann's own musical assailants and/or angels. Why, after all, choose?
Vinnitskaya and the Quartet gave us a warm and equally distinguished performance of the Piano Quintet, balance between instruments always finely judged, to the extent one would never have known it might be a problem. In the second group, viola and cello, shadowed and responded to by two violins, reminded us that Schumann's own instrument is perhaps not even first among equals here, but simply an honoured equal. It was a dynamic reading that yet always found space for the musical drama to unfold. A tumultuous first-movement development and return took nothing for granted, taking us to quite a different place from where we had begun. Ghostly urgency in the second movement, contrasted with hallucinatory episodic visits to the Schubertian major-mode, duly unsettled. So too did Veit Benedikt Hertenstein's dark viola solo. Full-blooded, almost Brahmsian eruption made its point with power and elegance.  Vinnitskaya's dexterity, never in doubt, was certainly on show in the Scherzo: another whirlwind to succeed those two in the String Quartet. Trios of very different character were equally relished; this was almost, not quite, an embarrassment of musical riches. An enthralling performance of the finale was given in, again, different yet consequent character. That first-movement combination of urgency and space was present also here. The Furiant from Dvořák's Second Piano Quintet made for a lovely encore — and indeed had me wish to hear the whole thing. Another time, I hope.
Mark Berry