Spain Wagner, Tristan und Isolde (concert performance): Teatro Real Men's Chorus and Orchestra / Semyon Bychkov (conductor). Teatro Real, Madrid, 25.4.2023. (JMI)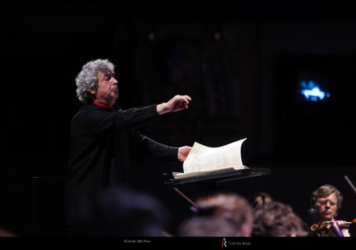 Cast:
Tristan – Andreas Schager
Isolde – Catherine Foster
King Marke – Franz-Josef Selig
Kurwenal – Thomas J. Mayer
Brangäne – Ekaterina Gubanova
Melot – Neal Cooper
Shepherd – Jorge Rodríguez-Norton
Sailor – Alejandro del Cerro
Steersman – David Lagares
This great opera by Richard Wagner is back at Teatro Real, where it could last be seen in 2014. Before that, it was staged in January 2008 under musical director Jesús López Cobos. On this occasion, it was performed in a concert or semi-staged version, as they are called lately. Let us call it a concert, where the singers don't use scores, and they move about at the front of the stage. The truth is that it was an excellent concert, where the conductor and some of the protagonists shone in an extraordinary way.
One of the great attractions of this Tristan und Isolde was Semyon Bychkov's conducting. He is one of today's great musical directors, as he has proved so many times. Comparisons are unavoidable, and even more so as barely 48 hours have elapsed since I saw Tristan in Valencia. Bychkov surpassed James Gaffigan: all of his leadership was at a high level, with no ups or downs, and it reached its most exciting point in the exceptional third act. One must also highlight the performance of the Teatro Real orchestra, which was outstanding.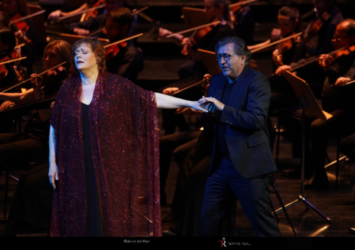 Tristan was sung by tenor Andreas Schager, a major interpreter of the role. His voice is of high quality and exceptional volume, and he is able to solve the many difficulties of the score, including that of Act III which is a true Mount Everest of the opera. I confess that I was also overwhelmed by his exhibition of power in the second act, and I have rarely felt that. He is undoubtedly a great Wagner tenor of today, and I hope that he will continue so for many years.
Isolde was supposed to be sung by Swedish soprano Ingela Brimberg, but she unexpectedly canceled due to illness. This created a serious problem for Teatro Real, but one that was solved in the best possible way. Her substitute was Catherine Foster who, I was told, arrived in Madrid the morning of the performance. Foster was a powerful Isolde from her first entrance until her concluding Liebestod, which was truly noteworthy.
King Marke was sung by bass Franz Josef Selig, who did well, but I got the impression that he was somewhat short of vocal authority. Another excellent performance was that of mezzo-soprano Ekaterina Gubanova as Brangäne. She has a beautiful voice and excellent musicality and moves on the stage with ease. Gubanova gave great meaning to her warning in Act II, which she sang from a side box. Kurwenal was German baritone Thomas J. Mayer, and although his voice cannot compete with those of his co-stars, he sang with good taste and lots of emotion. Neal Cooper as Melot, Jorge Rodríguez-Norton as the shepherd, Alejandro del Cerro as the sailor and David Lagares as a steersman also did well.
Jose M. Irurzun