United States Verdi, La traviata: Soloists and Chorus of the Seattle Opera, Seattle Symphony / Carlo Montanaro (conductor). McCaw Hall, Seattle, 7.5.2022. (ZC)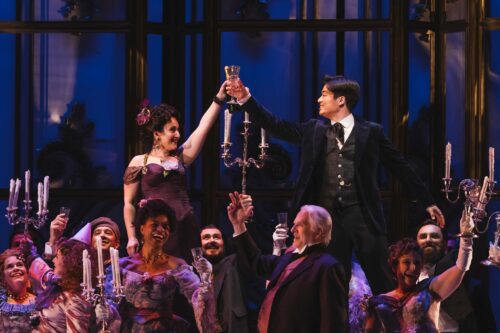 Production:
Director – Francesca Zambello
Associate director – Joshua R. Horowitz
Sets – Peter J. Davison
Original lighting – Mark McCullough (revived by A. J. Guban)
Costumes – Jess Goldstein
Original choreographer – Parker Esse
Associate choreographer – Andrea Beasom
Chorus master – Michaella Calzaretta
Cast:
Violetta – Mané Galoyan
Flora Bervoix – Sarah Larsen
Marchese d'Obigny – Christian Zaremba
Baron Douphol – Darren Drone
Doctor Grenvil – Craig Grayson
Gastone – John Marzano
Alfredo Germont – Duke Kim
Annina – Shelly Traverse
Giuseppe – Andrew Etherington
Giorgio Germont – Joo Won Kang
Messenger – Revere Taylor
Flora's servant – Julian Reisenthel
Verdi's La traviata is one of the handful of operas that is instantly recognizable by the wider public. Since its premiere in 1853, it has never left the repertoire. The legendary arias, such as 'Sempre libera', and tragically realistic portrayal of a doomed love story captivate audiences to this day. In recent decades every great soprano from Maria Callas on has tried to master the complex character of Violetta. Yet the rich history and traditions of La traviata pose a challenge to opera companies: how can you make this classic opera fresh and engaging for an audience that knows it by heart, even if they have never seen it live?
Fortunately for Pacific Northwest operagoers, the Seattle Opera has risen to the challenge. Its current production of La traviata creates a grand experience by focusing on the work's most intimate moments. The three main characters – Violetta, Alfredo and Germont père – live in a world of decadence, privilege and hierarchy, where lavish parties and balls contrast with country estates.
The sets reach from floor to ceiling, giving an imposing sense of scale. Though at first they might give the impression that this is a more traditional production, sharp lines and clean margins give it a modern touch and introduce an uneasy sense of isolation. Seattle Opera's spirited chorus and crisp playing from the orchestra – consummately conducted by Carlo Montanaro – underscore the story's social atmosphere and drama. The lively atmosphere they create makes it seem possible that anyone, especially Violetta and Alfredo, could ignore their troubles in the name of love.
The production anchors our attention on the deeply personal aspects of the opera. Violetta, Alfredo and Germont père are animated by deep feelings that are not always pure. Violetta struggles to love Alfredo, knowing her chronic illness is always near, and Alfredo gives himself fully to Violetta despite the scandal. Meanwhile, Germont père is so insecure about the state of his family's reputation that he has no problem pitting Violetta against his son.
The opera's story of sadly approachable problems mirrors our own society – with its share of injustice, class and insecurity – and is brought to life by a strong cast, led by Mané Galoyan's Violetta. She portrays Violetta's mood swings, from carefree to enthralled to fragile, with skill and emotion. Duke Kim's naive Alfredo balances Galoyan with his rich tenor, expressing the intensity of young love. And Joo Won Kang's dark baritone conveys the inner conflict of a father who makes an impossible request of his son's lover.
Often in La traviata, there is a weak link among the three principal singers, but not so when I was in the audience. Galoyan achieved the emotional and technical demands required for Violetta but did so as a partner to Kim and Kang. Kim's Alfredo was convincing: I believed in his love for Violetta because of how well his tenor matched Galoyan's soprano. And when Giorgio Germont demanded that Violetta break up with his son, you could feel the tension as Kang pushed and Galoyan resisted.
Closing out the 2022/2023 season with La traviata may seem like a predictable choice to give the people what they want, but this production and the singers assembled for the second cast are well worth experiencing. The production gleams with a clean, modern aesthetic, the chorus is splendid and the cast is engaging. It will reveal new layers of meaning for people deeply familiar with Verdi's masterpiece and the moral messages behind it. For those new to opera, La traviata remains a perfect introduction.
Zach Carstensen