United Kingdom Various: Branford Marsalis (saxophone), San Francisco Symphony / Thomas Wilkins (conductor). Davies Symphony Hall, San Francisco, 4.5.2023. (HS)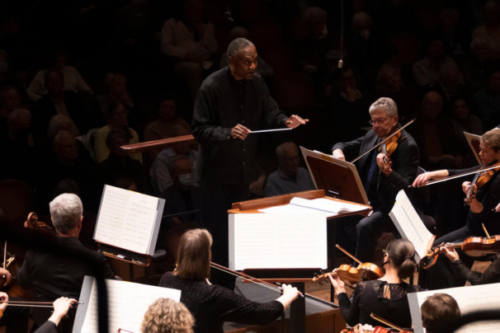 Bernstein – Three Dances from On the Town
Schulhoff (arr. Bennett) – Jazz Concerto 'Hot-Sonate'
John Williams – 'Escapades' from Catch Me If You Can
Ellington – Harlem
Jazz and classical music don't always make comfortable partners but, when they do, it can feel like a miracle. Such was the case for this afternoon concert at the San Francisco Symphony. The band swung, and the result was exhilarating.
The redoubtable jazz saxophonist Branford Marsalis, from a family that comfortably straddles the two genres, acquitted himself admirably in music from Erwin Schulhoff and John Williams, two composers nearly a century apart, more famous for music other than jazz. Framing them were pieces by Leonard Bernstein, who embraced jazz in his writing both for Broadway and the concert hall, and Duke Ellington, perhaps the greatest jazz composer of them all.
Most significantly, the orchestra's musicians, under the baton of guest conductor Thomas Wilkins, did something big symphony orchestras seldom can do. They seemed utterly at home with the extensive jazz material. All those great performances under Michael Tilson Thomas of Gershwin tone poems and Broadway musicals clearly were not lost on the orchestra's sensibilities.
There was a time not too long ago when a score like Ellington's Harlem, the concert's highlight, might have produced awkward attempts at making the music really feel like jazz. Unlike classical composers who shoehorned jazz riffs and rhythms into their familiar musical language, Ellington fit his brilliant melodies, harmonies and swinging jazz rhythms into classical structures that extended them into concert pieces, mostly meant to be played by his own big band.
The 1950 work was, in fact, commissioned for the NBC Symphony, but it was first performed by the Ellington band at an NAACP benefit in the Metropolitan Opera House in 1951. It is a 15-minute tone poem, fashioned much like Gershwin's An American in Paris, a series of linked musical portraits depicting Black, Caribbean and Latino neighborhoods on a Sunday morning walk through New York City's Harlem.
The opening riff, a falling minor third first articulated with funk by lead trumpet Aaron Schuman, sounded like someone calling 'Har-lem'. It recurred through the piece's episodes. There were canny instrumental combinations, a particularly striking one involving oboes, cellos and saxophones (credit to Maurice Peress, who re-orchestrated the piece in 2008 for a recording with the American Composers Orchestra). The energy of the piece derives from Ellington's always fertile musical mind and brilliant playing by these musicians.
Of particular note was the rousing finale, with the orchestra's percussionists playing their classical drums (and timpani) with their hands as if they were congas. The 'batteria' got a mid-piece round of applause, well deserved.
Wilkins, who last led this orchestra in 2019, conducts the Hollywood Bowl Orchestra in Los Angeles and serves as music advisor to the Boston Symphony. He brought out the jazz atmosphere from the first notes of the opening piece, Bernstein's Three Dances from On the Town (1946), with a lively version of 'The Great Lover' ballet. 'Lonely Town' oozed with blues, and 'Times Square: 1944' revved up its quote of 'New York, New York' to finish things off.
Marsalis joined principal percussionist Jacob Nissly and bassist Stephen Tramontozzi to form a trio in front of the wind section in Schulhoff's Jazz Concerto 'Hot-Sonate'. The composer, a Czech-German Jew who later perished in a Nazi prison camp, was an innovative musical force. Conductor James Conlon has championed Schulhoff in his ongoing focus on composers affected by the Holocaust.
The 1930 concerto comes from Schulhoff's youthful flirtation with American jazz, before his angry Communist-driven music became a calling card. Originally it was set for sax and piano, but this version by Richard Rodney Bennett emulates a jazz band with winds and percussion (plus the lone string bass). The short four movements benefited from Marsalis's virtuosity and Nissly's smile-inducing efforts of early jazz-era percussion effects (including a row of tuned blocks).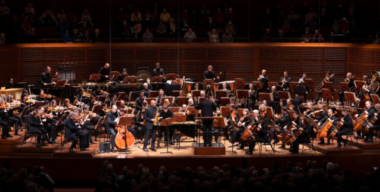 The finale, marked 'molto vivo', featured rapidly shifting two- and three-beat phrases, which made a sly link with the finale of John Williams's 'Escapades', which followed after an intermission. The music distills Williams's score for the 2002 film Catch Me If You Can. Set in the 1960s, the movie follows a fugitive dodging the FBI in a worldwide manhunt. The music brims with elements of 1960s-era progressive jazz, and the rapidly shifting rhythms in the finale play off those aforementioned two- and three-beat phrases (calling to mind the meter-minded music of Don Ellis).
The jazz aspects here were Henry Mancini-worthy. The first movement, 'Closing in', pays sly homage to that composer's Pink Panther score, and makes telling use of the saxophone throughout. Especially fine was the soulful, slow middle movement, 'Reflections', which contained a lovely duet between Marsalis's sax and Nissly on vibraphone.
Harvey Steiman