United States Moses Pendleton's Alice: Dancers of Momix. The Music Center's Ahmanson Theatre, Los Angeles, 19.5.2023. (JRo)
Production:
Conception and direction – Moses Pendleton
Associate director – Cynthia Quinn
Production manager & lighting supervisor – Woodrow F. Dick III
Lighting – Michael Korsch
Music collage – Moses Pendleton
Music editing – Andrew Hanson
Video – Woodrow F. Dick III
Spider puppets – Michael Curry
Costumes – Phoebe Katzin
Costume construction – Phoebe Katzin and Beryl Taylor
Dancers: Heather Conn, Nathaniel Davis, Derek Elliott Jr., Seah Hagan, Aurelie Garcia, Elise Pacicco, Jade Primicias, Adam Ross
Moses Pendleton's Alice lives at the intersection of dance, performance art, rhythmic gymnastics and illusion. With his magician's toolbox, Pendleton conjures a surreal trip down a rabbit hole and through the looking glass, inspired by Lewis Carroll's twin novels. Unlike Christopher Wheeldon's storybook version of Alice's Adventures in Wonderland, with a full score by Joby Talbot, Pendleton's Alice is non-linear – more a collage of Alice inspired events – performed to a variety of musical selections.
The result is an astonishing array of inventiveness. Lifesize puppet Alices grow huge and spin wildly; human Alices are sucked, with vacuum cleaner force, down tubes; a band of feral rabbits terrify (leave the four-year-olds at home); and the Caterpillar slithers and bounces as dancers in red shoes maneuver blue medicine balls. There is a giant white spider, airborne roses, hoop skirted lobsters, tricks with mirrors and a Monty Pythonesque character whose limbs gradually disappear, leaving him with only his torso on the floor.
If this chimerical laundry list isn't enough, I have saved some choice moments to describe in more detail. I preferred the segments with a bit more dancing and a bit less acrobatic hijinks, and will begin with Pendleton's opening, 'A Summer Day'. Alice, wearing a gauzy white dress, was seated aloft a ladder manipulated by a male dancer in a bow tie (Lewis Carroll, I presume). She moved around and between rungs of the ladder while executing ballet-inflected choreography. With hypnotic music by Origamibiro, the experience felt akin to that of dancing in a dream. It was the most perfect moment of the piece, thanks to the lyrical grace of Seah Hagan as Alice. The segment encapsulated what attracts a reader to Carroll's world.
In a rift on Tweedledee and Tweedledum, two pairs of dancers, faces covered by giant cutouts of baby heads – one pair grinning, the other frowning – moved in a row to a Bollywood dance beat, bodies lunging and torsos undulating. It was startling imagery – the scale of the leering heads stunted the dancers' bodies, creating a hallucinogenic perspective shift.
Hidden within stretchy polyester bags, dancers created fanciful characters like the Knave of Hearts by expanding and contracting their bodies into various shapes. No doubt, Pendleton is a student of dance history, and he owes a huge debt to the visionary Alwin Nikolais, born in 1910, who developed this very idea for Nikolais Dance Theatre. Nikolais could be credited with creating multimedia dance theatre, and it is interesting to see Pendleton following and expanding that tradition.
In 'There is Another Shore', bathing beauties with parasols seated on rolling platforms romp at the beach in front of a video projection of the ocean. The atmosphere has the charm and light-hearted mood of Bronislava Nijinska's Le Train Bleu, where the bright young things of the 1920's lounge around the French Riviera. In Alice, however, the beach scene has a subtext. When open, the white umbrellas hide the seated dancers, creating what I imagine to be oyster shells, so famously featured in 'The Walrus and the Carpenter'.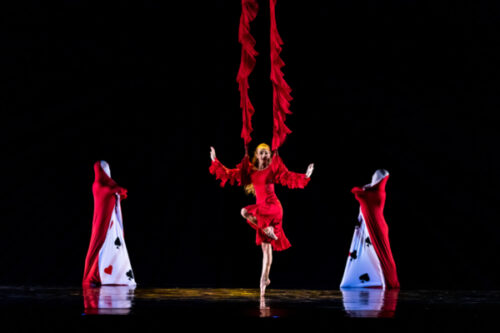 'The Queen of Diamonds' featured the indomitable Hagan once again, this time as a red queen. Harnessed under her arms with wires that allowed her to float skyward, execute grand jetés and spin like a top, she managed the choreography with balletic grace. 'The Queen of Clubs Versus The Queen of Spades' followed, and it was the weakest section. Sexily attired black queens stood astride prone men on skateboards who rode them around the stage. The choreography was basic, and the dominatrix element made it feel predictable.
Video projections by Woodrow F. Dick III gave the dance a manic quality and contributed to the surreal staging. Skillful lighting design by Michael Korsch was miraculously able to keep the focus on the dancers.
Individual company members were not credited in specific sections, and the entire troupe is multi-talented. In many of the segments, acrobatics took precedence over pure dance, and the curtain call allowed the dancers to show off their ballet pedigrees, as they executed classic leaps across the stage and beamed with pleasure to rapturous applause.
Jane Rosenberg