United Kingdom Verdi, Aida: Soloists, Chorus and Orchestra of the Royal Opera House, Covent Garden / Sir Mark Elder (conductor). Royal Opera House, Covent Garden, London, 5.5.2023. (CC)
Production:
Director – Robert Carsen
Associate director – Oliver Platt
Set designer – Miriam Buether
Costume designer – Annemarie Woods
Lighting designers – Robert Carsen, Peter van Praet
Choreographer – Rebecca Howell
Video Designer – Duncan McLean
Cast:
Aida – Angel Blue
Radames – Seokjong Baek
Amneris – Elīna Garanča
Amonasro – Ludovic Tézier
Ramfis – Soloman Howard
King of Egypt – James Platt
Messenger – Andrès Presno
High Priestess – Francesca Chiejina
A welcome return for Aida at the Royal Opera House. Justifiably one of Verdi's most popular operas (the most popular?), it has it all, from intimate arias and duets to grand spectacle. It is good to see Robert Carsen's production again, too, to have a second stab at the apple as it were, and from a different viewpoint: previously, in October 2022, I saw it from the stalls, so the military arsenal pointing directly at the audience in the final act had quite an effect; now, from the balcony, that lost some of its intimidating aspect, but the crowd/choral scenes gained in impact. (My colleague Jim Pritchard reviewed one of the October 2022 performances shown in the cinema, review here.)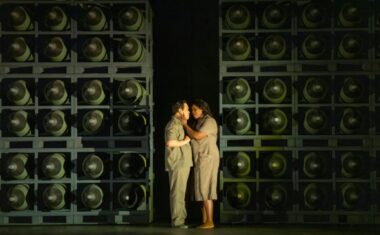 The somewhat grey staging remains unremittingly bleak; as war itself is, of course. We are a long way away from Egypt here (although at one point the elevated viewpoint did reveal a decidedly pyramidal shadow!); the militaristic setting is unnamed, a conflation of several territories, and therefore a reminder that the machinations of war continue whatever the era. Video footage of war reminds us of its terrors in no uncertain fashion, and perfectly delivered in Duncan McLean's video designs, while the ballet acts out conflict to fine effect.  Although cast on a grand scale, the sets do feel somewhat claustrophobic, and deliberately so – the final, offstage calls of 'Pace, pace, pace' by Amneris made all the more effect for it.
The performance was dominated by two artists: the Amneris of Elīna Garanča and the conducting of Sir Mark Elder. Elder found such detail in the score – the orchestra played at its very best for him throughout, the opening of the first act beautifully, keenly phrased, the great musical arches of the big choral scenas perfectly traced. Elder is a man of the theatre, and how it showed. As for Elīna Garanča, she dominated the stage throughout, effortlessly, her voice strong, resolute and rich from her first entrance. Worth mentioning, as the Aida on this occasion, Angel Blue, took a little while to warm into the role of the captured Ethiopian princess (also in contrast to Elena Stikhina last time round). Once she had centred herself, though, Blue's vocal strength was all there (a fine 'O patria mia') – a pity she did not show an equal dramatic presence to that of Garanča.
As Radames, Seokjong Baek (replacing an indisposed Francesco Meli – they are sharing the run) delivered a fine, ringing 'Celeste Aida', but with just a little blemish right at the end of that aria, and Baek really came into his own in the final act. His is a voice I would like to encounter again, and soon; dramatically, he was engaged (and engaging) throughout. Although his is not the most heroic of tenor voices, he has enough power to see this role through; he was, incidentally, Samson to Garanča's Delila at Covent Garden in May last year (review here). Soloman Howard reprised the role of Ramfis well, delivering a portrait of a character of real determination, and he sang solidly. It felt like luxury casting to have Ludovic Tézier back as Amonasro, his voice in fine form, his acting wholly convincing. James Platt was a fine King of Egypt, Andrès Presno a strong Messenger.
But the whole was so much more than the sum of its parts thanks to Elder's sure direction, delivering real, spine-tingling grandeur in the choral scenes while balancing chorus and orchestra impeccably.
The run continues until June 1 – well worth catching a performance.
Colin Clarke