United Kingdom Wagner, Die Walküre: Soloists, Orchestra of Regents Opera / Benjamin Woodward (conductor). Grand Temple, Freemasons' Hall, London, 21.5.2023. (JPr)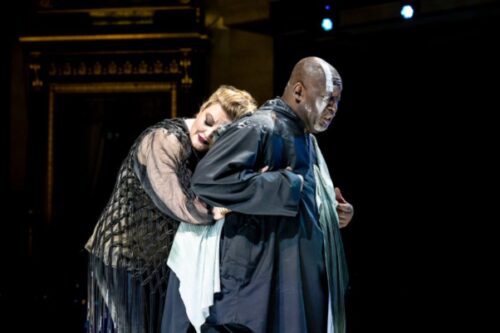 Production:
Director – Caroline Staunton
Assistant director – Keiko Sumida
Designer – Isabella van Braeckel
Lighting design – Mitch Broomhead
Assistant conductor – John Paul Jennings
Studienleiter – Paul Plummer
Cast:
Siegmund – Brian Smith Walters
Sieglinde – Justine Viani
Hunding – Gerrit Paul Groen
Wotan – Keel Watson
Fricka – Ingeborg Novrup Børch
Brünnhilde – Catharine Woodward
Gerhilde – Charlotte Richardson
Helmwige – Shannon Roberts
Ortlinde – Philippa Boyle
Waltraute – Catherine Backhouse
Schwertleite – Gráinne Gillis
Siegrune – Magdalen Ashman
Grimgerde – Grace Maria Wain
Rossweisse – Caroline Carragher
Since Regent Opera's Das Rheingold last November – as I predicted – English National Opera's proposed new Ring co-production with New York's Metropolitan Opera is no more, for well-publicised reasons, though Barrie Kosky's new staging at Covent Garden begins this September with 'a bold new imagining of the first chapter of Wagner's Ring cycle.' All praise then for Regents Opera who – after this 'in the round' Die Walküre – are looking ahead to Siegfried in February 2024 and Ring cycles at the end of next year. Under Ben Woodward's artistic direction haven't they come a long way since their first go at Wagner's tetralogy between 2011 and 2014 – accompanied by piano and a few instruments – in Fulham's St John's Church (Regents Opera was originally Fulham Opera).
With this Die Walküre it is the musical side of things that impressed the most. The score – in my opinion – has never been played, or sung, better at Longborough Opera, which has considerably more resources at their disposal, including a much bigger orchestra than the 22 musicians – listed in the programme – who we heard in the Freemasons' Hall. A small ensemble means greater opportunity for any errors to be exposed but the players were so talented that what we heard – in an arrangement by Woodward with additional material by Jonathan Finney – was virtually error-free over 3¾ hours of music. It allows me to repeat what I wrote about their contribution to Rheingold: 'The playing by the orchestra is virtuosic and Woodward conducted a fluid, pacey, vibrant account of the score with an instinctive feel for its dramatic structure.'
For the opening Prelude, Woodward whipped up a considerable storm and you could almost experience the fleeing Siegmund's anxious heartbeats that Wagner embedded in this music. This was a most exciting opening and the whole performance continued like this with many memorable highlights over the three acts: including a blooming spring uniting the brother (Siegmund) with his sister (Sieglinde); the Valkyries galloping in when we could imagine the neighing of their horses; and the glorious Magic Fire Music conclusion which was incandescent and didn't need the six harps I once saw and heard when a Berlin orchestra played it!
The singing was equally good! Perhaps I wasn't alone in wondering when looking at the cast for the Ring about how many – if any? – other Brünnhildes Ben Woodward considered before letting his wife, Catharine, sing it. Good news is that she is a revelation in the role and sounded as if she would not let down any opera company anywhere. Catharine Woodward's voice is totally secure throughout her range with stunning top notes, and I am sure I might have heard her 'Hojotohos' possibly equalled but they have rarely been bettered in my experience. Dramatically, she made a very creditable pouty teenager on stage in this opera. Her performance was most subtly characterised through to a show of defiance at the end as she challenges Wotan's punishment. Director Caroline Staunton has Brünnhilde as something of a goth with a fondness for a pop art Marvel Comics Avengers throw blanket that she covers herself with when laying down to sleep at the end of the opera.
There should be a suggestion that Brünnhilde is sleeping on a rock, but of course she wasn't here, and this brings us to the problem with this Die Walküre, Staunton's staging, which sees a marked downturn, for me, since the quirky inventiveness of her colourful 'Night at a Museum' Rheingold. Despite the eclectic costuming of the Valkyries (possibly arts students here) who wear what they might when on a good night out at the weekend, colours are mostly muted greys or black. Hunding has a plaid suit, Sieglinde wears a tweed dress, Siegmund has a patterned gilet and suggests he is a hunter, Fricka is in grey too, whilst Wotan looks as if he is in an elaborate artist's smock covered in streaks of white (paint?). Wotan, Brünnhilde and her Valkyrie sisters all have facial markings whilst Sieglinde has tattoos on her arms and shoulder that she is drawing on the full-sized torso of an artist's mannequin as the opera begins. This possibly is the image of the hero she desires (dreams of?) to save her from her loveless, abusive relationship with Hunding. Sieglinde will notice matching tattoos on Siegmund.
However, there were too many moments like this which caused those around me to discuss – as I overheard – what was the meaning of the mannequin, or this, or that they had just seen? For those new to Wagner, and I met some, they would wonder why a risible plastic (?) sword was withdrawn from a box on top of a drinks cabinet on stage in Act I. It 'magically' ended up in pieces at the end of the second act and it will be interesting to see how it is forged anew in Siegfried. Why does Hunding chase Sieglinde and Siegmund with a fire extinguisher? Why does Wotan have so little interest in his odd-looking spear? Who is the female figure swathed in black like a religious fundamentalist who drags on some mottled black plastic sheeting midway through Act II? (Performed by Veronica Weston she is named in the cast list as 'Wotan's Will'.)
Brünnhilde's heroes she brought to Valhalla for Wotan were small shiny figures she placed around on some – otherwise empty – pedestals; whilst for the Valkyries their 'heroes' were some great works of art, such as Munch's The Scream, Da Vinci's Mona Lisa, David Friedrich's Wanderer above the Sea of Fog and Manet's Olympia, amongst others. The masked woman in black returned with Wotan and punched through all the artworks and then bound up Brünnhilde before writing Entartete (Degenerate) on her. There was an article in the programme about the wholesale desecration of works of art by the Nazis in 1939 which was reflected by the destroyed paintings being placed around Brünnhilde as she slept on a stepped platform in some flickering flame lighting effects. This might have given some meaning to what we saw earlier had this not come out of nowhere.
Once again the saving grace of this Die Walküre – apart from the orchestra – was the singers. Brian Smith Walters sang with the evident confidence of someone in full command of his role. His 'Ein Schwert verhiess mir der Vater' and 'Winterstürme wichen dem Mond' were sturdy and perhaps lacked some of the lyricism I prefer in this role. His standout moment was his cries of 'Wälse! Wälse!' which were both heartfelt and a triumph of excellent breath control. Justine Viani was turned by Staunton into an oddly comatose figure for some of the second act but overall, she sang a heart-rending and ardent Sieglinde, although her Act III 'O hehrstes Wunder!' would have benefitted from more radiance. Gerrit Paul Groen was an imposing, quick to anger, brutal and commandingly dark-voiced Hunding who despatches Siegmund with that extinguisher. Ingeborg Novrup Børch was a vengeful and bitter Fricka who Staunton makes collapse to the ground whilst having a hissy fit. The Valkyries had clearly been well-coached and enthusiastically tackled all that Wagner demands of them, and they sounded one of the best octets I have ever heard when singing together, if not always quite so good in their individual moments.
I have left the best until last and I am happy to report Keel Watson perhaps gave the performance of his life as Wotan in this Die Walküre. With his expressive voice Watson displayed all his abilities as a masterly and engrossing tale-teller in the second act as he recounted the Ring story so far. Initially Watson's was a more nuanced and conversational Wotan than is sometimes heard though because of his character's increasing anger about what he has had to do, and his railing against the gods' imminent downfall, as well as the fallout from his beloved daughter's betrayal, he ends up a pitiful, broken man.
Some members of the audience didn't return after the two intervals and Regents Opera might ponder on that but, as ever, I heartily recommend their performances whether it is Die Walküre now, or Così fan tutte on tour in June and July, or the subsequent Ring operas and seeing how the cycle all works out in the end.
Jim Pritchard
For more about Regents Opera click here.