United Kingdom Brahms: Sunwook Kim (piano), London Symphony Orchestra / Michael Tilson Thomas (conductor), Barbican Centre, London, 17.5.2023. (MBr)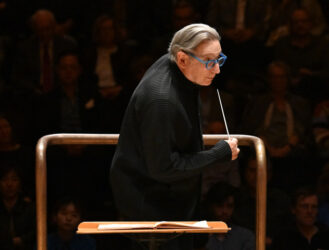 Brahms – Serenade No.2 in A, Op.16; Piano Concerto No.1 in D minor, Op.15
For some, Johannes Brahms can be as dry as dust; for others, like myself, hearing his music is a heavenly experience. But there might even be more to understanding Brahms. At school, my music teacher advanced a theory that it was impossible to like both Berlioz and Brahms; they were so diametrically dissimilar one couldn't really listen to both of them with equal passion. No matter how obviously quirky the theory is, I have certainly struggled with Berlioz for much of my life; Brahms, on the other hand, has been a constant, immovable pillar. Almost uniquely for a composer, too, I dislike none of Brahms's works. But Brahms was exceptionally careful in that he discarded almost everything that he regarded as badly written; consequentially, the number of published compositions isn't large, but it is remarkably consistent.
Brahms wrote nothing comparable to the Symphonie fantastique, just as Berlioz wrote nothing comparable to the String Sextets. But, if the two composers do share one thing in common it is an approach to monumentalism in their music. Brahms may well be austere, and prone to insufferable boredom for some, but he is also rather big with it when it comes to his architecture. Michael Tilson Thomas's first concert, of two with the London Symphony Orchestra, paired both of the String Serenades with two of his concertos – the Piano Concerto No.1 and the Violin Concerto (why not the Second Piano Concerto, which would have been more logical, is anyone's guess).
In the first concert the clear logical bit, however, was placing the Piano Concerto in the second half and the Serenade No.2 in the first – balance is everything with Brahms. The layout for the Serenade at first felt a little odd; the seating had been set out on the left-hand side of the stage towards the centre in a semi-circle. Perhaps this would be a crescent of radiating sunlight or a cloud-veiled moon that shone almost nothing. It felt less like one had gone into a concert hall, more like a possible orchestral rehearsal in the drawing room of the Wagner's home in Bayreuth (Wahnfried) and a first performance of music from the Ring. There was unquestionably an intimacy to how it looked even with just the skeletal music stands waiting patiently for their players.
If the first of the Serenades is an imitation work, the Second is a far more developed piece – and considerably more Brahmsian in tone, even if it was composed just two years later in 1859, around the time of the Op.25 and Op.26 Piano Quartets. It is in one sense a dark work – there are no violins; but it is also melodically warm and even rather glowing. And of the ten instruments Brahms does use, the piccolo, which comes into play towards the end, is a stunningly inventive tour de force for Brahms.
Michael Tilson Thomas has certainly become a bit slower as he has aged. This was a measured performance, but it retained a mercurial quality to it. Perhaps the clarinets began with more of a roar than I would have liked, but they were in balance with the undertow of the four double basses. The opening Allegro roamed rather than rambled; the melodies were silkily spun rather than coarsely weaved. The Scherzo didn't always feel kinetic, but nor was it inanimate either.
This being a five-movement work, its core is the central Adagio non troppo. Brahms would later find inspiration in this movement for this greatest symphony, the Fourth, but there is, too, a conflict of ideas here that works towards a kind of unison. Tilson Thomas managed to achieve the solemnity, nobility of the music, along with its idyllic, natural fantasy. Certainly on the slow side, it was also magnificently opulent. The short minuet was joyous (even if you couldn't have danced to it), the final Rondo, with its Brahmsian folk tunes, a virtuosic display for the London Symphony Orchestra's woodwind – and finally that peppy piccolo that pierces through like birdcall. It can often sound like brittle, breaking glass – here it was done as sharp as a razor slicing through paper and just a whistle of air (great playing from Sharon Williams).
This had been a performance of consummate mastery – and the crescent of sunlight after all.
There were two reasons why this concert was such an attractive one to review. Firstly, I think Brahms's D minor Op.15 Piano Concerto is probably the greatest ever written for the instrument. Secondly, the pianist was Sunwook Kim, one of the finest players of this concerto – and Korean. The nationality is rather important for me; both Korean – and Japanese – pianists in this concerto have long been my go-to interpreters for recordings, and concerts when I can grab them. Part of the reason lies in the very nature of this concerto: it is a volcanic, often grief-stricken piece; it sometimes lies in the bleakest realm of the tonal universe (B-flat minor). It has tenderness, but it is a torrential firestorm, laden with octaves of fury that few other concertos even begin to match. The stretch of the hands and fingers once in motion can be as fierce as an unstoppable tidal wave; the conflict between soloist and orchestra is both ferocious and ravening. This concerto is like musical blood sports.
The great Japanese pianist Takahiro Sonoda was a model for performances of this concerto – first on a recording with Heiichiro Ohyama, and from broadcasts with Wolfgang Sawallisch and Takashi Asahina; it was a piece that ran through his veins. Korean pianists like Kun-Woo Paik (Czech Phil/Eliahu Inbal) have made superb recordings, and Sunwook Kim himself recorded the concerto with Myung-whun Chung and the Staatskapelle Dresden (Seoul, 2019). Indeed, it was with the Brahms that Kim won the Leeds International Piano Competition in 2006. My preference for these pianists in this concerto largely has to do with the power they bring to it, a terrifically formidable left hand, especially. I have generally found their pedalling to be done with almost feline precision; the top end of the keyboard and fifth digit playing is clean to an unusual degree. Lower wrists, more so than today's Russian pianists, has made much of their playing more expressive. Much of this, and almost everything I wanted in this performance of the Brahms was there in spades; it was remarkable, treasurable.
The concerto was begun in 1854, although took until 1858 to complete. Although given the opus number 15, it would almost certainly have a higher one had Brahms not been so rigorous in his self-discipline and confidence; the work did, after all, begin as one for two pianos. The first performance was disastrous – Joseph Joachim, to whom Brahms would dedicate his violin concerto, described the work as 'over-orchestrated'. As with Rachmaninoff's First Symphony history looks backwards and revises what was first thought of as failure.
Before this performance even began we were on the right track – Tilson Thomas had divided his violins antiphonally, so crucial in Brahms. The opening on timpani was an eruption – Vesuvian – but it was in no way a preparation for how Tilson Thomas handled the bleak phrase that followed it. Nor, in fact the sheer sheen and polish given to the LSO strings which washed over with astounding warmth; it felt as if every scorched note that had preceded it had suddenly been turned into the silkiest of cinders. Sunwook Kim was unassertive at his first entry – a little unsettling if you know of the forthcoming storm that is about to hit you. There was desolation here; triplets that seemed to resonate with anxiety, drained of colour.
The development proved brutal and bloody – octaves of rigorous clarity but cascading like lava. The dramatic impact was never to be understated; dolefulness gave way to incandescence with a ferocity that had no boundary. For some pianists there are gatekeepers here; for Kim there was nothing but an unstoppable pathway with nothing to divert him. But there was room for buoyancy, too – the sprinkling of arpeggios, never more imprecise or louder than summer raindrops, the change of pace which no longer hinted at the terror of the beginning of the development. Menace reappeared in a stunning dual between Kim and the LSO, Tilson Thomas whipping up blows as Kim chiselled his response into the orchestra with hands that seemed to be carving deeply into the keyboard. And that coda. One of the most dramatic pieces of music ever written, I have rarely heard it better done. These octave passages are full of the kind of stagecraft of the greatest soliloquys: they are wielded with the strength of a hammer but nailed with the precision of a cut diamond. The passion was stunning, the accuracy formidable.
After all this tumult and tragedy the second movement goes to an entirely different place. The music can sound tender, but I think this is an illusion. Sunwook Kim was the right side of sinuous in the right-hand octave that follows the string's reposed passage and I think he drew the right conclusions about this music being more about tonal severity. So characteristic of his playing was his ability to create such a wonderful spectrum of colour; there were no arched fingers here, the bleak greys pulled from careful delicacy against the keys, just as we got an austere black to view it in contrast. He was careful to play with the oboe and clarinet; it is perhaps something we expect more from the Second Piano Concerto. The piano can sound almost orchestral in this movement, especially during trills – you either play it like this, or you miss the point of it entirely. There were keyboard glissandi that Kim played like a harp. The cadenza is short – Brahms wrote no large one for this concerto – but it was pristine and brilliant.
The Rondo tends towards a kind of muscularity and ruggedness (octaves have a habit of plunging downhill). That wonderful bass that Kim so naturally has, more than baritonal, never felt punched; the virtuosity of blitzed octaves was like a firestorm. There was ferocity, but it never felt overdone. His cadenza almost completely fell out of the Romantic era – it felt baroque in its effortless ease, and its transparency. Just as in the first movement as Kim had proved unsettling before the storm, so he was before the final coda; the tranquillity and tangent he took was a distraction but also dangerously provocative because of the power he gave to broad, descending scales which had an almost panoramic spaciousness to them. The momentum towards the final bars was storm-tossed and thrilling.
This was great Brahms, a brilliant pianist at the height of his powers, with a conductor and orchestra in perfect symbiosis. Heaven for me, without a doubt.
Marc Bridle