United Kingdom Tchaikovsky, Rachmaninov, Clyne: Daniel Ciobanu (piano), BBC National Orchestra of Wales / James Feddeck (conductor). St David's Hall, Cardiff, 11.5.2023. (PCG)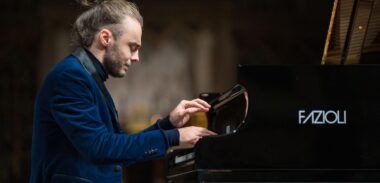 Anna Clyne – Masquerade
Tchaikovsky – Piano Concerto No.1 in B-flat, Op.23
Rachmaninov – Symphonic Dances, Op.45
Anna Clyne's Masquerade was commissioned by the BBC and first heard at the Last Night of the Proms ten years ago. Unlike some such commissions – one thinks of Harrison Birtwistle's Panic – it was not meant to frighten the horses. It is an attractive confection designed to please the audience. It takes as its premise a portrait of the eighteenth-century promenade concerts given in London's Vauxhall Gardens and elsewhere, an uproarious and joyful celebration of popular culture presented in lively modern dress. The musical material, instantly approachable, even includes a folksong in the shape of the suitably inebriated Juice of barley. Comparisons with such works as Walton's Portsmouth Point or the riotous conclusion of Respighi's Roman Festivals are very much to the point. One's only regret is the lack of just one extended melody to provide some lyrical relief. The occasions when an emerging tune seems set to develop are all too quickly truncated, as the music reels away into the next idea. The work leaves the listener feeling breathless, but it made an excellent opener for a concert which did after all feature two real honest-to-goodness orchestral showpieces.
To begin with, we had Tchaikovsky's First Piano Concerto. I suppose we must say 'first' now that his two later expeditions into the territory are played more often. Oddly enough, the unusual form of this concerto, with its famous opening theme that never returns after its initial statement, still has the power to thrill even if has almost become hackneyed with persistent repetition. Odd, too, that Tchaikovsky's famous crashing chords were originally arpeggiated and so would appear to have quite diminished their impact. (Which version did he play to Nikolai Rubinstein that so alienated the sympathies of the older composer?)
In the event, it hardly matters. Daniel Ciobanu's smashing delivery of those chords gave us all that Tchaikovsky could possibly have wanted, and the strings of the BBC National Orchestra of Wales were at their full-throated richest. This was a performance that took no hostages. James Feddeck's responsiveness to his soloist's every mood gave no quarter whatsoever. The young Romanian soloist has received warm acclaim since he won both Silver Medal and Audience Prize at the Arthur Rubinstein Competition in 2017, but he is far more than a barnstormer in the fashion of the pianistic lions of old. His delicacy of touch and phrasing was equally stupendous. The slow movement for once did not seem like an orphaned waif stranded between the two grand statements of the opening and the finale. There were many more individual insights into a score that can so often become predictable.
This was a marvellous performance. Ciobanu also showed his engagement with the audience in his intelligent selection of an encore. He announced the work he was about to play and gave a brief introduction to the music. (He would have been better served if he had been given a microphone.) The enchanting Mazurka glissando by Eduardo Lecuona was a marvellous discovery, festooned with glittering decoration and offbeat touches of humour leading to a quirky conclusion.
After such an overwhelming display of virtuosity to conclude the first half of the programme, Rachmaninov's Symphonic Dances might have been overshadowed. Fenneck made certain that this did not happen, and the orchestra responded well to his encouragement. The saxophone solo in the first movement could have emerged with more definition from the surrounding woodwind figuration; this is always a tricky moment to get balanced well. In the final movement, the tension was allowed to lyrically relax just a fraction too much in the central section before the final torrential dance of death. But the latter, when it arrived, was superbly riotous. The conductor allowed the final stroke of the tam-tam to resonate fully, holding his baton high in the air as if positively daring the audience to applaud prematurely. (This is not so easy to achieve. I have twice heard this orchestra play the score in Cardiff, and there have been problems with interruptions of clapping at this point.)
The concert was scheduled to be repeated the following evening in Swansea. That performance was to be relayed on BBC Radio 3 the following Wednesday, but for some reason the Cardiff performance discussed here was substituted. Either way, it was well worth hearing twice. It remains available on the BBC Sounds channel for a further month. Presumably the Swansea performance will follow in due course. And the names of Daniel Ciobanu and James Feddeck will bear watching.
The concert was given in memory of Nicola Heywood Thomas. She had been introducing broadcasts from Cardiff ever since 1994 and was a familiar figure to many in the city. She was an enthusiastic presenter, engaged with her subject and knowledgeable about it, and always prepared to enter into discussions with composers and performers – not all of which were ever intended for broadcast, but were always enlightening to audiences. She was also someone who was always delighted to be in an audience even when she was off duty. I have one particular and very precious memory, when I was sitting immediately behind her at a performance in the Millennium Centre of the National Theatre production of Michael Morpurgo's War Horse. As the lights went up for the interval, she turned in her seat to make a remark, and her eyes were brimming with tears. She will be missed, not just by those who knew her, but by audiences worldwide.
Paul Corfield Godfrey