Regents Opera presents a bold re-imagining of Die Walküre, the second instalment in Wagner's epic Ring cycle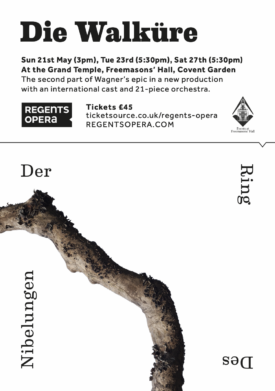 Die Walküre stars Catharine Woodward as Brünnhilde, Keel Watson as Wotan and Brian Smith Walters as Siegmund
The action returns to The Grand Temple, Freemasons' Hall, Covent Garden, May 2023 – Sunday 21st, Tuesday 23rd, Saturday 27th
FOR A REVIEW OF THE 21 MAY PERFORMANCE CLICK HERE
This ground-breaking adaptation is performed in the round and specially arranged for a 21-piece orchestra, conducted by Ben Woodward
After the terrific success of last November's production of Das Rheingold, Regents Opera presents its revelatory interpretation of the second instalment in Wagner's epic Ring cycle: Die Walküre. A bold undertaking for a chamber opera company, Regents Opera has set out to perform every note of Wagner's masterpiece in its entirety over the span of three years.
This cycle is conducted by the opera's artistic director, Ben Woodward, who has also helmed the hefty process of rearranging the mammoth score originally intended for 90 instruments, down to just 21.
The setting of this production in the round, and in the stunning surrounds of The Grand Temple's Freemasons' Hall, allows audiences a visceral closeness to the singers themselves, ensuring every audience member has a great seat to witness the epic drama and humanity of Wagner's Ring cycle.
The cast for Die Walküre sees the return of Keel Watson in the role of Wotan and Ingeborg Børch as Fricka. Justine Viani returns in a new role as Sieglinde, and Charlotte Richardson returns, this time as Gerhilde. They are joined by internationally renowned Catharine Woodward as Brünnhilde, Brian Smith Walters as Siegmund and Gerrit Paul Groen as Hunding.
Cast:
Siegmund – Brian Smith Walters
Sieglinde – Justine Viani
Hunding – Gerrit Paul Groen
Wotan – Keel Watson
Fricka – Ingeborg Børch
Brünnhilde – Catharine Woodward
Gerhilde – Charlotte Richardson
Helmwige – Shannon Roberts
Ortlinde – Philippa Boyle
Waltraute – Catherine Backhouse
Schwertleite – Gráinne Gillis
Siegrune – Magdalen Ashman
Grimgerde – Grace Maria Wain
Rossweisse – Caroline Carragher
The first instalment, Das Rheingold received a strong positive response, cited as a ground-breaking new interpretation and an 'innovative' spectacle that yielded 'moments of magic' throughout. The production was also praised for its accessibility and fair ticket pricing amidst the cost of living crisis, being named a 'vital' piece of fringe opera.
Looking ahead to the future, this production of Die Walküre will be followed by the third instalment, Siegfried in February 2024, before bringing the cycle to its epic conclusion in November – December 2024 with Götterdämmerung.
Tickets for this exciting new production are now on sale, the opening performance of Die Walküre is on Sunday 21st May.
For more information on Regents Opera's Ring performances and how to book CLICK HERE
Ben Woodward, conductor and arranger said: 'We were hugely delighted, and relieved, to see the response that Das Rheingold received. It's fantastic to be able to present the Ring cycle as a small opera company and to do be recognised as doing it justice and adding to the opportunities for people to perform it and to hear it.
"The Freemasons" Hall in Covent Garden is a stunning backdrop, easily admired by the audience in the Round and we look forward to returning there with Die Walküre in May.'
Director Caroline Staunton joins Regents Opera for this cycle. Ben commented: 'Her knowledge of opera is encyclopaedic, and her love of opera is total. Her desire for clarity of text, intention and expression is unsurpassed, and she adores this music. It's terrifically exciting to be working with her.'
Caroline Staunton, director, said: 'Die Walküre is a distinct shift in tone from Das Rheingold. We are faced with the consequences of what the Rheingold already opened, and the lighter, sometimes comedic touch is completely lost as the world of Die Walküre becomes deeply, deeply troubling. It is a darker and more disturbing chamber opera with almost a Lynchian quality to it as we centre on the story of a soul that is rotten and can only become rotted further in the deepening darkness.
'The absolute heart and soul of this of this work is the relationship between Brünnhilde and Wotan, the father who betrays the daughter who was once his beacon and his light. The accompanying story of Sieglinde and Siegmund is a wonderful parallel story of the triggers that break the bond between father and daughter. It also marks the generational shift from the elder to the younger gods – that generational gap in the Ring cycle which, with Wotan's leave-taking, heralds the arrival of Siegfried and the break from the gods of the old guard in the next part.'
Caroline recently co-directed a new production of Wagner's Tannhäuser with Kornél Mundruczó at Staatsoper Hamburg. Based in Berlin, she is a staff director at Staatsoper Berlin, regularly working with leading directors including Claus Guth, Dmitri Tcherniakov, David McVicar and Calixto Bieto, and is responsible for revival productions of the repertoire works.
Regents Opera (est. 2011) specialises in the larger works of the nineteenth and twentieth centuries, offering emerging and established singers a platform to perform major repertoire not often staged outside the major houses. Its critically acclaimed immersive productions include Wagner's complete Der Ring des Nibelungen and Der fliegende Holländer, Verdi's Falstaff, Simon Boccanegra and Don Carlo, Donizetti's Lucia di Lammermoor and Johann Strauss's Die Fledermaus.