United Kingdom Verdi, Il trovatore: Soloists, Chorus and Orchestra of the Royal Opera House, Covent Garden / Sir Antonio Pappano (conductor). Royal Opera House, Covent Garden, London, 2.6.2023. (CC)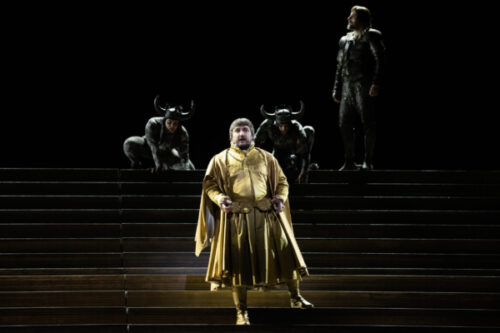 Production:
Director – Adele Thomas
Designer – Annemarie Woods
Lighting designer – Franck Evin
Choreographer – Emma Woods
Fight director – Jonathan Holby
Dramaturg – Beate Breidenbach
Cast:
Leonora – Marina Rebeka
Manrico – Riccardo Massi
Count di Luna – Ludovic Tézier
Azucana – Jamie Barton
Ferrando – Roberto Tagliavini
Ines – Gabrielė Kupšytė
An Old Gypsy – John Morrissey
Messenger – Andrew O'Connor
Before we get to production and performance, it might be worth indulging in a little speculation: I wonder what the ratio is of performances of Traviata to Trovatore? I ask because the Richard Eyre Traviata has been pretty much omnipresent at Covent Garden for many years now, while Trovatore has been an all too occasional visitor. A performance in 2009 conducted by Carlo Rizzi with Roberto Alagna, Sondra Radvanovsky, and the much-missed Dmitri Hvorostovsky remains lodged in the memory. I am not so sure this one will.
More of the singing later. The new production, by Adele Thomas, is problematic. The issue is that each Verdi opera exudes a specific sonic aura – a tinta. If the production is in dissonance with this, it effectively fails, no matter how funny it tries to be on occasion. Initially a cardboard cut-out mythical figure is seen, splitting itself to reveal the stage; there are similar cut-out clouds, bringing back memories of Covent Garden's staging of Meyerbeer's Robert le diable. 'Mi vendica' (words found in Azucena's narrative aria 'Condotta ell'era in ceppi') is written above the stage to remind us of the heart of the opera's themes, and there are smaller frames for the stage that seem to be there to remind us we are in the theatre, or perhaps to zoom in our attention onto the stage.
The stage itself, though, is dominated by a massive staircase which for many will reference Barrie Kosky's recent Carmen for the company. For those of us of a certain age, it is English National Opera's 1980's staging of Verdi's I vespri siciliani that is the reference point. As a friend said to me on that day in the dim and distant past, 'how many things can you do with a staircase?'. Quite.
Well, you can run up them, you can run down them, or you can stand or sit on one and sing (which unaccountably brought in memories of Robin the Frog's Halfway down the stairs is a stair where I sit from The Muppet Show). Or a shedload of demons can dance around on them, as here, in a nod to one of the underlying inspirations of this production, Hieronymus Bosch (nicely echoed in the costumes of this production).
Which brings me rather neatly to the opening, and Ferrando (the superbly strong Roberto Tagliavini), attended by said demons. It was a good start, especially after Antonio Pappano's opening. Pappano is a natural Verdian (he has recorded Trovatore well, albeit a while ago) and one always feels safe in his hands: his attention to detail is harnessed to an ability to see the larger picture so vital in successful Verdi performance. He obviously has total command of his players, too, and the Royal Opera House orchestra was pretty much faultless on the opening night. There is a real argument to suggest that it was Pappano who held this Trovatore together and effectively saved it.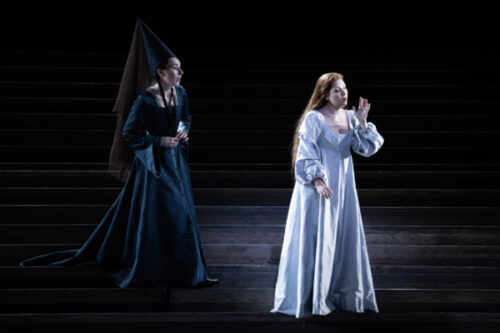 Latvian soprano Marina Rebeka is a remarkable singer. Her account of Julia in a concert performance of Spontini's La vestale in Paris recently under Christophe Rousset was a revelation. Her Leonora here was perhaps not of the same exalted standard, occasionally a touch wayward vocally. But there were many memorable things: Rebeka could not have asked for a better preparation for her 'Tacea la notte', with Pappano making the suspensions positively heart-rending. In tandem, Pappano and Rebeka made the ascending lines beautifully lyrical and legato. Her finest moment was arguably the Act IV 'Miserere', absolutely gripping, underpinned by jet-black rhythmic repetitions in the pit.
Her Manrico was Riccardo Massi, initially heroic in demeanour but by the time his 'Di quella pira' came about, much of that heroism had bled out of his voice. The problem with Trovatore, if problem it is, is that it will stand or fall because of Azucena. Jamie Barton gave the role her all, but ultimately failed to convince. She has some lovely plummy low notes that she can project into next week (and did so in 'Stride la vampa'), and was clearly immersed in the ongoing drama, but Barton lacked the final ounce of resonance at the core of the deeply mysterious Azucena.
The star really of this performance was Ludovic Tézier's Count di Luna. Tézier also shone as Amonasro in the recent Covent Garden Aida (under Sir Mark Elder: review) and many will know his superlative Verdi arias disc on Sony. His voice is perfect for Luna: strong, but most velvety. His big aria is 'Il balen del suo sorriso' which was sung with the most glorious legato, each phrase caressed, rising to the loveliest climaxes without any loss of tone.
And one really must acknowledge the unerring accuracy of the choices of the Jette Parker Young Artists programme. Two representatives here, both excellent: Gabriete Kupšytė's Ines, in a very pointy hat that indeed seemed to imply troubadour times more than anything else in the production, in fine, strong voice, and Michael Gibson, who managed to make the part of Ruiz memorable through his dramatic engagement and core vocal strength.
The Royal Opera's chorus excelled, as always, 'The Anvil Chorus' is their big moment, here finding members arriving via trapdoors in the floor amongst other modes of entry, while the (offstage) nuns sounded absolutely beautiful.
All credit to Pappano and his players, the Jette Parker programme's representatives (they did it proud), and Ludovic Tézier's unforgettable Count di Luna. The performance on 13 June can be seen live in cinemas and I note that later in the run (from June 21), Rachel Willis-Sørensen sings Leonora against Gregory Kunde's Manrico. Given Kunde's superb Otello here back in 2019, that should be quite an evening, and it will be interesting to see how Willis-Sørensen tackles Leonora …
Colin Clarke
For a review of the cinema broadcast with Rachel Willis-Sørensen as Leonora CLICK HERE.