United States Gluck, Orfeo ed Euridice (concert version): Freiburger Barockorchester and RIAS Kammerchor / René Jacobs (conductor). Gran Teatre del Liceu, Barcelona, 8.6.2023. (JMI)
Cast:
Orfeo – Helena Rasker
Euridice – Polina Pasztircsák
Amore – Giulia Semenzato
Belgian director and former countertenor René Jacobs tours Europe annually with a Baroque opera, from which he draws an authentic musical re-creation. This year the opera is Gluck's Orfeo ed Euridice, and the result has been at the level that one anticipates. In Spain, this concert version is being staged in Barcelona, at Teatro Real in Madrid and at the Auditorio in Oviedo.
It is an excellent and careful reading of the opera, and the concert version is very complete: it even includes the ballet music (without dance, of course) that follows the final meeting of the lovers and precedes the beautiful final chorus, 'Trionfi amore'. The stupendous Freiburger Barockorchester as well as the RIAS Kammerchor were under Jacobs's baton.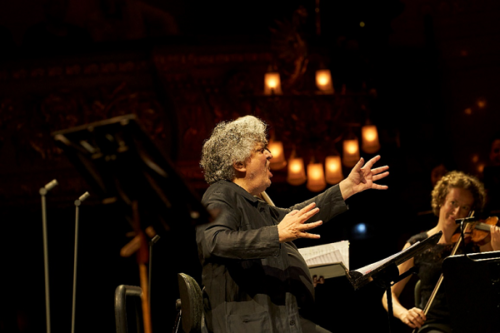 The characters of Orfeo, Euridice and Amore were interpreted by singers who are relatively unknown here. In all three cases, their performances were a pleasant discovery for me.
Orfeo, whose presence on stage is practically continuous, was interpreted by mezzo-soprano Helena Rasker, whom I had not had the opportunity to see and hear until now. She has an attractive voice, although not an exceptional one, and sang with gusto and expressiveness in a very convincing way. I found her a bit restricted in the low notes, which is usually the biggest problem with this character when played by a mezzo-soprano, but for me it is a better alternative than tenor or countertenor.
Euridice and Amore are somewhat secondary characters, but they have opportunities to shine too. Euridice, Orfeo's wife, was sung by soprano Polina Pasztircsák, whom I was also seeing for the first time, and she made a very positive impression. She is a light soprano with a beautiful, well-handled voice, and it would be good to hear her in a more important role.
Finally, the charming role of Amore was played by soprano Giulia Semenzato, who has a lovely voice and is a strong singer and outstanding actress.
I would add that the trio did not use a score, except for some very rare moments on the part of Orfeo.
José M. Irurzun