Charlotte Corderoy in conversation with John Quinn
One of the most eagerly anticipated events of the 2023 Three Choirs Festival is the semi-staged production of Vaughan Williams' The Pilgrim's Progress. This is a key work in Vaughan Williams' output; the composition occupied him for a very long time – for three decades, from the early 1920s until its first performance in 1951 – and it blends several different aspects of his style. I first came to know and love it fully fifty years ago through Sir Adrian Boult's famous EMI recording, issued in 1972 to mark the composer's centenary. Opportunities to experience it live have been few and far between, though. I managed to see a semi-staged performance that Richard Hickox conducted in Symphony Hall, Birmingham in 1997, in which, as I recall, several singers took part who later featured in his excellent 1998 Chandos recording. To my lasting regret, I never saw the widely praised production which the Royal Northern College of Music put on in 1992, though I subsequently obtained and admired the live audio recording that was issued. Finally, in 2012 I was able to see a full staged production at English National Opera and though I was irritated by some aspects of the production, the musical performance, under the expert baton of Martyn Brabbins, was excellent (review). When I learned that the work was to feature in the Three Choirs Festival it became an unmissable event as far as I was concerned.
My interest was further piqued when I discovered that the performance is to be conducted by Charlotte Corderoy, a young British conductor and someone, moreover, for whom this performance will be something of a musical homecoming because she has strong connections with Gloucester Cathedral and the Three Choirs Festival. Interestingly, in returning to conduct at Three Choirs she will follow in the footsteps of Gloucester-born Edward Gardner, a former chorister at Gloucester Cathedral, who appeared as a guest conductor at the 2013, 2016 and 2019 Festivals, all held in his home city.
Charlotte Corderoy has just graduated as a conducting student of Sian Edwards at the Royal Academy of Music and she already has an impressive CV. Keen to learn more about her and to discuss The Pilgrim's Progress with her, I caught up with Charlotte recently.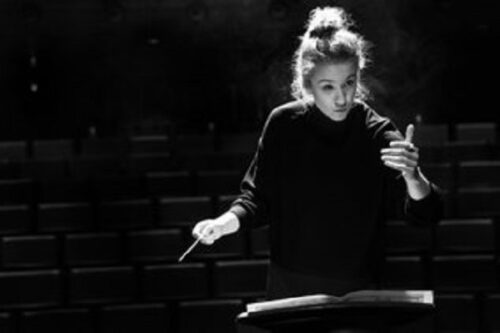 Charlotte was born in Swindon and grew up near Tetbury. She was educated first in Stroud and later in Cheltenham. While at school, she forged significant musical links with both Gloucester Cathedral and the Three Choirs Festival. She sang with the Gloucester Cathedral Youth Choir from 2014 to 2016. As she explains, 'We rehearsed on Mondays and sang Evensong every Thursday and it was always such a highlight of my week. I made some wonderful friends there, and enjoyed a space to feel calm and escape from school etc. The Youth Choir started a few years before me, I think [in 1999] – but I started in the same year that we welcomed Jonathan Hope [Gloucester Cathedral's Assistant Director of Music] and Nia Llewelyn Jones [Singing Development Leader], both of whom were hugely influential in my musical upbringing!' In addition to singing at Gloucester Cathedral, Charlotte also held the post of Junior Organ Scholar there during her time as a sixth form student. She remembers Adrian Partington, then, as now, the Cathedral's Director of Music with particular warmth. 'He really was so central to my development at that stage. The warmest and most supportive influence, he was always on hand to offer wonderful and honest advice. I carry so much of what he taught me then in my work now, and I think a lot about who he was as an educator when I work with young people now. Learning never felt like a chore under him, and he was always someone you felt you could trust – it was a safe space to make mistakes and try again. I realise now how rare that is. Years on, he's still supporting me and helping me. It'll be very special to see him this Summer [at the Three Choirs Festival]'.
Charlotte's association with Gloucester Cathedral gave her a unique opportunity: to sing in the Three Choirs Festival. I asked her about her involvement. She told me that it started with membership of the Three Choirs Youth Choir, which had been instituted on the initiative of Adrian Partington in 2010 and which has been a feature of every subsequent Festival. A special memory is her first performance with that choir at the 2014 Festival in Worcester. The choir sang Vaughan Williams G minor Mass, which Charlotte says, 'is still to this day one of my all-time favourite pieces of music – I listen to it on mornings where I have an audition/big event to feel calm!' I think it's a nice bit of symmetry that both Charlotte's singing debut and her conducting debut at Three Choirs feature the music of Vaughan Williams. Charlotte went on to sing with the Youth Choir at the 2015 Hereford Festival in Bob Chilcott's lovely Requiem: that is a concert I remember enjoying very much (review). At the same Festival she was a member of the ripieno choir in Bach's St Matthew Passion.
In 2016 the Festival moved, by rotation, to Gloucester and Charlotte has special memories of that year, as a member of the main Festival Chorus. 'This was my first proper Main Chorus – I especially remember Elijah, where I was one of the three Angel soloists, and I almost got vertigo from singing up in the organ loft! King (then Prince) Charles was there, and everyone was very excited.'  I remember attending that performance of Elijah and when I looked back at my review, I was interested to note that I had singled out Charlotte and her two colleagues for specific praise. Charlotte said of the Festival as a whole: 'This year was also particularly special for me because it was sort of my last hurrah at Gloucester before I moved to Sherborne for my gap-year to work at the boys' school/abbey.' It must have been a demanding last hurrah, because I reminded Charlotte that during the week in question the Festival Chorus sang not only Elijah but also Berlioz's Grande messe des morts (under Edward Gardner), Vaughan Williams' Dona nobis pacem, Orff's Carmina burana, Elgar's The Kingdom, and the small matter of Mahler's Eighth Symphony on the last night! I reviewed all those performances for Seen and Heard; without exception, they were excellent.
From Gloucester, via Sherborne, Charlotte went on to Oxford University where she read music and was Organ Scholar at Hertford College. Her studies at Oxford led to a First Class degree, though as she remarked, somewhat ruefully, 'I sat my finals in my bedroom at home, due to Covid!' Covid restrictions also meant that Charlotte's graduation ceremony was long delayed; just before interviewing her I spotted on Twitter that the ceremony took place on the same day as King Charles' Coronation! From Oxford, Charlotte's studies took her eventually to the Royal Academy of Music in London, where she has recently completed a Masters degree in Orchestral Conducting, studying under Sian Edwards. While still a student at the Academy she joined the staff: 'I was appointed Musical Director of their Junior Musical Theatre Programme about a year ago. I love this job, it's such a treat I look forward to every week.' In March 2023, I read in Choir and Organ, an interview given to David Hill by Sofi Jeannin, the Chief Conductor of the BBC Singers. Ms Jeannin had begun conducting groups of friends in her teens but said this about when she started taking conducting classes: 'I was completely bitten by it. I thought it was just the best part of my music studies to this point: the ways you would study and conquer a score and then communicate it to the singers and audience. And although you spend a lot of time on your own working at the scores, it's also a very social activity and I really like people. Being able to draw music from people is a very attractive thing to me.'
I asked Charlotte to tell me how she got into conducting and whether Jeannin's comments resonated with her own experiences. 'My first ever conducting experience (I think) was on the Jennifer Bate Organ Course at St Catherine's School in Bramley, Surrey (2014/5?). I remember I'd been worrying about the organ-playing all week, but strangely excited about the conducting class, which came right at the end of the week. Immediately it felt right! I should have known really – I've never been able to sit still while listening to music. I was always the child tapping along on the table at the back of the room.'
So, there was a natural affinity with conducting, it seems. And that affinity was significantly boosted during her time at Oxford, as Charlotte told me. 'I applied to Hertford College for the specific reason that it had no Director of Music (it still doesn't), so the Organ Scholars were responsible for splitting conducting/playing duties, 50/50. I absolutely loved being down on the floor with the singers, and those were the services I looked forward to most. Whilst at Oxford, I won the Conducting Scholar position with Schola Cantorum, Oxford's premier chamber choir, at the end of my first year of studies. This was invaluable, as I got time with Steven Grahl (Director of Music at Christ Church Cathedral, Oxford) every week, and I was working with some wonderful singers who taught me a great deal. I went on to try my hand at conducting instrumentalists – first as Assistant Conductor to Oxford University Wind Orchestra, and then eventually as Principal Conductor of the Oxford University Philharmonia. I was the first student in Oxford's history to have held the Conducting Scholarship with Schola, as well as the Principal Conductorship of the University Philharmonia. In my final year I became Musical Director for the Oxford University Contemporary Opera Society, and conducted the UK premiere of Gavin Bryars' chamber opera, Marilyn Forever.'
After Oxford, Charlotte's career progression took an interesting turn. 'I applied (unsuccessfully) to the Royal Academy of Music, before taking a year out to work at Charterhouse School in Surrey. There, I realised my love of conducting Musical Theatre, as much as Opera etc, when I conducted their production of Les Misérables. Musical Theatre is still, to this day, a huge passion of mine, and I enjoy working in those pits as much as I do the operatic ones. I'm going straight on to be Music Director for National Youth Music Theatre's production of Kiss Me, Kate at Leicester Curve after we finish Pilgrim's Progress, in fact! After Charterhouse came RAM (second time lucky – something I don't at all mind admitting, as I think we so often don't talk about our failures, which are a huge part of our journeys).'
The Three Choirs Festival performance of Pilgrim's Progress will be given by young singers. In a pleasing link to Charlotte's past experiences, the chorus will include the members of the 2023 Three Choirs Festival Youth Choir. The main contribution, though, will come from British Youth Opera (BYO), collaborating with the Royal Philharmonic Orchestra. BYO is an organisation which was established in 1987 with the aim of giving high quality performance opportunities to young singers at the outset of their careers, after college. Over the years, thousands of students have benefitted from involvement. Furthermore, the list of prominent members of the music profession who give BYO their active support, headed by the President, Dame Felicity Lott, reads like a Who's Who of British operatic life. Charlotte has worked with BYO in the past and I asked her to tell me about the organisation and how it works. Her response was infectiously enthusiastic.
'I can't speak highly enough of BYO – it's a company that really did change my musical outlook and prospects.' Referencing background information on the BYO website, which, she says 'sums BYO up perfectly', she went on: 'They provide professional opportunities for singers, musicians and technical trainees in a way that isn't really replicated (beyond some Young Artist companies connected to opera houses), in my opinion. Their participants, however, are normally in the middle of their formal musical education or have just finished and are about to begin their professional careers. BYO run workshops during the Easter and Summer holidays; Pilgrim's Progress will rehearsed intensively as part of their 2023 Summer season. The combination of professional-level, hands-on experience and mentoring from some of the best in the business make this invaluable. For most participants it's their first experience of a real-world opera production, and lots of them make contacts that land them agents, contracts or freelance gigs.'
Charlotte told me about her previous involvement with BYO. 'I was their Assistant Conductor for their 2022 production of VW's Sir John in Love at Opera Holland Park – it was amazing! I learnt so much about myself, as a person and a musician, and made some brilliant friendships and working relationships that are still going strong a year on. BYO is led by a wonderfully caring and attentive team who have the best interests of the young-professionals at heart. They really nurtured me, and I think the fact that they have invited me back a year later as their conductor is a real testament to that. I'm very touched and grateful.'
As Charlotte mentioned, BYO have previously ventured into the realm of Vaughan Williams' operas with their 2022 production of Sir John in Love. My Seen and Heard colleague, Claire Seymour, a discerning judge, was most complimentary in her review for Opera Today. Charlotte was an integral part of the musical team that put Sir John in Love together. It is a very different musical and dramatic proposition from Pilgrim's Progress but, nonetheless, I wondered if the experience had whetted Charlotte's appetite for Pilgrim's Progress? 'Absolutely! I feel this strange connection with Vaughan Williams, if that doesn't sound too pretentious! I think it's because he keeps cropping up in my life at very pivotal moments: the Mass in G minor with TCF Youth Choir in 2014; he was a student at Charterhouse where I later worked; then Sir John was my first proper opera assistantship; and now Pilgrim which is bringing me back home to where it all started!' Charlotte went on to say that 'it's a real treat though, to do such a different VW work, in comparison to Sir John. The latter was so light-hearted, and just generally a lot of fun. By comparison, Pilgrim's Progress is something much more serious in its themes and musical handling. It's the best of VW's style in one big melting pot, I think.'
I think Charlotte hit a nail squarely on the head in referencing a Vaughan Williams stylistic melting pot and it is perhaps unsurprising that this should be so, given that one part of the score ('The Shepherds of the Delectable Mountains') was composed as early as 1921 and VW then added elements of the work at various times up to 1951. I asked her to share with me her thoughts on the work – which VW purposely called a 'morality' rather than an opera. What, I wondered, does she think of the music and the dramatic aspects of the work? 'I'm really excited by it – I think musically, and dramatically it presents the most wonderful challenges. The episodic nature of it is something that I think really comes into its own with a modern audience. We are so much better conditioned nowadays to watch material that is presented in a fragmented or abstract form. I think Pilgrim's Progress feels very much like this, and whilst that might have once challenged its audiences, now I think it will add a new layer to things. It does make it trickier, though, to find some sort of musical arc through the piece. But there are cyclic references that VW employs at the end that bring us back to the beginning (or perhaps deny us any sense of resolution? Who knows!) It's quite exciting.
'Vanity Fair (Act III, Scene 1) gives me goosebumps every time. There's something so wonderfully vulgar about it – it reminds me of the auction scene in Stravinsky's The Rake's Progress for obvious reasons. I think that sense of temptation and materialistic pursuit is something that is so prominent and relevant today – it's just so well written. The things that might alienate a person from feeling they can identify with the piece are, in my opinion, more relatable than one might initially assume. There's a sort of universality about it, which seems ironic given the overtly sacred nature of the work. But at its heart, it's a story about an individual on a journey for something incomprehensible yet hugely pertinent. I think we can all relate to that in different ways, whatever our background or faith denomination.'
Though I suspected Charlotte would keep her cards close to her chest, I was very curious to learn what we can expect in terms of the semi-staging at the Three Choirs Festival. The composer himself said, in a letter to Hubert Foss, written just after the 1951 premiere, 'I feel it is essentially a stage piece and not for a cathedral.' I know what VW meant, though I politely beg slightly to differ; I wonder if he might have modified that view had he known how rare theatrical productions would be. I asked Charlotte whether she thinks Gloucester Cathedral, a building she knows well, will lend itself to such a venture, especially with a large orchestra (the Royal Philharmonic on this occasion) to accommodate, besides a large number of performers? 'Well, it'll be a first for me, but I know our wonderful Director William Kerley will have something clever up his sleeve! (No spoilers.) I actually think the semi-staged aspect of this will be part of its magic and charm. In Gloucester Cathedral, we have one of the most naturally breathtaking backdrops any set-designer could hope for, and the set-up of the Festival itself will mean that the set, the performers, and the orchestra will feel really very up-close and personal. It'll feel quite stripped back, I think, but in a way that actually magnifies every small detail. Given the nature of the story itself, it's a very poignant space to be performing in, and it lends itself well to something that feels entirely un-pretentious in its "staging". The RPO are a feature in themselves, and I'm so pleased they'll be visually on show – I think the way an orchestra moves and breathes is staging in itself. Their presence will be very much felt, both by the singers onstage and the audience mere feet away. It's going to be wonderful to see how they're integrated into the space and staging. The "challenges" some might see are "possibilities" to me!' That's a response that has really intrigued me and made me even more eager to see what BYO's staging solutions will be.
More than once in our conversation Charlotte's enthusiasm for the music of Vaughan Williams had come to the fore. So, I asked her for her views on VW as a composer. He is now widely recognised as a towering and highly influential figure in British twentieth-century music. Suspecting I already knew the answer in general terms, I enquired is she keen to explore more of his music and conduct it? I was not disappointed with her reply. 'I'm absolutely desperate to explore more of his orchestral works now – his Fifth Symphony (which actually made use of themes originally conceived for Pilgrims Progress) and Five Variants of 'Dives and Lazarus' are both high up on my list! His Dona Nobis Pacem too, which I was involved in for another TCF years ago [in 2016]. There's something about his music which inexplicably calms me. I sometimes find it very hard to "switch my ear off" when I listen to music – I often find myself listening to it "as a conductor", or as someone who might analyse it. Vaughan Williams never ever has that effect on me – I can't explain why. He's one of the few composers I feel I really listen to just as Charlotte. It's very liberating. So, I suppose, if I never got to work with his music professionally again, it wouldn't be so terrible – I'd just keep enjoying it privately. But I'd like to do both! Greedy, I know.'
Finally, I asked Charlotte to tell me about her immediate future plans and her career ambitions. For example, what areas of the repertoire particularly interest her? I noted that she has already done a lot of contemporary music; is that an aspect of the repertoire that particularly interests her?  I wasn't surprised to learn that that, in terms of repertoire, she has a very open mind. 'I'm still so early-on in my career that there's so much I've yet to have had the chance to sink my teeth into yet. I know I love Romantic and Classical repertoire, but by no means exclusively. Working with "newer" music is hugely rewarding, and challenging. I love the different skillset and toolkits I'm required to tap into, when working with different repertoire. No two days or jobs feel the same, and I'm very happy to just keep exploring that as and when I'm lucky enough, for now!'
Charlotte has already had quite an exposure to operatic conducting; is that an area in which she would like to specialise or would her preference be, ideally, to divide her time between the opera house and the concert platform?  She told me that until recently she was 'someone who very much fixated on "having a plan" and knowing what was coming next, but actually for the first time (maybe ever!) I'm sort of going with the flow and seeing what life throws at me!' She mentioned that she has a few things inked into her diary. These include working as Associate Conductor for Hansel & Gretel (Opera Holland Park); Music Director for Kiss Me, Kate (National Youth Music Theatre); and the release at a future date of a Linn Records disc of Stravinsky chamber works for which she has acted as Assistant Conductor to Barbara Hannigan. In addition, there are 'a couple of other things I'm not allowed to talk about yet!' Beyond that, she says, 'I'm just taking the time to explore myself further and what I love'. She was keen to stress, though, how important music theatre (in the widest sense) is to her. 'I know I want to work as much as I can with stage-works – opera, ballet, musical theatre etc. It's about being a part of a company, for me. I like to be a part of the team, and to collaborate with all the different departments, backstage/creatively/front-of-house and so on, to bring something together that is a feast for all the senses. I feel very at home in a pit, knowing I'm playing one small part in facilitating a much bigger machine full of very-talented cogs.'
In July, Charlotte won't actually be in a pit in Gloucester Cathedral. However, she will definitely be pulling the levers on the machine of very-talented cogs comprising British Youth Opera, the Three Choirs Festival Youth Choir and the Royal Philharmonic Orchestra. Having had such an energized, enthusiastic conversation with her and experienced her passion for musical collaboration and the music of Ralph Vaughan Williams, I am even more keen to hear her and her colleagues bring Pilgrims Progress to life at the Three Choirs Festival.
John Quinn
Charlotte Corderoy conducts British Youth Opera's semi-staged production of Pilgrim's Progress in Gloucester Cathedral on Monday 24 July 2023. Tickets and further information available if you click here.