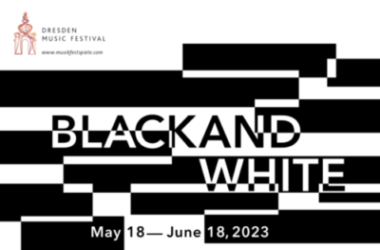 Germany Dresden Music Festival 2023 [6] – 31.5.2023, Kulturpalast, Dresden: Piano Recital – Alexandra Dovgan (piano). (MC)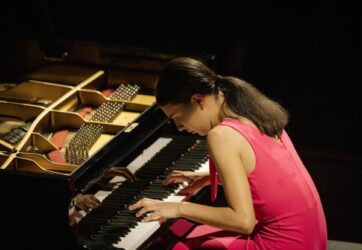 J.S. Bach – Partita for piano No.6, BWV 830 (1731)
Beethoven – Piano Sonata No.26 in E flat major, Op.81a Les Adieux (1810)
Brahms – Variations and Fugue on a Theme by Handel, Op.24 (1861)
Chopin – Andante spianato and grande polonaise brillante in E-flat major, Op.22 (1834)
This festival piano recital at Kulturpalast was to be played by Khatia Buniatishvili who is expecting a baby and had withdrawn. I had been looking forward to seeing Buniatishvili who was replaced by Moscow-born Alexandra Dovgan, a new name to me and I didn't know what to expect. Born in 2007, Dovgan, the daughter of two professional pianists, was only five when she won a place at the Central Music School of the Moscow State Conservatory and since then has been a habitual prize-winner in music competitions. For one of such a young age her achievements so far have been remarkable such as the calibre of international orchestras and conductors she has performed with in concert, and the number of prestigious concert halls she has played. Last report I read she was living with her father in Malaga part of the Andalusia region of Spain.
To see the slim figure of Dovgan walk undaunted across the Kulturpalast stage to her concert grand piano to play this challenging programme was a rather thrilling experience. When my colleague Gregor Tassie watched Dovgan perform in 2019 at the Rakhlin Music Festival, Kazan, he described Dovgan's participation as 'akin to a fairy-like adventure'. Today as she took her place at her piano stool the fifteen-year-old Dovgan clearly was a determined young woman who was ready for business.
With the lighting in the concert hall subdued Dovgan was illuminated with spotlights. The Russian soloist quickly broke into J.S. Bach's Partita No.6 in E minor, a work written during the composer's first decade at Leipzig. Conceived on a grand scale, this seven-movement suite was published as a set in 1731. Fluid and expressive, the Partita No.6 is rather serious and wistful in disposition. Almost immediately a sense of calm assurance from Dovgan was palpable. Sometimes I like to hear Bach's keyboard music played on a harpsichord of the period, as well as modern grand piano especially when it is played to this elevated standard. Dovgan seemed to be entirely absorbed with the sonics of her magnificent sounding instrument and showed adept command of the technical challenges Bach's writing presents with gratifying results.
Next Dovgan turned to Beethoven with his Piano Sonata No.26 in E-flat major from 1809-10. A popular sonata taking its name from the title of the opening movement Les Adieux (The Farewell) referring to his patron Archduke Rudolph fleeing from Vienna on account of Napoleon's invasion. The other two movements relate to the Archduke's Absence and then his Return. Mindful of the powerful dynamics of her concert grand Dovgan was thorough and controlled in her climaxes. Despite some tension in her playing there is a tenable crispness to her articulation and phrasing.
After the interval Dovgan played another acknowledged solo piano masterpiece. In 1861 Brahms wrote his Variations and Fugue on a Theme by Handel, Op.24 as a birthday present to Clara Schumann. It was based on an appealing theme from Handel's Keyboard Suite in B-flat major, HWV 434 composed almost 130 years earlier in 1733 this theme and set of twenty-five variations closes with a tumultuous fugue. There were some variations when I wanted additional character from Dovgan. This is an exacting work of considerable contrasts to which Dovgan applied her disciplined approach, achieving mainly positive results but it didn't quite come across as the tour de force it can be.
For the final work of the recital Dovgan selected the Andante spianato and grande polonaise brillante, Op.22 by Chopin who she states is her favourite composer. Written in 1830-34 originally as a concert piece with orchestra this solo piano version is now a staple of the repertoire. First performed in Paris in 1834, this epic work is an alliance of two contrasting characters. Dovgan plays with deft expression in the nocturne-like Andante spianato reminding me of cradle song. By comparison in the Grande polonaise brillante her playing is both rousing and somewhat daring together with a ruminative central section.
These were determined and earnest performances that I enjoyed from Alexandra Dovgan a pianist with a talent way beyond her years. Undoubtedly Dovgan's career is one I will follow with significant interest.
Dresden Music Festival 2023 [7] – 1.6.2023, Kreuzkirche, Dresden: Cappella Sagittariana Dresden, Dresdner Kreuzchor / Kreuzkantor Martin Lehmann (conductor).
Cappella Sagittariana Dresden – Daniel Thiele (cello), Donatus Bergemann (double bass), Stefan Maass (lute), Hans Christian Martin (organ)
Licht Und Schatten (Light and Shadow) – Sacred choral works by Rudolf Mauersberger, Heinrich Schütz, Johann Sebastian Bach, Sven-David Sandström, Jaakko Mäntyjärvi, Siegfried Strohbach, Johann Hermann Schein, Knut Nystedt, Ernst Pepping, Arvo Pärt.
This concert of sacred choral music sung by the Dresdner Kreuzchor, the boys' choir of the Kreuzkirche (the Lutheran Church of the Holy Cross), was a refreshing contrast to my schedule of operas and orchestral concerts. The Dresdner Kreuzchor may even have been in existence as long as 800 years. This means the Kreuzchor is an older institution than the city's world-famous orchestra the Staatskapelle Dresden that was founded in 1548.
Directing the concert was Martin Lehmann the new Kreuzkantor (Cantor) who succeeded Roderich Kreile, as recently as September 2022. At Lehmann's inauguration he became the twenty-ninth Kreuzkantor since the Reformation. Owing to the long tradition of the Dresdner Kreuzchor one can imagine that performance excellence is demanded. Kreuzkantor Lehmann, who grew up in the city and also sang in the choir, has acknowledged how 'the pressure of expectations here in Dresden was great'.
This concert named Licht Und Schatten (Light and Shadow) formed part of the Dresden Music Festival. Kreuzkantor Lehmann had chosen a programme that maintained choral traditions going back centuries with works spanning over 350 years from the early baroque with Heinrich Schütz (1585-1672) through to living composers notably Arvo Pärt (b.1935).
The standard number of Dresdner Kreuzchor (choirboys known as Crucians) did stand at 120 and now numbers have reduced, for example only 35 singers performed on a Japan tour in 2015. For this Kreuzkirche concert I estimated there were some 55 to 60 singers. Not all the works listed in the programme were performed, nevertheless I relished every single motet and here are my highlights.
Kreuzkantor Lehmann has stated that he desires the Kreuzchor to participate more in its Heinrich Schütz legacy. A composer with strong ties to Dresden, Schütz settled there in 1629-57, and again in 1672 when he died. An ideal example of the Schütz tradition was the motet Sehet an den Feigenbaum (1648) with a text concerning the parable of the fig tree from Luke's Gospel (Martin Luther). From his enormous output of sacred music J.S. Bach was represented by the funeral motet Fürchte dich nicht, BWV 228, possibly written in 1726 at Leipzig. For his German text Bach looked to the Book of Isaiah and a Paul Gerhardt hymn. Sung here by a divided choir, this motet is one I rarely encounter, and it was gratifying to hear it sung by the outstanding Kreuzchor.
Sven-David Sandström, a prolific Swedish composer, who died in 2019 provided the sacred work The Waters of Meribah the second of his Five Pictures from the Bible (2006). It was in the Waters of Meribah where Moses hits a rock in anger to produce water. This magnificent work is sung in English and here the Kreuzkantor placed three soloists in front of the main choir. The final work of the evening was by one of the greatest living composers, Arvo Pärt, who wrote his Da pacem Domine in 2004 for a peace concert in Barcelona. This renowned Latin prayer for peace was given an intense reading by the Kreuzchor that created a near-mystical atmosphere, as Pärt's music often can.
Clearly Kreuzkantor Lehmann had ensured the Crucians had been thoroughly prepared and were calmly assured. In the church acoustic the Kreuzchor sound was pleasingly unified, produced with satisfying clarity and almost no vibrato. In addition, I was impressed by the reverential approach shown for the sacred texts. Reminding me of the Choir of New College Oxford that I heard sing back in 2012, the younger members of the Kreuzchor didn't sacrifice vocal character in pursuit of achieving pin-point precision. The Kreuzchor received first class instrumental support from the four members of Cappella Sagittariana Dresden using period instruments all with a highly appealing sound. Without doubt this Dresdner Kreuzchor concert is one I will remember for some time.
Michael Cookson