Germany Mozart, Le nozze di Figaro: Soloists, Sächsische Staatsopernchor, Staatskapelle Dresden / Georg Fritzsch (conductor). Semperoper, Dresden, 27.5.2023. (MC)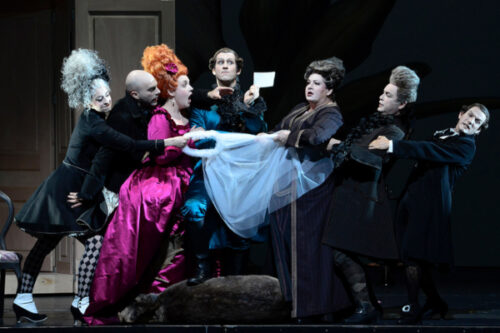 This Le nozze di Figaro at Semperoper Dresden was a revival of stage director Johannes Erath's production first given in Dresden in 2015. A much loved, key work of the opera repertory Figaro was the first opera I ever saw. It is one of the great operas that can be seen over and over again. Since I last saw this Erath production at Semperoper back in 2016 I have attended two different productions of Figaro one by Opera North, Salford and another at RNCM, Manchester. I wondered if time had improved my understanding of Erath's staging particularly Katrin Connan's sets and the costumes by Birgit Wentsch (and Noëlle Blancpain) a combination which had left me underwhelmed.
All of Mozart's three most popular Italian operas Le nozze di Figaro (1786), Don Giovanni (1787) and Così fan tutte (1790) have librettos written by Lorenzo Da Ponte. It was Pierre Beaumarchais's French stage comedy Le Mariage de Figaro (1784) that constituted the basis of Da Ponte's libretto. Mozart's father was unimpressed with the Beaumarchais play stating how 'tiresome' he found it. Initially objecting to the scenario of Figaro Emperor Joseph II insisted on removing or toning down the more licentious aspects found in the text and the politically sensitive references such as class privilege and social injustice. Thanks to the collaboration between Mozart and Da Ponte, two of the greatest minds in opera, I never tire of this enduring masterpiece Figaro.
This madcap excursion is set during a hectic twenty-four hours at the Almaviva castle a feudal estate near Seville, Spain. The scenario commences on the wedding day of Figaro the valet to Count Almaviva and Susanna who is personal maid to Countess Rosina. There is a stumbling block as the licentious Almaviva has the traditional claim to bed the servant girl on her wedding day. The rancorous Doctor Bartolo and his former housekeeper Marcellina decide to halt the wedding plans. Present in Figaro are the standard components of opera buffa: the whole works including love, infatuation, secrets, seduction, betrayal, disguise, concealment, revenge and forgiveness for a happy ending.
With Figaro German stage director Johannes Erath is without doubt in his comfort zone conveying Mozart and Da Ponte's vibrant scenario containing significant societal comment, and sagacious and accomplished humour. Erath's creative team set design by Katrin Connan and costume designer Birgit Wentsch have worked in tandem to create the mise-en-scène coming together with a rather minimalist set design, a sort of stage within a stage concept.
The opening act is based on a commedia dell'arte, a form of theatre common throughout Italy and Europe centred in the seventeenth century. Connan's set featured images of still flowers and stems on the back wall, a look that didn't appeal to me at all. This was a wooden set with viewing flaps and trapdoors to hidden spaces including one door accommodating a blue barber's chair with a tall vertical lift. A swing hung from the ceiling and there was an astonishingly long table and several garden swing seats with canopies. What I wrote seven years ago still applies 'somehow it all felt like a large version of a child's activity centre'.
In the remaining three acts Erath employs different theatrical traditions moving forward in time to the present day. Figaro is often regarded as a complex opera so the last thing this production needed was additional complications, which is what we had here. Typically, in commedia each character was wearing a distinct costume, for example the Harlequin character for Figaro.
Baritone Sebastian Wartig, who is actually from Dresden, sang the role of Count Almaviva whose marriage to Rosina, his Countess, has become stale and his roving eye is working overtime. Conspicuous on stage the Count was wearing an aquamarine frock coat, black boots and grey wig. As the philandering aristocrat Wartig sang assuredly throughout, delivering his big third act aria Vedrò, mentr'io sospiro so effectively.
Stuck in her unhappy marriage yet remaining as dignified as possible, Countess Almaviva (Rosina) wore a built-up, ginger hairstyle and an absurdly voluminous hooped raspberry coloured evening dress. Portraying the Countess, blessed with great arias, German soprano Julia Kleiter was in lovely, well controlled voice. To conclude the final act the 'forgiveness scene' featuring the Count and Countess was rendered with pleasing sincerity.
Everything in Figaro seems to revolve around lady's maid Susanna who with her grey frizzy hair was decked out in black dress and black and white check tights. For a young soprano Belarus born and German bred Katerina von Bennigsen made a pleasing impression as a feisty Susanna, achieving her high notes without fuss. From the final act I appreciated Susanna's aria Deh vieni, non tardar sung by Bennigsen who acquitted herself impressively conveying the necessary mood changes. Impressive in the role of Figaro, the Count's livewire manservant, American baritone Lawson Anderson was in sturdy and characterful voice. Figaro has some great arias, and most gratifying was Anderson's exuberant performance of Non più andrai that concludes act one.
I found Anna Stéphany, an Anglo/American mezzo-soprano, most engaging in the trouser role of young page Cherubino intent on working his desires on the Countess. Exquisitely done by Stéphany was Cherubino's glorious serenade Voi che sapete a real joy to hear. From the final act I relished Don Basilio's big aria In quegli anni cui val paco sung so sincerely by American tenor Simeon Esper.
Conductor Georg Fritzsch is strongly connected to Dresden. Born in the neighbouring town of Meissen Fritzsch did much of his training at the Carl Maria von Weber University of Music in Dresden. In a compelling performance Fritzsch's chosen tempi and dynamic were sensibly managed. Performing repertoire such as Mozart's Figaro is food and drink to the Staatskapelle Dresden, and I really enjoyed the high quality of its playing. Under chorus master Jonathan Becker the Staatsopernchor Dresden provided top-drawer choral support with especially pleasing unity. It was Clemens Posselt who played the recitatives on keyboard.
Understandably many stage directors want to be different, a bit edgy. I don't believe that adaptations of Figaro don't have to be esoteric to stand out. I can think of several filmed productions of Figaro on DVD that don't stray too far from so-called 'traditional' stagings such as Jean-Pierre Ponnelle (film 1975); Olivier Mille, Paris (Archiv Produktion, 1993); Stephen Medcalf, Glyndebourne (NVC Arts, 1994); David McVicar, Royal Opera House (Opus Arte, 2006); Claus Guth, Salzburg (Deutsche Grammophon, 2006) and Sven-Eric Bechtolf, Salzburg (Unitel Classica, 2015).
In the right hands Le nozze di Figaro can be a truly great piece of musical theatre. At Dresden despite enjoying the splendid singing and orchestral playing Johannes Erath's production was still underwhelming, I am sorry to say.
Michael Cookson
Production:
Stage director – Johannes Erath
Set design – Katrin Connan
Costume design – Birgit Wentsch,
Revival director, Costume design – Noëlle Blancpain
Lighting design – Fabio Antoci
Dramaturgy – Francis Hüsers
Chorus master – Jonathan Becker
Cast:
Count Almaviva – Sebastian Wartig
Countess Almaviva (Rosina) – Julia Kleiter
Susanna – Katerina von Bennigsen
Figaro – Lawson Anderson
Cherubino – Anna Stéphany
Marcellina – Sabine Brohm
Dr Bartolo – Matthias Henneberg
Don Basilio – Simeon Esper
Barbarina – Alice Rossi
Don Curzio – Gerald Hupach
Antonio – Rupert Grössinger