Essex Summer Opera Festival is on tour in Summer 2023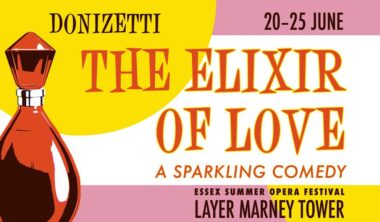 New opera company Wild Arts to bring their trademark effervescent storytelling to Donizetti's Elixir of Love at Layer Marney Tower, one of England's finest Tudor Palaces.
Donizetti, The Elixir of Love – 22, 24 and 25 June 2023
Wild Arts present a brilliant new production of Donizetti's most popular opera, in the newly renovated barn within the gardens and grounds of one of Essex's best heritage buildings, the 500-year-old Tudor palace Layer Marney Tower.
Director – Guido Martin-Brandis
Conductor – Orlando Jopling
Adina – Galina Averina
Nemorino – Thomas Elwin
Belcore – James Atkinson
Dulcamara – Alex Jones
Gianetta – Sofia Kirwin-Baez
Lauretta – Rebecca Milford
Roberto – Robert Garland
Claudio – Harry Jacques
The Wild Arts Ensemble
'Wild Arts shows are brilliant!' Mel Giedroyc
The Essex Summer Opera Festival welcomes seasoned opera fans and newcomers alike for a weekend of affordable, top quality live music and picnicking, in a magical heritage setting.
For more about the Essex Summer Festival, Opera Evenings and The Elixir of Love Summer Tour CLICK HERE
Performance details:
OPENING NIGHT – Thursday 22 June 2023: Arrive from 5.30pm to enjoy the gardens and picnic. Performance 7pm – 9.45pm with a 30-minute interval. Tickets £35 – £95.
SATURDAY NIGHT Saturday 24 June 2023: Arrive from 4pm to enjoy the gardens. Performance 6pm – 9.45pm with 90-minute picnic interval. Tickets £35 – £95.
SUNDAY MATINEE Sunday 25 June 2023: Arrive from 12 midday to enjoy the gardens, picnic and climb Layer Marney Tower. Performance 3pm – 5.45pm with 30-minute interval. Tickets £25 – £65, £10 for under-25s. Relaxed daytime performance perfect for families.
Quintin's Barn, Layer Marney Tower, Essex, C05 9US
Ticket information – Tickets £25 – £95. Boxes available. £10 under-25s for Sunday Matinee.