United Kingdom The Official Take That Musical – Greatest Days: Cliffs Pavilion, Westcliff-on-Sea, Essex, 20.6.2023. (JPr)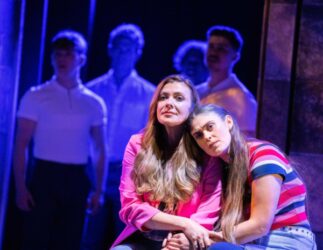 In the week after the release of the film version of this jukebox musical – which first toured the country in 2017 to 2019 as The Band – Greatest Days is back (for good?) just in time for that and the 30th anniversary of the Gary Barlow-led Take That. Though there is nothing intrinsically wrong with jukebox musicals, Greatest Days turns out to be much deeper than you might expect. Certainly – despite being billed as 'The Official Take That Musical' – it has nothing to do with the story of the group itself.
It is actually about growing up, female friendship, hopes and dreams for the future and the way in which life can throw a curve ball at everything you might wish for. The group is only referred to as 'the band' or 'the boys' and they are an almost constantly presence acting and singing rather like a Greek chorus – and literally so in the second act! – providing the backdrop for the five friends. These are Claire, Debbie, Heather, Rachel and Zoe, and we first meet them as 16-year-olds living somewhere in Lancashire in 1993 and who are obsessed by the unnamed boyband. It is the days of Smash Hits magazines, Top of the Pops on TV and when hit songs were recorded off the TV and radio on cassette recorders and replayed on Walkmans. For adolescent girls, their boy band fandom allows for them to bond, brings them comfort and much joy to their possibly unhappy lives (Rachel's family are constantly rowing) and a certain sexual awakening because of burgeoning desire caused by their raging hormones. Heather is identified by suggesting she is like the Duke of York (no not that one!) because of 'a thousand men' and I won't completely spoil here the later revelation about the older Heather's sexuality.
In the first act, thanks to Tim Firth's sparky dialogue, we really get to know the five young girls as individuals. It come as something of a hammer blow when tragedy strikes after they return from seeing the band in a concert in Manchester: their friendship never recovers, and they part ways and lose touch. Fast forward 25 years and we meet the older Rachel who has been with Jeff for several years, but they are still not married, and their life is somewhat humdrum particularly when Jeff's idea of fun appears to be a pub quiz with friends. It is that couple Jeff wants to take to Greece when Rachel win four tickets to the band's reunion tour. However, she has other ideas and reaches out to her former friends, and we will learn what has happened to the remaining three (Heather, Rachel and Zoe) in the intervening years. Nevertheless, memories of their younger selves are never far away. There is a superb eight-piece number, with their younger and older selves duetting for 'Back for Good', when the casting of Kim Marsh and her real-life daughter (Emilie Cunliffe) as the Rachels comes into its own.
There is a wonderful – yet slightly surreal – scene when some Greek fountain statuary comes to life and because of a broken penis (don't ask!) the four miss the concert and begin to squabble again. (A shiny curtain is rather a cop-out for the women getting soaked when the jets come on!) In the end all will be well and – with maybe the odd tear along the way – there is the happy ending you have been anticipating all along, because you have seen things like this before … but who cares.
The programme lists 18 songs from Take That's back catalogue which are covered by 'the band' or the rest of cast in various grouping accompanied by five valiant – and unseen – musicians. As a result, many of the most recognisable songs lose some of their anthemic power and I was surprised Kym Marsh's Rachel never had a solo number. Perhaps this is understandable because they are sung mostly just to provide the backdrop to the high and lows of the girls'/women's' journey. The singing is universally fine and unlike some recent – and similar – musicals Greatest Days encourages the occasional audience participation and those in the Cliffs Pavilion were only too happy to clap along with those onstage.
There is little individuality to the band members (Taylor Alman, Kalifa Burton, Jamie Corner, Archie Durrant and Regan Gascoigne) who are in matching outfits – mostly the white we are familiar with from some cheesy 1990s pop videos – and are given hyperactive, gymnastic choreography including breakdancing and backflips. It's the women's costumes which provide a little colourful relief to the rather prosaic grey set with two sets of steps that can be disassembled by the hardworking cast to provide the various locales for the unfolding story. The acting elsewhere is of a standard you might see on TV or straight theatre but rarely in a musical: the girls – Hannah Brown (Zoe), Emilie Cunliffe (Rachel), Kitty Harris (Heather), Mari McGinlay (Claire), Mary Moore (Debbie) – and then their older selves – Kym Marsh (Rachel), Holly Ashton (Zoe), Rachel Marwood (Heather) and Jamie-Rose Monk (Claire) – create characters you recognise and believe in. They all embodied their individual personality traits with great skill and looked for most of Greatest Days as if they were having the time of their lives and so everybody watching them did too!
Rachel is the heart of Greatest Days in many ways and the catalyst for bringing everyone back together again after 25 years and Kym Marsh proves to be a consummate actor as she goes through Rachel's range of conflicting emotions, particularly about her relationship with Christopher D Hunt's Jeff. Kudos to Hunt who does well with the little he is gets to do and particularly to the droll and lugubrious – and hilarious as a result – Alan Stocks with his vignettes as a range of characters from the band's ex-Spandau Ballet roadie to a Greek policeman and much more.
For me Greatest Days is the ultimate feel-good musical and certainly – and more than expected – made me feel-good to have seen it.
Jim Pritchard
For more about Greatest Days on tour CLICK HERE.
Creatives:
Writer and Co-director – Tim Firth
Co-director – Stacey Haynes
Choreographer – Aaron Renfree
Set and Costume design – Lucy Osborne
Lighting design – Rob Casey
Sound design – Tony Gayle
Orchestrations – Steve Parry
Musical Supervisor – John Donovan
Cast:
Kym Marsh – Rachel
Taylor Alman – boy band
Holly Ashton – Zoe
Hannah Brown – Young Zoe
Kalifa Burton – boy band
Jamie Corner – boy band
Emilie Cunliffe – Young Rachel
Archie Durrant – boy band
Regan Gascoigne – boy band
Kitty Harris – Young Heather
Christopher D Hunt – Jeff
Rachel Marwood – Heather
Mari McGinlay – Young Claire
Jamie-Rose Monk – Claire
Mary Moore – Debbie
Alan Stocks – Dave