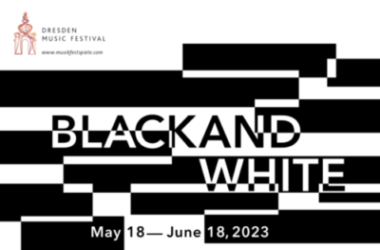 Germany Dresden Music Festival 2023 [14] – 6.9.2023, Palais im Grossen Garten, Dresden: Sergei Nakariakov (trumpet and flugelhorn), Maria Meerovitch (piano). (LV)
Erwin Schulhoff – Jazz Sonata for Alto Saxophone (arr.)
R. Schumann – 'Arabeske' in C major, Op.18, 'Fantasiestücke', Op.73 (arr.)
Mozart – Violin Sonata K.304 (arr.)
Chopin – 5 Mazurkas
Arban – 'Carnival of Venice'
After twenty years together as a headline duo, Sergei Nakariakov and Maria Meerovitch still make music as if higher realms of beauty were the only things that mattered. They seem to have deepened their understanding of each other's moves and gestures, feeling the pulse of the music with uniquely spontaneous precision. At the Palais im Grossen Garten on a lovely summer night, Nakariakov played each note with an inner serenity as if the music had taken over his soul, and Meerovitch brought an incomparable command of the piano to a varied program of music that included three of their own arrangements.
They endeared themselves to the large, enthusiastic audience by smiling good-naturedly when a tone from a phone rang out the opening bars of Bach's Double Violin Concerto just before they began Erwin Schulhoff's Jazz Sonata – and it turned out to be the perfect intro to the music's jazzy blues. Nakariakov played with angular hot licks, sullen shades and cool attitudes like he had crossed over the line to classical from jazz. The outbursts in the last movement anticipated by more than twenty years intellectual sounds in America's post-WWII classical music.
Meerovitch's performance of Robert Schumann's 'Arabeske' unfolded with emotionally-charged impulses accentuated by small bursts of sad poetry, until at the end when she was willing to let silence inhabit the music. And while Schumann might have been surprised to hear his 'Fantasy Pieces' for clarinet (or violin or cello) arranged for flugelhorn, he would have found that few clarinetists or string players can play the heraldic arpeggios of the 'Rasch und mit Feuer' movement the way Nakariakov did. With Meerovitch's Romantic wandering verging on abandon, they seamlessly traded quicksilver triplets leading to a wonderful moment of spiritual purity.
Their performance of Mozart's Violin Sonata K.304 was equally captivating, with Meerovitch's beauty of line and underlying emotion perfectly complementing Nakariakov's rhapsodic flugelhorn. The second movement was particularly gorgeous: Nakariakov's sexy, dusky voice, complemented by Meerovitch's exquisite shadings, created a sensuous Mozartian universe. Her performance of five Chopin Mazurkas, seeking out some higher perfections, was stunning.
After Meerovitch provided a fresh-sounding intro to the 'Carnival of Venice' variations, Nakariakov took over. Between their cat and mouse fun, he threw off his part with a casual virtuosity that stunned the audience into silence until they burst into applause and were rewarded by an encore: Tchaikovsky's 'None but the Lonely Heart', sung from the heart of their Russian homeland by two musicians who had left for the West long ago.4
The post-concert crowd at the CD signing included two Iranian students. Reihaneh Adadian had contacted Nakariakov on Instagram during Covid, and he had given her masterclasses. When she asked him to suggest a piano teacher for a friend, Mohammad Javad Bahrami, to work on repertoire for his auditions at the Barenboim-Said Akademie in Berlin, Nakariakov suggested Meerovitch. Even more than the audience and this critic, the two aspiring stars of the future were blown away by what they had heard.
Laurence Vittes