United States Saariaho, Adriana Mater (concert version): Chorus and Orchestra of San Francisco Symphony / Esa-Pekka Salonen (conductor). Davies Symphony Hall, San Francisco, 11.6.2023. (HS)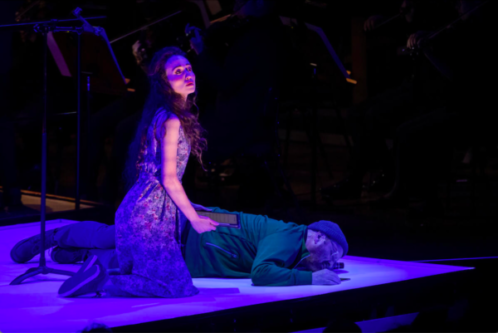 Production:
Director – Peter Sellars
Costumes – Camille Assaf
Lighting – James F. Ingalls
Chorus director – Jenny Wong
Cast:
Adriana – Fleur Barron
Refka – Axelle Fanyo
Yonas – Nicholas Phan
Tsargo – Christopher Purves
Everything that made Kaija Saariaho such a compelling composer came together to infuse San Francisco Symphony's concert staging of her opera Ariana Mater with emotional impact. Coming on the heels of her unexpected death the previous week only deepened the effect.
The Finnish composer died on 2 June at 70 in Paris. She had lived there since 1982, drawn to the city to study electronic music which informed much of her early work. She had a broad symphonic output, but she earned the most renown for her operas. With librettos in French, her style was more closely allied to contemporary French music than Finnish. Works such as l'Amour de loin (2000) and Innocence (2018) are mentioned among the most important of this century.
Adriana Mater (2005) was already on San Francisco's schedule as part of a commitment by Peter Sellars to stage a contemporary opera every June for four years with Esa-Pekka Salonen on the podium. Sellars followed Stravinsky's Oedipus Rex last year with this one; Messiaen's choral work La Transfiguration de Notre Seigneur Jésus-Christ and Leos Janáček's woodland opera The Cunning Little Vixen are scheduled in coming years.
The most palpable aspect in this, the third of three performances dedicated to Saariaho's memory, was her knack of finding the most effective orchestral sonorities, vocal lines, harmonic surprises and spicy percussion ornamentation to enhance and expand upon every moment. The story, which touches on revenge, forgiveness and redemption over its seven tableaux, relies as much on her music as on Amin Maalouf's conversational and insightful libretto.
Set in an unnamed country on the brink of war, it begins with a young Adriana (mezzo-soprano Fleur Barron) fending off the advances of the oafish bully Tsargo (baritone Christopher Purves), rejecting the warnings of her sister Refka (soprano Axelle Fanyo) to ignore him. When the war begins, Tsargo bullies his way into her home. We don't see him rape her, but in the next scene a pregnant Adriana decides to keep the child.
In Act II the late-adolescent Yonas (tenor Nicholas Phan) is angry at Adriana when he learns that his father not only did not die a war hero, but he is also back in town. Over Adriana's objections, Yonas vows to find and kill Tsargo. But when he locates the ex-soldier, who has gone blind, he cannot execute him. At Adriana's and Refka's urging, he can set down his arms and forgive.
Saariaho's music is strident and discordant in the early scenes, but Salonen (with the help of not-so-subtle amplification) found ideal balances, and none of the words were lost. The rape occurs offstage, but rhythmically thrusting music tells us all we need to know. The unsettling music in the scene in which Adriana chooses to keep the baby hovers hauntingly between sweetness and dread.
The Yonas-Adriana scenes crackled, the underlying orchestral music drawing a sound picture of the push and pull between the son's energetic desire for revenge and his mother's wish to forgive and move on. When Yonas finds Tsargo, an extended scene ratchets up the tension with the simplest of sustained notes and, as the four principals work their way through a standoff, the music gradually loses its harsh energy to finish with ethereal passages of luminosity.
Sellars, who directed the world premiere of Adriana at the Bastille in 2006, reined in any tendencies to overwork stagings. A simple set of slightly raised square platforms, each with its own lighting, focused attention on individual singers. Arranging the orchestra diagonally opened most of the stage in front for the action to play out. Two rows of choristers occupied one side of the above-the-stage seating.
Even though they were constantly referring to iPads as they were acting out their roles, the singers managed to make musical and dramatic connections with each other.
Barron had the most to do, appearing in six of the seven scenes. Her responsiveness to the melodic lines and the other characters was convincing, especially in confrontations with Fanyo and Phan. A ball of energy, Phan spun out his music with restless abandon, and Purves used his grumbly baritone to great effect.
Harvey Steiman