Germany Rossini, La Cenerentola: Sächsische Staatsopernchor, Staatskapelle Dresden / Alessandro De Marchi (conductor). Semperoper, Dresden, 4.6.2023. (MC)
Production:
Stage director – Damiano Michieletto
Assistant director – Eleonora Gravagnola
Set design – Paolo Fantin
Costume design – Agostino Cavalca
Lighting design – Alessandro Carletti
Video design – rocafilm
Choreography – Chiara Vecchi
Dramaturgy – Juliane Schunke
Chorus master – Jonathan Becker
Cast:
Angelina (Cenerentola / Cinderella) – Elena Maximova
Don Ramiro (Prince) – Levy Sekgapane
Don Magnifico – Maurizio Muraro
Dandini – Edward Nelson
Alidoro – Chao Deng
Clorinda – Alice Rossi
Tisbe – Justyna Ołów
At Semperoper I have now seen two different productions of Rossini's La Cenerentola. In 2013 the Steffen Piontek's staging that I described as 'Quite enchanting… I cannot imagine anyone leaving the Semperoper not feeling entertained and uplifted.' Now this Damiano Michieletto production that was first staged at Salzburg Festival in 2014 with celebrated mezzo-soprano Cecilia Bartoli as Cenerentola (Angelina). With this Semperoper production of La Cenerentola Michieletto marked his house debut in June 2021.
Rossini had experienced great success with Il barbiere di Siviglia (1816) an undoubted comedy masterwork. Reacting to the unquenchable demand for his operas Rossini pulled out all the stops and in some three weeks he completed La Cenerentola that he described as a dramma giocoso. Premiered at Rome in 1817 La Cenerentola was his twentieth opera, and he was still only twenty-five.
I guess most people know the much-loved Cinderella fairy story through the works by Charles Perrault and the Brothers Grimm, and maybe also Walt Disney's American animated film Cinderella (1950) with a remake in 2015. Rossini's librettist for La Ceneretola was Jacopo Ferretti who for his storyline remodelled variants of the children's fairytale Cinderella. Ferretti's libretto displays a cruel side of the human condition with redemptive qualities rather than outright comedy. The ugly sisters have become spiteful and bickering stepsisters Clorinda and Tisbe but there is no evil stepmother, instead the eponymous heroine Cenerentola (Angelina) has a wicked stepfather the cash strapped Don Magnifico. In place of the Fairy Godmother there is Alidoro, a philosopher and tutor to Don Ramiro. Absent is the pumpkin coach pulled by mice, and there is no glass slipper for Cenerentola to try on either. Now there is one of a pair of bracelets, worn by Cenerentola so Prince Ramiro can recognise her.
Despite all the alterations from the more commonly encountered traditional staging there was something about witnessing the injustice against Cenerentola in designer Paolo Fantin's disparate setting that I responded to. It wasn't long before I was captivated by the production hook, line and sinker. As the curtain opened, I admit that initially my heart sank as I looked at the contemporary set that seemed ordinariness personified. Micheletto's design team had not reinstated anything fairytale-like here. Fantin changed Don Magnifico's home into a tired-looking canteen complete with a staircase to the balcony. There was a serving counter, tables and chairs, trays for self-service and a cash register operated by Magnifico who had a curious pink-rinse hairstyle. Cenerentola was diligently cleaning whilst singing of her dream to marry a rich prince. Meanwhile her good-for-nothing stepsisters Clorinda and Tisbe loafed about until deciding to steal the meagre takings from the canteen till, to fund a shopping spree.
Costume designer Agostino Cavalca had the characters wearing everyday clothes. Cenerentola's workwear was a light blue tabard, Clorinda wore a pink velour tracksuit and Tisbe a mustard trench coat with multi-coloured leggings and red trainers. Impersonating his valet, Prince Ramiro was casually dressed in blue denim jeans, t-shirt, green jacket, and grey baseball cap. Wearing a white suit Alidoro walked slowly around the set observing events. Disguised as his master Prince Ramiro, valet Dandini wore a royal blue three-piece suit and trilby hat.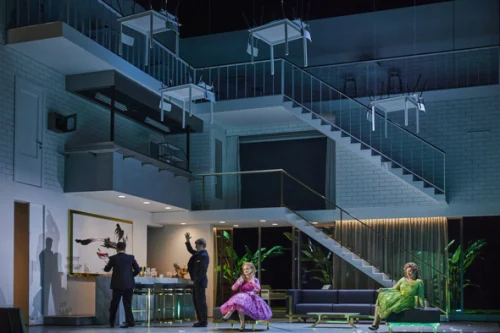 In the second act the room at Prince Ramiro's palace was designed by Fantin as a luxury apartment with a staircase to the balcony. The apartment has plush, low sofas, a cocktail bar and a wall adorned with a large modern painting. As the curtain rose, I admit to initially thinking the apartment set was a night club. Elegantly dressed by Cavalca, noticeably the men had smart lounge suits, Alidoro a dress suit and Cenerentola wore a striking off the shoulder evening dress in red with heels and jewellery. Later Magnifico looked majestic strutting around dressed in a crown and red velvet cape with a thick ermine collar and holding a scepter.
Certainly, Fantin is a talented designer and for Act II the dormant Act I canteen set was now fitted on top of the apartment set. I did notice the four canteen tables hanging on wires from the above canteen set yet in truth there was nothing too distracting to worry about. Of the most incident filled and amusing episodes conspicuous was the surprise of a saloon car smashing through the canteen wall. White suited Alidoro wrapped cling film around his other six protagonists and striking too were the video projections of volleys of arrows flashing across the scene.
Excelling in the role Russian mezzo-soprano Elena Maximova made a stoic and compassionate Cenerentola (Angelina) who despite such disadvantages never loses sight of her dreams. Cenerentola's dream aria Una volta c'era un re where she fantasises about being chosen by a king as his bride was sung from the heart by Maximova. At the conclusion of the opera Cenerentola marries her Prince. Dressed in wedding dress and tiara Maximova delivered Cenerentola's brilliant coloratura aria Nacqui all'affanno… Non più mesta had an abundant charm that delighted the audience.
Italian bass Maurizio Muraro was a success in the role of Don Magnifico. Standing out was Magnifico's Act I cavatina Miei rampolli femminini where he dreams of his daughters Clorinda and Tisbe marrying men of wealth and high status. Revealing his impressive strong, low tone Muraro projected his voice with relative ease. Flourishing in the role of Don Ramiro, the Prince of Salerno, was South-African tenor Levy Sekgapane a bell canto specialist, and a new name to me. With Prince Ramiro's substantial Act II aria Sì, ritrovarla io giuro, with Cenerentola's bracelet in hand, he sang how driven by love he swears to find her again. Using his bright voice quite beautifully Sekgapane gave a delightfully virtuosic display of coloratura that was my highpoint of the evening.
Making his house debut American lyric baritone Edward Nelson sang the role of valet Dandini. In disguise, Dandini in his Act I cavatina with chorus Come un'ape ne'giorni d'aprile reveals how despite his endeavours he cannot find a wife. Nelson has a strong voice that carries well, and I enjoyed his coloratura although his stage presence might have been bolder. There was a positive performance by Chinese bass-baritone Chao Deng on his role debut as Alidoro. Taking off his beggar clothes Alidoro reveals his real identity to Cenerentola and with Là del ciel nell'arcano profondo from Act I he tells Cenerentola he will take her to the ball and how her compassion will be rewarded.
As the feckless daughters of Magnifico there were promising performances from Alice Rossi and Justyna Ołów, both members of the Young Ensemble of the Semperoper Dresden. Italian soprano Rossi did well in the role of elder sister Clorinda and Polish mezzo-soprano Ołów on her role debut as younger sister Tisbe displayed her wholesome voice that she projected without too much difficulty. Such a versatile orchestra, the Staatskapelle Dresden responded admirably to conductor Alessandro De Marchi with lively and alert playing. Clemens Posselt on fortepiano player did a fine job accompanying the recitatives. Impressive too, the Staatsopernchor displayed character and unity.
At Semperoper Rossini's La Cenerentola is well served by Damiano Michieletto and his design team with a modern take that I found compelling.
Michael Cookson