United Kingdom Beethoven, Sebastian Currier, Clara Schumann, Brahms: Anne-Sophie Mutter (violin), Maximilian Hornung (cello), Lambert Orkis (piano), Royal Festival Hall, London, 4.6.2023. (CSa)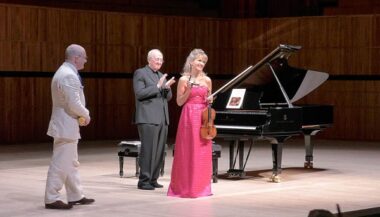 Beethoven – Piano Trio in D, Op.70 No.1 'Ghost'
Sebastian Currier – Ghost Trio
C. Schumann – 3 Romances for Violin and Piano, Op.22
Brahms – Violin Sonata No.3 in D minor, Op.108
It has been said that chamber music is a conversation between friends. When such an exchange occurs between one of the world's greatest violin players and her two supremely gifted comrades, then the dialogue is likely to be fascinating, and a privilege to witness. So it was, when Anne-Sophie Mutter joined forces with the young German cellist Maximillian Hornung and American classical pianist Lambert Orkis to give a richly varied and finely balanced concert before a near-capacity audience at London's Royal Festival Hall. Mutter was a child prodigy who made her sensational debut with the Berlin Philharmonic over 40 years ago. Her stellar career as a virtuoso soloist is well documented, but, as she has pointed out in the past, the number of concertos written for the violin is comparatively small. She has also claimed that for composers such as Mozart, Beethoven, and Brahms, their violin writing reaches its full expression only in their chamber music.
These are some of the reasons for her interest in a more intimate and collaborative genre of music-making. Although Mutter and her colleagues have collaborated many times (Orkis has accompanied Mutter in recitals since 1988), they pursue busy careers as virtuoso soloists in their own right. Yet on occasions when they join together in a chamber group, they play with the fluency, coordination and subtlety of a permanently dedicated trio.
The central theme of the first half of this recital was intended to mark, and perhaps mourn, the demise of the piano trio as a form of composition over the last 100 years. Beethoven's Piano Trio in D was nicknamed 'Ghost' by Beethoven's pupil Carl Czerny on account of its spectral second movement. The decision to twin it with a contemporary work, the UK premier of Sebastian Currier's Ghost Trio, made for an intriguing musical dialogue. Currier points out that, save for a few exceptions, the piano trio appears to have become a relic of the nineteenth century. He therefore decided to write his Ghost Trio, a musical metaphor in which, as he put it, 'brief fragments of the trios of Beethoven, Schubert, Mendelssohn and Brahms appear as fleeting apparitions, like ghosts from the past … presenting themselves unpredictably in ephemeral, often ambiguous flashes of sound'. Indeed, Beethoven's 'Ghost' is specifically referenced by Currier in the first movement.
The concert opened with a cohesive and finely nuanced account of the Beethoven. The opening Allegro, played with ebullience and panache, was slightly overwhelmed by the size of the auditorium, but the dark middle movement, a chilling Largo, featured a dramatic exchange between spectral strings and mournful piano in which even the softest notes could be heard. Now fully adapted to the Royal Festival Hall's acoustics, the players gave a warm and sunny account of Presto finale, successfully exorcising any lurking phantom, and bringing the piece to a serene conclusion.
Currier's trio came next. The work, in turn playful, grave, elusive and direct, is dedicated to Mutter. She has accurately described it as 'convincingly merging past and present'. All but one of the short nine movements are evocatively described in single word English adjectives, such as Remote, Energetic and Forceful. Beethoven's 'Ghost' haunts the first movement, entitled Lyrical, and one could hear the disembodied, dissonant voice of Alban Berg murmuring through Expressive, the dream-like fifth movement. The shades of Oscar Peterson and Stéphane Grappelli fluttered delicately in Syncopated – a joyfully jazzy exchange between Mutter's fiddle and the extraordinarily dextrous Orkis on the ivories, while Gentle, the technically demanding last movement was executed with astonishing agility by all three players, eliciting rapturous applause from the audience.
The second half of the concert was preceded by an unexpected ceremony, and provided an opportunity for John Gilhooly, Chair of the Royal Philharmonic Society, to bestow its gold medal on Anne-Sophie. She is, he told us, only the fifth violinist in the Society's history to receive the award, and now finds herself carved, as it were, into a musical Mount Rushmore in the lofty company of Joachim, Kreisler, Ysäye and Menuhin.
Placing her medal on the side of the piano, Mutter, accompanied by Orkis, gave an expansive rendering of Clara Schumann's last chamber work, her 3 Romances for Violin and Piano which she dedicated to Joachim. The duo gave a heated, passionate account of the gypsy-like opening Andante, which was cooled by a wistful, shimmering second movement Allegretto. The third and final romance was gloriously played, Orkis's supple fingers providing an unrelenting, rippling undertow to Mutter's stately, melodious bowing.
Clara Schumann formed a close friendship with Brahms who, as it happens, was another distinguished recipient of the Royal Philharmonic Society's Gold Medal. What better way to end the programme than to hear his Violin Sonata No.3 in D.  Here, Mutter's playing was restrained, unshowy and superbly articulated, her 'Lord Dunn-Raven' Stradivarius, made in 1710, providing unusually rich tonal colour. Orkis's accompaniment provided an elegant and well-balanced response. The Allegro first movement was wonderfully understated yet full of yearning, and the Adagio punctuated by passages of surging sadness. The final two fast movements combined passionate emotion and technical perfection, which predictably but justifiably earned a prolonged standing ovation. A short encore followed: John Williams's easy-going Nice to Be Around. The audience clearly agreed.
Chris Sallon