United States Stephen Sondheim, Sweeney Todd: Lunt-Fontanne Theatre, New York, 2.6.2023. (RP)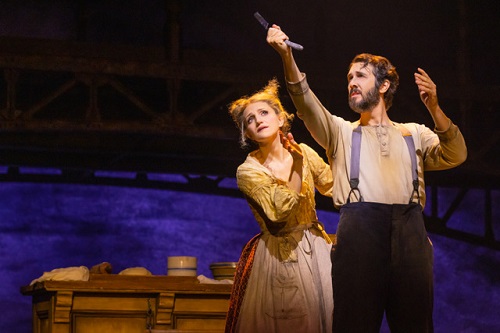 Sweeney Todd is back on Broadway and in a big way. Not since the original production closed in 1980 have New York audiences experienced Sondheim's grand, macabre musical as he envisioned it with a cast of 25 actors on stage and 26 instrumentalists in the pit. Combine that with Josh Groban as Sweeney Todd, Annaleigh Ashford as Mrs. Lovett and Thomas Kail's vibrant, riveting production, and it all makes for a great show.
I have seen Sweeney Todd twice – the original Broadway production with Len Cariou and Angela Lansbury and the 2012 West End revival with Michael Ball and Imelda Staunton – and this cast is top-notch. The original production opened on Broadway in 1980 and garnered nine Tony Awards. This time, it's nominated in eight categories, including Best Revival of a Musical, with Groban and Ashford as contenders for Leading Actor and Leading Actress in the Best Revival of a Musical.
Kail didn't exhume the past, but in many ways the production feels familiar. Mimi Lien's dark industrial set evokes Eugene Lee's original concept, including the overhead iron bridge and the tower, but it is not a copy. Todd's barber chair and the marks of Mrs Lovett's success – a flower-festooned counter where Toby hawks her meat pies to eager customers, and a few sticks of Victorian furniture where she dreams of a more tranquil life by the sea – are splashes of color in the threatening dark.
Lighting designer Natasha Katz occasionally illuminates it all in washes of color, but they are threatening hues that intensify, not alleviate, the horrors of what is transpiring on stage, It is a brutal world; a patch of light-blue sky is briefly visible through the gloom before the play begins. Then, never again.
Handsome and virile, Groban is terrifyingly fixated on revenging the injustices that he has suffered. He is absorbed in his thoughts and stiff as a board when Ashford's Mrs. Lovett straddles him and all but undoes his trousers as she sings of her dreams. Groban captures every bit of the despair and irony in Sondheim's lyrics with his rich, supple voice. However, when he sings of Lucy, the wife whose fate is unknown to him, there is only tenderness and beauty.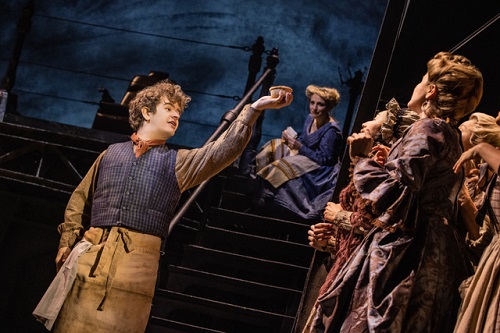 Ashford's Mrs Lovett is a revelation. It is in part due to her youth and looks, characteristics not always associated with the role, but also because of her soft comedic touch. Ashford brilliantly captures Mrs Lovett's zaniness and hair-pin turns of phrase and mood, but she also brings a softness and sensuality to Mrs Lovett that is almost endearing – if it's possible to conjure up such sentiments for a woman who grinds up human flesh to fill meat pies.
For all the power of Groban and Ashford in the lead roles, this production has a real sense of ensemble. It is a battle of scene-stealing equals in which everyone wins. Gaten Matarazzo created a complex, multifaceted Tobias, who hawks hair tonic as eagerly as he does meat pies. The difference is that Tobias cares for Mrs. Lovett, which Matarazzo expresses with simplicity and real affection.
With a gleam in his eyes accompanied by the flash of a smile, Jordan Fisher's Anthony is a winning combination of naiveté and persistence. Maria Bilbao is a pure-voiced Joanna who lurches between moments of despair, fright and pure bliss. Jamie Jackson's vain, lecherous, malevolent Judge Turpin pulls the strings that he hopes will crush Joanna and her dreams, just he squashed those of her parents.
As Beadle Bamford, John Rapson is both pompous and cruel. Shivers run down your spine when he rings the neck of a songbird to both frighten and provide a warning to Joanna and Anthony. Each tolling of the bells in the Tower of Bray rang out exuberantly in Rapson's ringing tenor as he pumped away at Mrs Lovett's organ.
Nicholas Christopher was an explosion of vanity and flamboyance as Pirelli. He turns brutal, however, when he is exposed as a fraud. As Lucy, the Beggar Woman whom Todd loved and Judge Turpin destroyed, Jeanna de Waal elicited sympathy whether begging for alms, brazenly offering her body for money or tormenting Todd with vague memories that she knows him. It was as if the entire plot revolved around de Waal's Beggar Woman which, of course, it did, as it was her story too.
The cruel undercurrents of Victorian society that course through Sweeney Todd are also captured in Steven Hoggett's choreography. At times the chorus's movements are angular and jagged. Horror, indifference and exaltation are expressed as much through motion as in the expressions on the actors' faces. The concept is even extended to the principals, most vividly in 'Green Finch and Linnet Bird', in which Bilbao's awkward flapping of her arms and darting glances poignantly mirror the fate she shares with the blinded, caged songbirds.
A full orchestra is getting ever rarer on Broadway, as much for the cost as for the changing musical tastes of both composers and audiences. Jonathan Tunick's orchestrations are colorful and bold, perhaps redolent of an earlier time, but they add immeasurable depth to the performance. From the prelude's opening organ chords to the great slashes of sound that accompany 'Swing your razor wide, Sweeney!', the sounds that came from orchestra and cast were glorious.
I first experienced Sweeney Todd on a wet, wintry night. I got a cheap ticket at the TKTS booth and sat alone in the far corner of last row of what was the Uris Theater. It was a much milder evening this time, and I had a far better seat, but Sweeney Todd was just as terrifying and funny. It is a show that's not to be missed, at least while this cast and orchestra are around.
Rick Perdian
Cast:
Josh Groban – Sweeney Todd
Annaleigh Ashford – Mrs Lovett
Jordan Fisher – Anthony
Gaten Matarazzo – Tobias Ragg
Jeanna de Waal – Beggar Woman
Maria Bilbao – Johanna
Jamie Jackson – Judge Turpin
John Rapson – Beadle Bamford
Nicholas Christopher – Pirelli
Hennessy Winkler – Bird Seller
Passerby – Patricia Phillips
Jonas Fogg – Danny Rothman
Ensemble – Galyana Castillo, Taeler Elyse Cyrus, Timothy Hughes, Paul-Jordan Jansen, Alicia Kaori, Raymond J. Lee, Megan Ort, Patricia Phillips, Samantha Pollino, Lexi Rabadi, Danny Rothman, Nathan Salstone, Daniel Torres, Felix Torrez-Ponce, DeLaney Westfall, Hennessy Winkler
Production:
Conductor – Alex Lacamoire
Music and Lyrics – Stephen Sondheim
Book – Hugh Wheeler
Adaptation – Christopher Bond
Original Director – Harold Prince
Director – Thomas Kail
Choreographer – Steven Hoggett
Sets – Mimi Lien
Costumes – Emilio Sosa
Lighting – Natasha Katz
Sound – Nevin Steinberg
Wigs, Hair amd Makeup – J. Jared Janas
Orchestrations – Jonathan Tunick
Special Effects – Jeremy Chernick