United Kingdom Massenet, Werther: Soloists, Chorus and Orchestra of the Royal Opera House, Covent Garden / Sir Antonio Pappano (conductor). Royal Opera house, Covent Garden, 23.6.2023. (CC)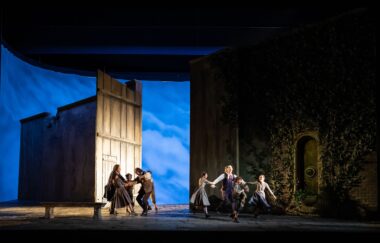 Production:
Director – Benoît Jacquot
Revival director – Geneviève Dufour
Set and Lighting designer – Charles Edwards
Costume designer – Christian Gasc
Cast:
Werther – Jonas Kaufmann
Charlotte – Aigul Akhmetshina
Sophie – Sarah Gilford
Albert – Gordon Bintner
The Bailli – Alistair Miles
Johann – James Cleverton
Schmidt – Christophe Montagne
Brühlmann – Dawid Kimberg
Käthchen – Gabrielė Kupšytė
It was back in 2011 (review click here) when I last reported on Benoît Jaquot's production of Massenet's Goethe-based opera Werther. The production returns, under revival director Geneviève Dufour. The sets are just as impressive, courtesy of Charles Edwards, from the brightness and openness of the earlier acts to the Hammershøi shadowy moodiness of the work's later stages. But even before those heavier moments, there are hints of claustrophobia and turmoil, not least in a grey, gloomy sky and buildings angled to create just the slightest sense of dis-ease. There might be Christmas carols, but tragedy lies, nascent, everywhere, until, of course, it strikes. Massenet's music is powerful and perfectly judged, his orchestration perfect. It needs a conductor of the calibre of Antonio Pappano to realise just how perfect, though, and with an orchestra falling over itself to do his every whim, Massenet's score shone, a translucent gently glowing gem of a score. It is a score he knows inside out, of course: one need only to listen to his London Symphony Orchestra recording with Angela Gheorghiu, Roberto Alagna and Thomas Hampson; but here he seemed to excel even that, the Interludes perfectly sculpted.
Famously by the time of this second performance, Jonas Kaufmann had spent a first night ailing but stalwartly carrying on. There was an audible groan as an announcement was made that Kaufmann was still suffering from a cold but would appear. I did not hear the first night (Louise Bertin's Fausto in Paris beckoned instead), but Kaufmann was certainly suffering somewhat. He did save himself for the big moments and that was when we heard the beloved strength and ardour. 'Pourquoi me réveiller' was a clear case in point. But some of his declarations of love towards the end of the first act lacked weight. There is no doubting Kaufmann retains the dramatic focus – when the production shows him alone, in emotional pain, the effect is crushing. Massenet's glorification of Romantic suicidal ideation remains as powerful as ever.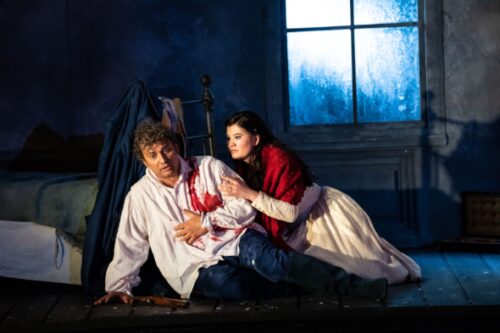 Back in 2011, both Werther and Charlotte were big names: Rolando Villazón and Sophie Koch. Here it was the up-and–coming Aigul Akhmetshina (who joined the Jette Parker Young Artists Programme in 2017) who gave what might well be a career-defining performance as Charlotte. The coupling of dramatic impact with a voice of such purity, sincerity and accuracy was just remarkable, while the depth of her mezzo-soprano is infinitely appealing. She has the ability to become a truly great singer, and with her links to Covent Garden one hopes to track that journey at every turn. Her Charlotte was perfectly complemented by Sarah Gilford's Sophie. Gilford was a Song Prize Finalist at the Cardiff Singer of the World competition in 2021 and has previously been part of the ensemble in Klagenfurt. She has a freshness of delivery and a real musicality. Of the major roles, perhaps it was only Gordon Bintner's Albert that disappointed somewhat. A newcomer to the Royal Opera (his debut was as Guglielmo in a 2021/22 Così fan tutte), his voice in comparison, while certainly robust, lacked true focus while his dramatic engagement occasionally faltered. With the other principals, we believed the singers were those characters, much less so in Albert's case.
It did feel like luxury casting to have the wonderful Alistair Miles as The Bailli, a singer who surely needs no introduction and whose confidence and strength was everywhere apparent. James Cleverton was an excellent Johann (he has previously appeared as Astolfo in Glyndebourne's Alcina and Mr Kallenbach in ENO's 2021 Philip Glass opera Satyagraha plus Aristaeus the Man in Harrison Birtwistle's The Mask of Orpheus). His partner in crime was Christophe Montagne's strong Schmidt. Together, the two made for some wonderful comedy in the midst of the prevailing tragedy.
Both Dawid Kimberg and Gabrielė Kupšytė (as Brühlmann and Käthchen respectively) offered outstanding accounts of their roles. This is a great evening and a long one (two intervals, both 25 minutes), yet Massenet's clear genius shines throughout it.
The production remains fascinating, and Pappano's direction carried the evening in tandem with Akhmetshina's superb Charlotte. All credit to the children's chorus, too; but this was a bit too much of a mixed bag.
Colin Clarke