Spain Monteverdi, L'incoronazione di Poppea: Le Concert des Nations / Jordi Savall (conductor). Gran Teatre del Liceu, Barcelona, 14.7.2023. (JMI)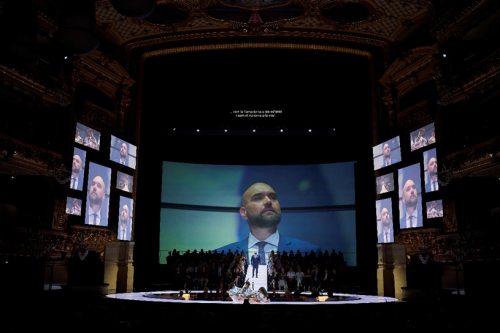 Production:
Director – Calixto Bieito
Sets – Rebecca Ringst
Costumes – Ingo Krügler
Lighting – Franck Evin
Video – Sarah Derendinger
Cast:
Poppea – Julie Fuchs
Nerone – David Hansen
Ottavia – Magdalena Kožená
Ottone – Xavier Sábata
Drusilla – Deane Breiwick
Seneca – Nahuel di Pierro
Valetto – Natalia Labourdette
Lucano / Soldier / Familiar – Thobela Ntshanyana
Nutrice – Marcel Beekman
Arnalta – Mark Milhofer
Fortuna / Damisella / Pallade – Rita Morais
La Virtú – Irene Mas
Amore / Familiar – Jake Arditi
Litore / Familiar – Milan Perišic
Claudio Monteverdi's second opera has returned to the Liceu, where it was last seen in 2017 in a concert version conducted by Jean Christophe Spinosi. Previously, it had been done here in 2009 with Harry Bicket conducting. In my opinion, the artistic result of last night's performance fell below what we enjoyed in 2009.
On this occasion, Liceu has used the Calixto Bieito production that premiered at the Zurich Opera in 2018. The action is brought up to modern times, with a stage where practically the only set consists of some stands filled with around 100 spectators. It is as if we were in a television studio – when entering, one sees a projection of the Liceu theater on the background screen, and that screen continues to offer images related to the plot. The action takes place in the front part of the stage, and a series of screens on the sides offer images of what is happening on stage during the performance.
Bieito focuses on the moral depravity of the characters, especially Nero, and his work narrates the plot well. However, that stage background affects the projection of voices. The final scene of the opera is particularly effective.
The musical direction was carried out by conductor and cellist Jordi Savall, who offered a good reading, although I missed more variety and imagination on his part. I have had the opportunity to see this opera conducted by maestros such as Spinosi, Bicket, William Christie and Pablo Heras-Casado, and I preferred their readings. Le Concert des Nations under Savall gave a good performance.
The opera has a large vocal cast. Six characters are important, but some of those that one might call secondary are also relevant.
Poppea, Ottone's wife and the object of Nero's desire, was played by French soprano Julie Fuchs, who had premiered in this production in Zurich. She gave a solid vocal and stage performance.
Nero was sung by countertenor David Hansen who also sang it in Zurich. It is known that countertenor voices do not stand out for their beauty, although there are some whose quality is clearly superior. This is not the case here – Hansen has neither a beautiful timbre nor plenty of volume, but he is a good performer on stage.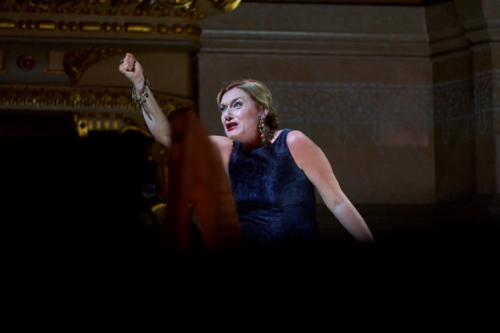 Ottavia, Nero's wife who is abandoned, was played by mezzo-soprano Magdalena Kožená, who gave a remarkable performance. Her voice works perfectly, and she is an excellent singer and actor.
Ottone, Poppea's initial husband, was played by countertenor Xavier Sábata, another giving a good performance on stage, although his voice does not offer excessive quality either.
Soprano Deana Breiwick was Drusilla, Ottone's mistress, and again she sang it in Zurich. A light soprano with an attractive timbre, she sings with gusto and interpreted her character well. Seneca, the philosopher, was played by bass Nahuel di Pierro who was correct in the role.
The rest of the characters are less important, but some of them did not go unnoticed. The trio that opens the opera was formed by Rita Morais (Fortuna), Irene Mas (Virtú) and Jake Arditi (Amore), and they were good. Tenors Marcel Beekman and Mark Milhofer offered solid performances in their appearances as Nutrice and Arnalta, respectively. Valetto was well-covered by Natalia Labourdette, and Thobela Ntshanyana was also good as Lucano and other episodic characters, as was Milan Perišic as Litore and Familiar.
Jose M. Irurzun