United Kingdom Opera Holland Park 2023 [3] – Dove, Itch (world premiere): Soloists, Members of the City of London Sinfonia / Jennifer Cottis (conductor). Opera Holland Park, London, 22.7.2023. (CC)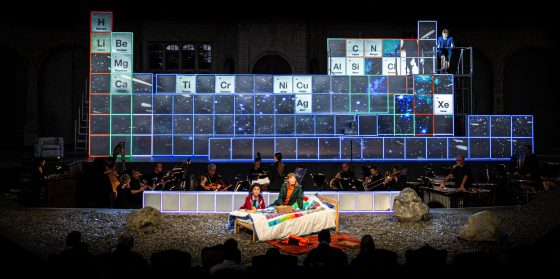 Production:
Director – Stephen Barlow
Designer – Frankie Bradshaw
Lighting designer – Jake Wiltshire
Projection designer – Jack Henry James Fox
Cast:
Itchingham Lofte – Adam Temple-Smith
Jack Lofte – Natasha Agarwal
Jude Loft / Roshanna Wing – Rebecca Bottone
Nicholas Lofte – Eric Greene
Bob Evert / Kinch – Robert Burt
Cake / Berghahn – James Laing
Watkins – Victoria Simmonds
Nathaniel Flowerdew – Nicholas Garrett
Based on Simon Mayo's book Itch (primarily the first, although the documentation gives 'based on the book series by Simon Mayo'), Jonathan Dove's opera of the same title is as slick as they come. An Opera Holland Park commission, everything seems to have gone into making this a success. A pity, therefore, that London Transport could not take a leaf out of their book and went wonky (including closing Holland Park station) so the start was delayed by a quarter of an hour, and at the end the park gates were locked … and, to cap it all, the inclement weather made its point, pitting rain and wind against OHP's canopy.
Mayo's book is wonderful. He knows where to pitch this action-adventure: à la J. K. Rowling, the Itch series of books can be enjoyed by teenagers and adults alike. His writing style is light and eminently readable, his plot is a real romp. While this is not the Periodic Table's first outing in creative writing in literature (Primo Levi's The Periodic Table springs to mind), it may well be the first aimed at a particular age band that is so successful. Dove's opera follows the first book fairly closely.
Librettist Alasdair Middleton, Dove's regular collaborator, has taken Mayo's original and transferred it deftly to the stage, adding some nice, slick rhymes into the mix. The whole is brought to life thanks to Stephen Barlow, director. A selection of squares – like building blocks – represents the periodic table itself: squares can be illuminated individually (when an element is referenced in the text, for example), or together (using the chemical symbols to spell a word), or indeed collectively to create scenic backgrounds. The 'periodic table' is multi-level, so interactions are possible, on one occasion a telephone conversation between a stage-level character and one at the very top of the periodic table. Itch's bedroom is stage front, so in between ensemble and audience. It is a brilliant transferral of the book to the Holland Park stage, and congratulations are due to all concerned: Lighting designer Jake Wiltshire certainly had his work cut out for the opera traverses a wide range of short scenes, Projection designer Jack Henry James Fox of Really Creative Media and most of all Designer Frankie Bradshaw have done Mayo's idea proud.
The libretto foregrounds the environmental aspect of the book well (as well it might), so the tale seems even more relevant to us all, today. Messing with Mother Earth is never a good idea, (as the discovery of a new element implies, she still holds her secrets) and an aria to Gaia is one of the evening's highlights.
The tale of the little man against Big Industry, of youth triumphing for good, (of David against Goliath, really) is age-old and underpins the dramatic argument here. Itchingham Lofte ('Itch') discovers a 'missing' element that comes into his possession via a beach drifter known only as 'Cake,' who sells rocks (the opera is set in Cornwall and London). The stock, comedic bad guys include a 'heavy' called Berghahn (a dual role with Cake) and a knucklehead called Kinch. The disgraced scientist Nathaniel Flowerdew, who teaches at the Lofte's school, is key to the plot in his desperation to regain recognition.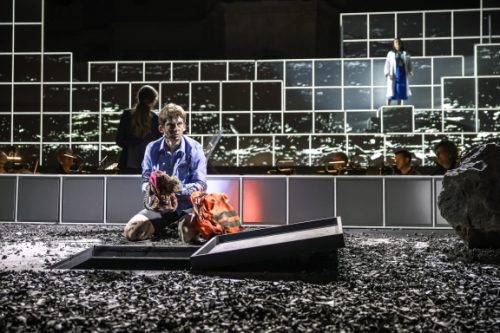 The singing was remarkably even in its excellence. Adam Temple-Smith was a fine Itch, matched by his sister, Jack, finely sung by Natasha Agarwal. Temple-Smith brought a proper sense of wonder to his aria to chemistry ('Castle of the Elements' – an aria that also showcased Temple-Smith's strength at all levels of the tenor range). Rebecca Bottone was utterly remarkable in her shapeshifting as Jude Lofte (Itch and Jack's mother) and the 'baddie' Queenpin (!) Roshanna – her positively stratospheric lines into the super-soprano range for Roshanna were simply incredible, while she absolutely owned the role of the mother, Jude. Eric Greene was a fine presence – and strong voice – as the father of the Lofte clan, Nicholas, while Robert Burt echoed Bottone's ability to create two completely different characters in one night as Bob Evert (the owner of the local tin mine) and the rather gruffer Kinch. With Victoria Simmonds in good form as Watkins and Nicholas Garrett owning the part of the disgraced Nathaniel Flowerdew, this was pitch-perfect casting. But it was James Laing who impressed most, his countertenor voice strong and expressive, brilliant as the laissez-faire Cake (and touching during Cake's visceral reaction to radiation poisoning) and a transformed character (but no less strong musically) as Berghahn. Laing's performance of Dove's aria for Cake, 'I comb the beaches', the line beautifully encrusted with active instrumental lines, was truly transfixing.
Jessica Cottis conducting resulted in an exactitude that veered towards the perfect on a permanent level. Cottis previously impressed when she conducted Janáček's The Cunning Little Vixen at OHP (review click here). The small band played their hearts out.
The problem is the music itself. Dove is adept at creating specific soundworlds (including a specific one for the newly-discovered element itself) and he writes well for instruments, and superbly for voices. But the underlying issue is the music's unmemorability. Plenty is clever, and Dove's carefully chosen ensemble is capable of some remarkable sonorities. He writes for violin, cello and double bass (all single players), flute, clarinet/bass clarinet, bassoon/contrabassoon, horn, trumpet, trombone, percussion, harp and keyboards:. Berrak Dyer was superb as pianist/keyboardist while Kathy Shave as the violinist played with supreme confidence, even in Dove's trickier passages. Many of the sonorities were beautiful: a silvery celesta and harp for the element Lithium, for example. There is a real rhythmic dynamism, and Dove's musical representation of the bright explosion at the opera's opening is certainly vivid. But is there enough invention here? Sadly, that (pardon the pun) might well be the real missing element here.
As an entertainment, Itch passes an evening nicely. Given its subject matter and fine staging, it might even encroach on Dove's earlier Flight for popularity. But, for this audience member at least, the whole just did not seem to be the sum of its – admittedly finely crafted and often mesmerically beautiful – parts.
Colin Clarke