United Kingdom Verdi, Don Carlo (Modena version, 1886): Soloists, Chorus and Orchestra of the Royal Opera House, Covent Garden / Bertrand de Billy (conductor). Royal Opera House, Covent Garden, 30.6.2023. (CC)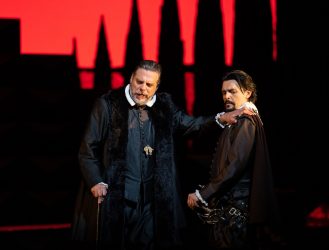 Production:
Director – Nicholas Hytner
Revival Director – Dan Dooner
Designer – Bob Crowley
Lighting designer – Mark Henderson
Movement – Scarlett Mackmin
Fight director – Terry King
Cast included:
Don Carlos – Brian Jagde
Elizabeth of Valois – Lise Davidsen
Rodrigo, Marquis of Posa – Luca Micheletti
Philip II – John Relyea
Princess Eboli – Yulia Matochkina
Tebaldo – Ella Taylor
Carlos V – Alexander Köpeczi
Count of Lerma – Michael Gibson
Grand Inquisitor – Taras Shtonda
Voice from Heaven – Sarah Dufresne
There is no doubt that Verdi's Don Carlo ('Carlo' in Italian, 'Carlos' in the French versions) is a masterpiece. The first issue is, though, which Don Carlo(s) is being performed? This revival of Nicholas Hytner's imposing 2008 production takes Verdi's last thoughts (Modena, 1886). Christopher Wintle's superb essay included in the Covent Garden programme, Don Carlos to Don Carlo … and back is a masterclass in unravelling the complex threads, as well as tethering Verdi's opera back to Schiller's play.
Hytner's production remains thought-provoking, its cardboard-cutout trees in the Fontainebleau act set against period costumes, its 'auto da fé' choral spectacular splendour set against the dark intimacy of King Philip's rooms. Contrasts abound, between Church and State, and between interior emotions and external ritual and spectacle. Revival director Dan Dooner ensures Hytner's original concept is rendered faithfully.
Many will have come for Lise Davidsen's Elizabeth, betrothed to the King but in love with Don Carlo. The inclusion of the Fontainebleau act is vital to show the love link between Elizabeth and Carlos; a link that impacts pretty much everything thereafter. Those initial love scenes, from a musico-critical perspective, allow examination of the singers in the two main roles. Davidsen – in her first major Verdi role – is spectacular. Her dynamic range is exceptional and at full throttle, her voice could fill at least two, perhaps three, Covent Gardens. Her identification with Elizabeth is complete, and as an audience we not only track but experience her helter-skelter emotional ride, crowning it all with a thrilling final 'Tu che la vanità' shot through with dignity and, astonishingly, revealing not a jot of tiredness at this late stage in the long evening.
If the Princess Eboli, Yulia Matochkina, was less in control in the 'Veil Song' than she was in 'O don fatale,' she was dramatically believable throughout. As Tebaldo, Elizabeth's Page, Ella Taylor made a strong impression; as did the fresh, pure strong Voice from Heaven, Jette Parker Artist Sarah Dufresne, who keeps on impressing (most notably as Tusnelda in Handel's Arminio recently). The Voice from Heaven's contribution is markedly short in Don Carlo, but Dufresne certainly made it count.
Lise Davidsen would surely eclipse all but the greatest of Don Carlos … sadly that was not Brian Jagde, who took some time to find his vocal feet, and yet who never completely seemed congruent with the role. Verdi's great moment when Carlo is 'betrayed' by Posa was unconvincing, even as Verdi's remembrance motif, that from the Friendship Duet, floated up from the orchestra.
Luca Micheletti's Posa was strong, his Act V 'Per me giunto … O Carlo, ascolta' searingly powerful. Of the male singers it was John Relyea's Philip II who stole the show, his fourth act 'Ella giammai m'amò' – a study in the projection of a tortured soul – was matched by the dark lighting of the scene in his study with Mark Henderson's lighting throughout a masterclass in theatrical awareness. Relyea impressed in his English National Opera debut as Wotan in Richard Jones's production of The Rhinegold earlier this year, and he was no less memorable here. Ukrainian bass Taras Shtonda was a believably ancient Grand Inquisitor, his age no barrier to the strength of his firmly held ideas, an imposing presence both dramatically and vocally.
With Alexander Köpeczi as a deliciously spectral Carlos V and Jette Parker Artist Michael Gibson acquitting himself well as the Count of Lerma, there was much to enjoy.
The orchestra at Covent Garden clearly adores Bertrand de Billy. They were completely on the ball, from fast strings to the co-ordination of offstage and onstage elements. De Billy's pacing, too, was superb, allowing for light and shade and for a sense of ongoing drama right through to the work's conclusion. De Billy's recordings have impressed in the past, from his Arte Nova Don Giovanni to his superb handling of Hindemith's opera Mathis der Maler in Keith Warner's production, filmed in Vienna (available on a Naxos DVD/Bluray), and this Don Carlo was no exception.
A fine evening, then, transfigured into greatness by Lise Davidsen's unforgettable Elizabeth. It does need to be said though that the more we see of Bertrand de Billy, the better – he is clearly a very positive influence indeed.
Colin Clarke