Sweden Vattnäs Chamber Music Festival [1] – Various, Festive inauguration among men and beasts: Earendel Quintet, Synne Vinje (soprano), Alva Olsson (soprano), Rebecca Fjällsby (mezzo-soprano), Anna Johansen (saxophone), Michael Engström (piano), Jacob Kellermann (guitar), Vattnäs Strings, et al. Vattnäs Concert Barn, 13.7.2023. (GF)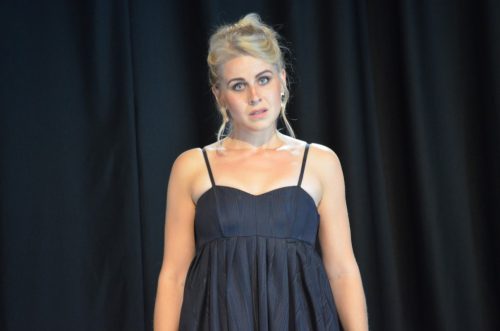 Regular visitors to Seen and Heard will have noticed that Anna Larsson and Göran Eliasson for more than a decade have produced song festivals and thrilling opera performances, including four world premieres. For this summer they have radically changed direction and arranged a three-day chamber music festival, encompassing circa 25 acts and a total playing time of around 12 hours. It was a bold venture. Would there be people enough to fill the barn in this little village in the middle of nowhere to listen to exclusive chamber music? There would, it turned out. The barn can seat 300, and there were not many empty seats any of the days.
The first day was devoted to folk music influences in chamber music and the opening was cheerful. The young Earendel Wind Quintet, named after a recently discovered star, had chosen music by two humoristic composers. First Jacques Ibert's Trois pieces brèves, great fun but also full of virtuosity. Malcolm Arnold's Three Shanties offered both soft pastorals and hilarious caprices. The variations on What shall we do with the drunken sailor? was of course met with ovations.
For Edvard Grieg the Norwegian folk music was omnipresent and in particular in the eight songs to texts from Arne Garborg's cyclic Haugtussa. Norwegian soprano Synne Vinje had selected five of them and sang them with poetic warmth as well as erotic glow, well nuanced and excellently accompanied by Michael Engström, who was frequently active during the festival.
An unusual feature was a piece by the French nineteenth-century composer Jules Demersseman. He was a flautist and composed mainly for his own instrument. But he was also one of the first to compose for the saxophone, and it is possible that Fantaisie sur un thème original that Anna Johansen played on her alto saxophone was written for the instrument. The music was melodious, really beautiful, even though the theme didn't stick at once. But there was also space for the technical wizardry that Anna Johansen was in eminent command of. I had gladly heard more of her, but instead I got one of my favourites among Schubert's chamber music works: Der Hirt auf den Felsen for soprano, clarinet and piano. And it is certainly chamber music where the three voices are equals. Michael Engström was back on the piano stool, Maria Rubio, from the Earendel Quintet handled the clarinet and the soprano part was entrusted to Alva Olsson, who made her opera debut last year at Vattnäs as Pamina in Die Zauberflöte. With her long blond hair she was the emblem of a Nordic siren of the woods and the three matched each other to perfection.
After the interval we turned southwards, to Spain, and were first treated to a world premiere. It was a composition by the Spanish guitarist Francesco Coll, titled …de voz aceitunada (…the voice of the olive). The base for the composition is a poem by Lorca, who in the 1930s was in a relationship with Salvador Dali, and it is Dali's voice that is alluded to. For the musical material, Coll has employed a medieval Sephardic song. The piece is however instrumental, set for flute (Sophie Berggren), viola (Allan Jonasson) and guitar (Jacob Kellermann). It was a fascinating encounter between melodic fragments from possibly the thirteenth century and composition technique from today.
Remaining in Spain, mezzo-soprano Rebecca Fjällsby and guitarist Jacob Kellermann performed Siete canciones populares by Manuel de Falla. It is one of his most popular works and it is based on genuine folk songs. The Spanish temperament permeated the performance from the very beginning, and Rebecca Fjällsby had a timbre and intensity that was a hit with the audience.
They could cool down a bit when Vattnäs Strings entered the stage in a mainly Nordic programme. Vattnäs Strings is a string quintet, with a couple of locally born members and they play both folk music and traditional classical music. Here they opened with three polskor, followed by Peterson-Berger's Sommarsång (Summer song), originally a piano piece, and the beautiful and sad Elegie by Sibelius. More hot-blooded was the Scherzo from Dvořák's String Quartet in E-flat – a true vitamin injection! The arrangements were by the double bass player in the quintet, Fredrik Wadman.
The evening was rounded off with some 'Swedish Romances in Nature Lyricism': Tenor Göran Eliasson returned to Peterson-Berger and När jag för mig själv I mörka skogen går. The young bass-baritone Kristoffer Töyrä, a great talent that will be back on Saturday, sang Ture Rangström's dramatic Vingar I natten. Finally Anna Larsson sang Grieg's immortal Jeg elsker dig (I love you), her husband Eliasson countered with the same text in reprise and then they united towards the end and Töyrä joined in at the last chord. A very touching finale!
Göran Forsling