Germany Bayreuth Festival 2023 [1] – Wagner, Parsifal: Soloists, Chorus and Orchestra of the Bayreuth Festival / Pablo Heras-Casado. Recorded (directed by Michael Beyer) at the Bayreuther Festspielhaus, Germany, 25.7.2023. (JPr)
Production:
Direction – Jay Scheib
Stage – Mimi Lien
Costumes – Meentje Nielsen
Lighting – Rainer Casper
Video – Joshua Higgason
Dramaturgy – Marlene Schleicher
Chorus director – Eberhard Friedrich
Cast:
Gurnemanz – Georg Zeppenfeld
Parsifal – Andreas Schager
Amfortas – Derek Welton
Kundry – Elīna Garanča
Titurel – Tobias Kehrer
Klingsor – Jordan Shanahan
Grail Knights – Siyabonga Maqungo, Jens-Erik Aasbø
Squires – Betsy Horne, Margaret Plummer, Jorge Rodríguez-Norton, Garrie Davislim
Klingsor's Sorcerer's Girls – Evelin Novak, Camille Schnoor, Margaret Plummer, Julia Grüter, Betsy Horne, Marie Henriette Reinhold
Alto solo – Marie Henriette Reinhold
It was not just a new Parsifal this summer at Bayreuth but one that advertised it would combine the action on the stage with 'augmented reality' and these 3D elements could be viewed through special virtual reality glasses. (Oddly this comes at a time when 3D in the cinema has seemingly come and gone.) You will find in the media the background to why only 330 of these glasses could be bought leaving the rest of the almost 2000 in the audience watching a 'normal' performance. It is impossible to ignore the immediate reaction to this premiere and it seems that priority to those available glasses was given to critics and, I suspect, other invited guests attending.
The way I watched this Parsifal was even one-step further removed and I saw it replayed on DG's STAGE+, though in the end I probably had the best seat in the house. Because of the closeup camerawork I was able to appreciate director Jay Scheib's Personregie. He benefitted from some consummate singing actors to work with who were capable of not just singing notes but bringing their roles to life with the conviction of that singing. Allied to that was a remarkable debut by Pablo Heras-Casado in the concealed Bayreuth pit that has been the downfall of many first-time conductors. It is possibly invidious to compare the Parsifal I heard online with those I had heard at Bayreuth since a first visit there in the 1980s. Nevertheless while he chose swift tempos, nothing ever seemed glossed over and the music had an inner pulse and forward momentum which illuminated the stage pictures without striving for more profundity than is already there in the music. Heras-Casado's account was special for its clarity, detail and immense spectrum of orchestral colours and he made me smile when as he heard the thunderous applause at the end of the second act he made the universal gesture of 'Phew!' across his forehead.
More debatable was Scheib's staging but at least I was not puzzling as much I sometimes can be about what I was watching. I have seen the previous five Parsifal productions at Bayreuth (from Götz Friedrich, Wolfgang Wagner, Christoph Schlingensief, Stefan Herheim and Uwe Eric Laufenberg) and Scheib's Parsifal is not as controversial as some or as legendary as that of Friedrich and Herheim. In a recent preview in The New York Times Scheib explained how what we see is a 'post-human landscape in which the last group of people are hanging on, trying to make sense of faith, forgiveness and belonging' and suggested how the use of the modern technology is in keeping with Wagner's own approach to opera, 'He carried out so many innovations, with lighting and architecture. Ultimately, he wanted the theatre to completely disappear.'
Mimi Lien's designs are perhaps not so much 'post-human' but typically 'post-apocalyptic' and yes we have seen that before, as well as the now (over-)familiar use of cameras focussing on the singers on stage who are shown on the large screens and turn opera into a rock concert. And of course these days there must be water on stage that singers from time to time will paddle in. I don't want to sound too cynical because until the slightly 'is that it?' ending I was gripped by the performance. All 'us' watching the broadcast saw at this point was Parsifal lifting his hands to heaven while I understand 'them' watching though their expensive glasses saw an actual dove.
At the start of Act I Georg Zeppenfeld's Gurnemanz looks like, well, Georg Zeppenfeld always does! He is in a white tunic fringed in yellow before donning a yellow skirt. Meentje Nielsen's costumes are mainly white and both the men and women can have flower-patterned skirts. Gurnemanz's knights at the start of Act I are in army fatigues whilst the masked ones at the Grail Temple have a small swan motif on their tunics. During the Prelude it is clear Gurnemanz has not taken a vow of chastity as he is straddled by a woman he is obviously living with, though he will soon recoil at what he has been getting up to. She has hair, part-white, part-black, just as Kundry will when she appears. Who Gurnemanz's woman is remains a little obscure (though she will be seen tending Amfortas's wounds) and she is still with him in Act III when the pair seem rather estranged though appear to reconcile at the end of the opera.
There is a monolith (from 2001: A Space Odyssey?) prominent onstage in Act I surrounded by water. The top will later flash as a halo of flickering LED florescent tubes rises from the stage floor and this will be a first hint of Christian iconography that will be reinforced by the reliquaries brought on stage. Earlier after 'Durch Mitleid wissend, der reine Tor' we do get a very traditional, bloodied white swan as Parsifal comes on with his bow in his patched-up jeans and sneakers. Throughout Scheib's Parsifal gives some prominence to a rock occasionally picked up and first brandished by Parsifal to attack Kundry after he learns his mother is dead. I suspect for those in the Festspielhaus the Grail knights might have looked as if they were just ambling around but the audience watching the broadcast saw they made impressive patterns with their movement. By now Gurnemanz is wearing a colourful cape and this suggests he maybe a shaman and this is reinforced by the way he seems to have been ostracised by the community in the last act and must fight his way through the throng. The venerated Grail is revealed as a large blue crystal and the pale and shaven-headed Amfortas adds blood from his open wound to water poured over it and a bowl containing the concoction is passed around the knights for them to drink. The crystal is shown to have healing energy and rejuvenated an aged, doddery Titurel.
Act II looks like it is a pool party at a convention of Barbie Doll collectors. There is a lot of blond hair and much pink, including the suit Klingsor wears along with his mirrored horned helmet. This all looks to be taking place in Venus's grotto from Tannhäuser. A stuntperson costumed as Parsifal is seen abseiling down a castle wall and onstage Parsifal will be confronted by sword-wielding flowermaidens (here described as 'Sorcerer's Girls') some of whom are cradling their lovers who he has killed. Parsifal is now in a blood-spattered white T shirt with small hearts on the front and 'Remember Me' on the back. Kundry appears in full diva mode admiring herself in a mirror and in a blue gown and gold breastplate, complete with sunglasses and her head wrapped in a scarf. She will eventually strip down to a plain black nightdress and attempt to seduced Parsifal on a slightly dingy mattress. Parsifal plucks a heart from a 'dead body' which with a stone in his other hand I thought he was going to pulverise it but he just jettisons them in the water. Kundry helps Parsifal grab Klingsor's odd-looking spear but frankly this wasn't well staged. Flames look as if they are consuming the castle before a figure (Klingsor?) is shown plummeting to the ground at the back as Kundry picks the stone from the water.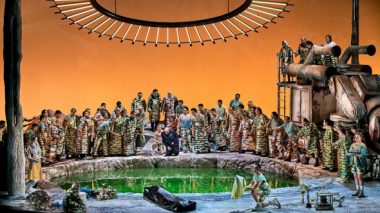 Act III brings us a desolate rubbish-strewn wasteland and a plastic bag is seen hanging down throughout the act. It has been stripped of its natural resources by a huge mining machine stage left from which Gurnemanz remerges. Centrally there is a large pool of polluted water and stage right a tree under which – the now white-haired – Kundry is lying shrouded in plastic and surrounded by lilies and with a nearby thorn bush. She now wears a black-and-white knitted top with 'Forget Me' on the back. The monolith of the first act might by now have been destroyed and Gurnemanz and his mysterious flower-gathering woman are living in a red tent; red being another prominent colour of this Parsifal along with white, pink and blue. Parsifal arrives in a – yes red – hoodie and for all the washing and anointing which follows Gurnemanz's woman mimics all that goes on. It is clear how Scheib wants us to appreciate the obvious affection Parsifal and Kundry have for each other. The image of the Grail Temple from before rises flashing from the water and looks – with camerawork from above – like an iris and pupil. The knights are wearing camouflage uniforms and looking at what Scheib shows us it is difficult not to think about war-torn parts of the world such as Ukraine. The knights are clearly in a very bad way and Titurel's remains are dragged on in a body bag whilst the mourning Amfortas is in a blue military uniform with a hole displaying his wound. Parsifal appears at the back with the spear and Kundry brings on the Grail which will get passed to him to uncover before he smashes the large crystal on the ground. Cue relatively inconclusive ending as Parsifal returns to wading in the water (as he did when he entered) and beckons Kundry and they touch hands. The 'halo' lowers over them as at the side Gurnemanz and his woman get back together. It seems there might be a happy ever after but for whom and why might need further explanation from Scheib.
Andreas Schager replaced an ailing Joseph Calleja as Parsifal at a relatively late stage. He is a dependable singer but is now seen too often in these leading Wagner roles and I wish there were some new heldentenors we could get to see. Schager has an admirably tireless voice but – through loudspeakers – his voice was more Tristan-like than suitable for Parsifal and there seems to be a slight vibrato I had not noticed before and I would prefer a less effortful and slightly brighter sound. Georg Zeppenfeld is a remarkable singer and one of the great basses of this or any other generation. He has the rare ability to tell a story and make you understand what his character is thinking, so much so that you are hanging on to every word of the endless monologues he gets to sing even if you don't know German! Derek Welton – who has sung Klingsor many times at Bayreuth – sang the suffering Amfortas with a more authoritative, sonorous and healthy voice than sometimes we hear, Jordan Shanahan was a suitably sleazy Klingsor whilst Tobias Kehrer's cavernous bass was ideal for Titurel's pronouncements. The Bayreuth chorus was as wonderful as ever with the men singing robustly and with clarion power, whilst the women sounded suitably radiant and exalted in Act I and feisty and alluring as the Sorcerer's Girls.
Elīna Garanča is another singer who – like Zeppenfeld – can make you believe she is the character she is singing and she sang with all the intensity, expressivity and control this complex role demands. Garanča's sultry, slightly smoky, and resonant lower register rose to a secure top and she perfectly embodied Scheib's idea of Kundry. Yes, she maybe unfeeling and seductive to begin with but here she is allowed to quickly atone for past sins and reveal a more caring, compassionate and loving nature. As a result Scheib's Kundry is far removed from the eternally cursed and doomed figure she is often portrayed as.
There was much foot-stamping and bravos for the soloists, chorus and conductor, and while every directorial team has now come to expect pantomime booing from a section of the Bayreuth audience on their first night this time there was only a smattering of disapproval.
Jim Pritchard