Italy Verdi, Otello: Soloists, Chorus and Orchestra of the Teatro Petruzzelli / Giacomo Sagripanti (conductor). Teatro Petruzzelli, Bari, 29.6.2023. (RP)
Production:
Director – Francesco Micheli
Sets – Edoardo Sanchi
Costumes – Silvia Aymonino
Lighting – Fabio Barettin
Chorus master – Fabrizio Cassi
Cast:
Otello – Marco Berti
Iago – Vladimir Stoyanov
Cassio – Zi-Zhao Guo
Roderigo – Antoni Lliteres
Lodovico – Viktor Shevchenko
Montano – Alberto Petricca
Desdemona – Vittoria Yeo
Emilia – Maria Luisa de Freitas
Herald – Gianfranco Cappelluti
The Apulian city of Bari and opera are hardly synonymous in the minds of many operagoers, but the Teatro Petruzzelli, the fourth-largest opera house in Italy, has a proud and distinguished history. It was built in 1903, and most of the great singers and conductors of the twentieth century performed here until the theatre was destroyed by fire in 1991. It would remain dark for the next eighteen years.
Teatro Petruzzelli reopened in 2009 with state-of-the-art facilities and a seating capacity of 1,482. Judging from this performance of Verdi's Otello, opera in Bari is world class, and even more enjoyable due to the theatre's excellent acoustics and sumptuous red, cream and gilt interior.
For this run of Otello, Teatro Petruzzelli revived a staging by Francesco Micheli, which was first seen at Venice's Teatro la Fenice in the 2012/13 season. The production is a paradigm of efficiency and simplicity. It remains true to the drama, and neither overwhelms the singers nor exhausts the audience with an overload of concepts to decipher.
Micheli updates the action to the late-nineteenth century, but that is only apparent in the costumes: military uniforms for the men, the chorus in sou'westers and Emilia's dark dress. Desdemona's attire, however, is more natural and flowing: a physical way to depict the sensuality that Verdi captures so perfectly in the music composed for her.
The entire stage is turned into a rich blue zodiac map with a rotating cube decorated in Islamic geometric patterns in the middle. This space is Desdemona's inner sanctum, where she prays, sleeps and is ultimately killed by Otello, and where Micheli gives an understated depiction of the cultural differences that course through the opera.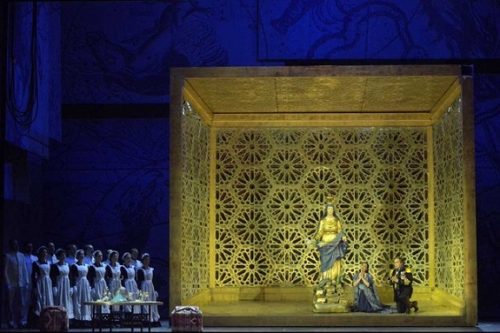 A Turkish tea samovar, topped with the Islamic Christian moon, is the only overt reference to Otello being a Moor. The references to Christianity are equally restrained. Desdemona prays to a large statue of the Virgin Mary, upon which she drapes a red rosary. It is later toppled as Desdemona's fate becomes clear. The blue of her wedding dress is the same color as the Madonna's mantle.
Overall, the director has a light touch with stage elements. In the opening scene, a single, golden boat is being tossed in the waves as the Cypriots anxiously await Otello's return. The boats will appear later en masse, held high by the men of the chorus when the Cypriots hail Otello as the Lion of Venice. The constellation, Leo the Lion, is ever present, but loomed even larger during this scene.
From Otello's opening cry of exaltation, Marco Berti revealed a shining tenor that sliced through Verdi's crush of orchestral and choral sound. The role, commonly referred to as a 'voice killer', held no terrors for this tenor. Dramatically, Berti was at his best expressing the warrior's violence and insecurity. Verdi affords Otello few moments to display his tenderness and love for Desdemona, but Berti did so effectively in the duet 'Già nella notte densa', which concludes Act I.
Vittoria Yeo began her international career with a debut at the Salzburg Festival during the summer of 2015, where she sang Elvira in Ernani under the baton of Riccardo Muti. She was then engaged to sing the title role in the festival's new production of Aida and has now sung Verdi heroines across Europe.
Yeo was an exceptionally lovely Desdemona in both voice and appearance. Her Desdemona was gentle, pure and voluptuous, which put her at odds with the violent, male-dominated society in which she lives. With subtle, dramatic strokes, the soprano created a Desdemona that was a fully realized person, not just a one-dimensional portrayal of aggrieved innocence.
Downstage, dressed only in modest undergarments, a state which depicted her vulnerability and helplessness, Yeo lent vocal luster and an intense emotion to Verdi's sublime music in the 'Willow Song' and 'Ave Maria'. She was as near perfection as one could hope for in a Desdemona.
Vladimir Stoyanov's Iago, while hardly a caricature, was more one-dimensional. He expressed Iago's envy, hatred and violence in a blistering 'Credo'. Stoyanov's voice lacked the heft and slice associated with a true Verdi baritone, but it was sizable enough to do justice to the role, especially when combined with his potent dramatic presence.
Zi-Zhao Guo's Cassio was the brightest presence on stage. Lithe and agile physically, Guo's natural stage presence was on a par with the ease and freedom of his singing. As Rodrigo, tenor Antoni Lliteres also displayed a fine tenor and acute acting skills. Maria Luisa de Freitas was an especially compassionate Emilia, whose mere presence added immeasurable depth to the tragedy whenever she appeared on stage.
Giacomo Sagripanti, currently music director at Tbilisi State Opera, is a young conductor who is garnering international attention. In 2025, he is slated to debut at New York's Metropolitan Opera. This performance gave ample evidence of his gifts as a conductor.
Sagripanti could whip up a torrent of raging sound from the Teatro Petruzzelli's splendid chorus and orchestra, as in the terrifying opening scene. Under his baton, however, the orchestra could also create shimmering, transparent sounds that simmered with mystery and sensuousness. His acute attention to the drama, as well as the pacing and the focus on balance, were key drivers in making this performance so powerful.
Rick Perdian