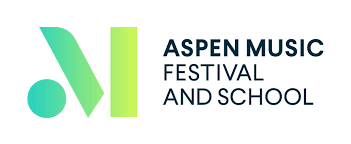 United States Aspen Music Festival 2023 [2]: Harris Hall and Benedict Music Tent, Aspen, Colorado. (HS)
Friday's Chamber Symphony program welcomed the established violin virtuoso Maxim Vengerov to Aspen. He is in the fourth decade of a storied career, but this was his Aspen debut, and he did not disappoint.
Even the oh-so-familiar Mendelssohn Violin Concerto felt fresh and unforced under his fingers and bow. Subtle nuances abounded, tiny hesitations before key phrases, a delicate glissando here, a whisper of a diminuendo there: not at all an aggressive rethinking of the piece, reflecting a sense of humility before the composer's intent. There were fireworks, but they stemmed from Vengerov's ability to meet the most demanding technical challenges without showing off and applying that to caressing softer phrases with a gentle touch.
The concerto also benefited from the energy and deftness of conductor Nicholas McGegan. No stranger to Aspen, McGegan wrestled the smallish orchestra into a taut, crisp ensemble that executed the tricky score in sync with Vengerov. They also reflected his modest approach to the score.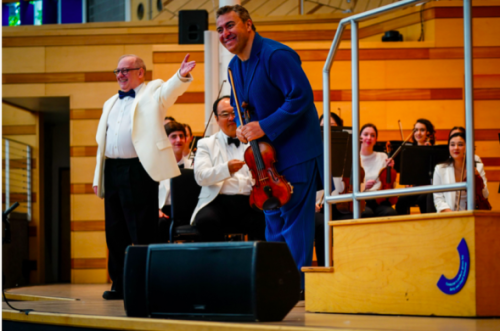 I cannot remember the last time a symphony soloist played an encore accompanied by the orchestra. Usually, it is just the soloist, but this time Vengerov and McGegan teamed up to bring their flair to a smile-inducing rendition of Saint-Saëns' 'Havanaise'.
Schubert's Symphony No.6 and a collection of lieder orchestrated by a variety of famous composers surrounded the concerto. I sensed a connection between the symphony and Mendelssohn's popular No.4 (subtitled 'Italian'), as McGegan brought out its Italianate passages with exuberance and crisp attention to details.
The lieder were sung by students in the Aspen Opera Theatre and Vocal Arts program, all of whom displayed gorgeous voices. Most arresting were three songs from mezzo-soprano Erin Wagner. She portrayed the three characters with distinct vocal colors in 'Der Erlkönig' (in Berlioz's orchestration), caught the serenity of 'Standchen' (via Offenbach) and the intense devotion that underlies 'Du bist die Ruh' (Webern), all with a voice of liquid richness.
Webern's orchestrations, faithful to Schubert's harmonies, also included 'Ihr Bild' (even if baritone Evan Nelson missed the underlying despair). Britten's setting of 'Die Forelle' made a charming opener orchestrally, although Matthew Goodheart's take steered away from any discernible emotional engagement.
If the turnout was less than one might expect for a soloist of Vengerov's stature, it reflected a quirk in Aspen's audience for classical music events. Beyond a solid core of musicians and music lovers, a large portion of potential attendees come because it is the thing to do, and they tend to favor figures they already know. It took time for them to warm to violinists the likes of Gil Shaham, Joshua Bell and Augustin Hadelich, all Aspen regulars now. Even Hadelich drew a small crowd when he made his debut a few years ago.
On Sunday, pianist Inon Barnatan, who has become an Aspen regular, drew more of an audience for his go at Ravel's jazzy Concerto in G with the Festival Orchestra, and it was a blast. He launched into it with an appreciable sense of swing and brought sensitivity and leisurely pace to the lovely, central slow movement. For his encore, he ripped into Earl Wild's flashy arrangement of Gershwin's 'I Got Rhythm': an apt sentiment.
Good as that was, the discovery of Sunday's concert was conductor Kevin John Edusei, in his professional Aspen debut. The Ghanian-German musician was in Aspen studying with David Zinman in 2014, has been chief conductor of the Munich Symphony for the past eight years, and is now principal guest conductor of the Fort Worth Symphony. The clarity of the sound, the liveliness and suppleness of the music that he drew from the orchestra and the balances with the pianist in the concerto were exemplary.
The opener, English composer Anna Clyne's This Midnight Hour, unfolded with attention to her exceptional orchestral colors and effect of each of its several episodes. Rachmaninoff's Symphonic Dances got a robust performance to finish off a strong Aspen debut.
A vibrant recital Saturday evening in Harris Hall found Demarre McGill, who plays principal flute in some of the orchestral concerts here, and his brother Anthony, the clarinetist, playing with formidable articulation (plus a few theatricalities to liven things up). Even though their regular trio piano partner could not get to Aspen, Dan Schlosberg stepped in at the last minute to provide a seemingly seamless connection.
Poulenc's sonatas for flute and clarinet (both brilliantly played) may have been the tentpoles of a highly listenable program, but the finest moments involved lesser-known composers. Kicking things off was Chris Rogerson's kaleidoscopic, nine-minute tone poem, 'A Fish Will Rise', which the McGills premiered in Philadelphia. Widely played French composer Guillaume Connesson's breathless, tail-chasing 'Techno-Parade' made for a mid-concert lift-me-up.
Contemporary flutist/composer Valerie Coleman's Portraits of Langston closed the evening. The concert jazz writing in the evocative and painterly short tone poems deserves extensive performances. A sort of Lincoln Portrait for more intimate forces, the piece can be performed with or without a narrator reading the great Langston Hughes' poems. Segments such as 'Jazz Band in a Parisian Cabaret' and 'Harlem's Summer Night' made a strong impact. 'Silver Rain' was especially delicious, a moment of respite.
On his own, Schlosberg offered Wild's pianistic arrangement of Gershwin's 'The Man I Love'. Though introduced as a parallel to Liszt's famous piano versions of opera music, to my ears it owes a bigger hat-tip to the mid-century jazz pianist Art Tatum.
For Saturday afternoon's chamber music, Anthony McHale and an expanded Aspen Contemporary Ensemble wended their way through composer Anthony Davis's clarinet concerto, You Have the Right to Remain Silent. It was rough going, and while the fright of being arrested would certainly make a worthy subject, musically it never quite jelled.
William Grant Still, whose mid-century American music should be heard more often than it is, wrote the highlight of the afternoon – Ennanga for Harp, Piano and Strings, in which harpist Emily Levin stood out brightly. Smetana's galumphing Piano Trio in G minor, even with stellar musicians playing it, may have overstayed its welcome.
Last week, the Music Festival rewarded pianist Anton Nel with a recital all his own to mark his twenty-fifth year as a member of the festival school's faculty. In typical fashion, Nel turned Harris Hall into a celebration of collaboration. At the center of the program on Wednesday was the only solo – Debussy's Estampes, a collection of short impressionist musical paintings as colorful as the shirts and jackets Nel likes to wear. A piano-and-strings quartet started things off, and both pieces were beautifully executed, but the truly memorable moment came with the evening's finale, Bartók's Sonata for Two Pianos and Percussion.
It is a rarely heard work because the fiendishly difficult rhythms and complex interactions require virtuoso playing from two pianists and two percussionists, all of whom remain busy throughout. The offbeat magic of its three-movement tour of Bartók's unique sound world, often humorous to balance the challenging harmonies, sprang to life with jaw-dropping precision to bring out the juiciness of the score.
Nel has played this piece often throughout his career and says it is one of his favorites. As co-pianist he enlisted Joyce Yang, who played a jewel-like Mozart concerto here last week. She is an international soloist who, like Nel, has been associated with this festival since she was a student. (She even turned pages for Nel when he played the piece here a couple of decades ago.) They kept pace with each other on their separate pianos, weaving the composer's counterpoint with wit.
Handling the percussion were two of the best at their craft. Cynthia Yeh, principal percussionist for the Chicago Symphony, made the cymbal slithers and crashes, the soft snare drum rhythms and bass drum thumps fit slyly into the musical mosaic, interrupting at several points with insistent xylophone exclamations. Edward Stephan, timpanist for the San Francisco Symphony, drew melodic interest out of the three kettle drums, working the tricky glissandos in the finale with perfection, all the while reaching out to Yeh's side for the occasional cymbal accent or subtle gong strike.
After the concert, one member of the audience summed up the effect perfectly: 'I had no idea what was going on, but I was mesmerized'.
In his solo piece, Nel drew out the exotic colors of Debussy's little collection of musical impressions under the overall title Estampes (translated as 'prints' to evoke the visual art of the painters around him who were contemporaries). The echoes of gamelan music floated by effortlessly in 'Pagodas.' The Spanish curlicues spun exotically in 'La soirée dans Granade', but the best was the energetic storm and spattering of rain in 'Jardins sous la pluie'.
Mozart's elegant interplay came through nicely in the opener, the Piano Quartet in E-flat major. Kathleen Winkler (violin), James Dunham (violin) and Desmond Hoebig (cello) provided the support, and Nel sped through some of Mozart's fastest piano runs with élan.
Harvey Steiman
5.7.2023: Recital: Anton Nel (piano) and Friends. Harris Hall
Mozart – Piano Quartet in E-flat major, K.193: Kathleen Walker (violin), James Dunham (viola), Desmond Hoebig (cello), Anton Nel (piano)
Debussy – Estampes
Bartók – Sonata for Two Pianos and Percussion: Joyce Yang, Nel (pianos), Edward Stephan, Cynthia Yeh (percussion)
7.7.2023: Various: Maxim Vengerov (violin), Aspen Chamber Symphony / Nicholas McGegan (conductor). Benedict Music Tent
Schubert – Symphony No.6 in C major
Mendelssohn – Violin Concerto in E minor
Schubert/Britten – 'Die Forelle': Matthew Goodheart (tenor)
Schubert/Offenbach – 'Ständchen' from Schwanengesang: Erin Wagner (mezzo-soprano)
Schubert/Webern – 'Ihr Bild' from Schwanengesang: Evan Nelson (baritone). 'Du bist die Ruh': Wagner
Schubert/Berlioz – 'Der Erlkönig': Wagner
8.7.2023: Chamber music. Harris Hall
Anthony Davis – You Have the Right to Remain Silent: Anthony McGill (clarinet), Earl Howard (synthesizer), Aspen Contemporary Ensemble / Timothy Weiss (conductor)
Still – Ennanga for Harp, Piano and Strings: Emily Levin (harp), Anton Nel (piano), Renata Arado, Cornelia Heard (violins), Zhenwei Shi (viola), Darrett Adkins (cello)
Smetana – Piano Trio in G minor: Kathleen Winkler (violin), Desmond Hoebig (cello), Nel
8.7.2023: Recital: McGill/Hale Trio: Demarre McGill (flute), Anthony McGill (clarinet), Dan Schlosberg (piano). Harris Hall
Chris Rogerson – 'A Fish Will Rise'
Poulenc – Flute Sonata: Demarre McGill. Clarinet Sonata: Anthony McGill
Guillaume Connesson – 'Techno-Parade'
Gershwin/Wild – 'The Man I Love': Schlosberg
Valerie Coleman – Portraits of Langston
9.7.2023: Various: Inon Barnatan (piano), Aspen Festival Orchestra / Kevin John Edusei (conductor). Benedict Music Tent
Anna Clyne — This Midnight Hour
Ravel — Piano Concerto in G major
Rachmaninoff — Symphonic Dances, Op.45