United Kingdom New Chamber Opera – Paisiello, La Frascatana (The Girl from Frascati): Soloists, The Band of Instruments / Steven Devine (conductor). New College, Oxford, 28.6.2023. (CR)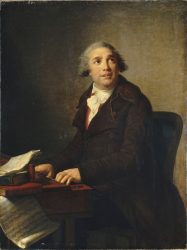 Production:
Director – Michael Burden
Cast:
Violante – Emily Brown Gibson
Don Fabrizio – Thomas Humphreys
Nardone – Henry Ross
Cavaliere Giocondo – Magnus Walker
Donna Stella – Lara Marie Müller
Lisetta – Kate Semmens
Pagnotta – Thomas Niesser
As an opera buffa Giovanni Paisiello's La Frascatana (1774) features the regular character types and plot structure of the genre with three men seeking the attentions of Violante (the eponymous girl from Frascati) or at least her dowry. They include Magnus Walker's breezy and cheery Cavaliere Giocondo – already betrothed to Lara Marie Müller's boldly characterised Donna Stella with her sometimes fearsome flights of coloratura and 'turtle dove' simile aria mocking the conventions of opera seria; and Violante's ward, Don Fabrizio, acted with a consummate sense of buffoonery and delivered with admirably clear, commanding diction by Thomas Humphreys.
Violante holds her own against their advances in Emily Brown Gibson's fresh, spontaneous performance, with her somewhat lighter, even flirtatious florid vocal lines. She loves Nardone instead, given a fairly easy-going, ingenuous account here by Henry Ross, though he also contrives some trenchant exchanges with Fabrizio. As always with such operas, the servants are no dupes, although here they play comparatively less part than in others in advancing a series of tricks or disguises to ensure that the right girl and boy are matched up. Thomas Niesser plays an amiable, slightly hapless, Pagnotta (Giocondo's attendant) while
Kate Semmens is the charmingly sly Lisetta, the waitress at the inn where the action is set, who takes a shine to the Cavaliere.
With its series of lively numbers and ensembles, as well as hectic finales for two of its three acts which build up quite a dramatic head of steam, the opera stands up well besides Mozart's immortal comic masterpieces which, in any case, weren't to follow until a little over a decade after Paisiello's composition. The rustic background of its scenario is not uncommon in this type of theatrical work – Violante's deceased father was a wealthy gardener, and her beloved Nardone is a sheep owner who disguises himself as a lowly shepherd for much of the plot – but it's an intriguing coincidence that it should parallel the conceit of the 'pretend gardener' in Mozart's almost contemporaneous opera La finta giardiniera.
Steven Devine leads The Band of Instruments in an ebullient performance of the score, marking the galant elegance of a number of arias with their sustained melodiousness, while also responding sharply to the quickfire dialogue or changes of circumstance in the ensembles, for instance in some pointedly niggling accompaniments to Nardone's sparring with Fabrizio. The typically chaotic finale to Act I, in which the characters all repeatedly express their fear of 'disaster' is onomatopoeically rendered with the deliberately unmusical tapering off on some cadences on that structural watchword. Perhaps the most notable scene of the opera is that in Act II, set in a dark tower where the irate Fabrizio has imprisoned Violante to remove her from Nardone, but the latter and Pagnotta comically imitate his words, unseen, to discombobulate him with what he thinks are echoes. Such a scene surely parodies the growing trend at that time for gothic horror stories, as well as the format of some liturgical works with a similar echo effect exploiting the acoustics of the spaces in which they were performed, especially in San Marco, Venice (the city where this opera was premiered), most famously in Monteverdi's 'Audi coelum' from his Vespers. That scene comes off particularly well in New College's ante-chapel where this performance took place, rather than outside, owing to uncertain weather, where the music can actually reverberate and the singers hide behind the pillars in the building to play their trick. With Simon Rees's agreeable English translation, overall the performers successfully highlight the opera's levity and good spirits.
Curtis Rogers