United States 'Sunday in the Park with Lyric': Soloists and Orchestra of Lyric Opera of Chicago / Enrique Mazzola & Donald Lee III (conductors). Jay Pritzker Pavilion (Millennium Park), Chicago, 20.8.2023. (JLZ)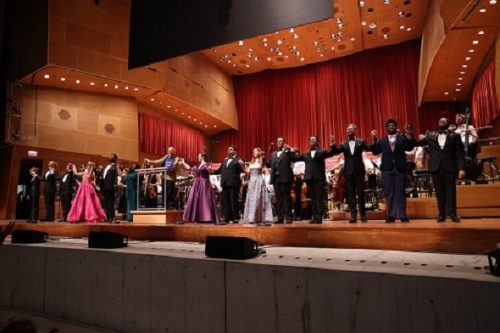 Wagner – Overture; 'Mögst du, mein Kind'; 'Johohoe!…Traft ihr das Schiff' (Der fliegende Holländer)
Rossini – 'Tutto è deserto…Un soave non so che'; 'Un segreto d'importanza'; 'Siete voi…Questo è un nodo avviluppato'; 'Nacqui all'affanno…Non più mesta' (La Cenerentola)
Brodszky – 'Be My Love'
Lara – 'Granada'
Donizetti – 'Au bruit de la guerre' (La fille du régiment)
Verdi – Ballet Music (Aida)
Blanchard – 'What makes a man a man?' (Champion)
Janáček – 'Odesli. Jdi také!' (Jenůfa)
The expansive outdoor venue of Millennium Park served as an inviting setting for Lyric Opera of Chicago's preview of their new season. It featured the entire ensemble of the Patrick G. and Shirley W. Ryan Opera Center in excerpts from the six works planned for 2023–2024. None of the principals scheduled for the season were part of the concert, but the members of the Ryan Opera Center all gave strong performances under conductors Enrique Mazzola and Donald Lee III.
Several of the performances stood out. Soprano Kathryn Henry gave a vivid interpretation of 'Johohoe!…Traft ihr das Schiff', Senta's ballad from Der fliegende Holländer, that showed her full-voiced sound and command of style. Within Mazzola's measured tempos, Henry brought out the narrative in this strophic aria and gave the audience a sense of her character's determination and resolve. It was good to hear her again at the end of the program where, joined by tenor Ryan Capozzo, she made a similar effort in the crucial 'Odesli. Jdi také!' from Jenůfa. For many, the well-conducted piece was an introduction to an opera that is infrequently performed at Lyric Opera of Chicago – it promises to be a treat for its audiences.
Mezzo-soprano Lucy Baker was a vibrant, compelling Angelina in the finale of La Cenerentola, 'Nacqui all'affanno…Non più mesta'. In this familiar piece, Baker demonstrated her clear tone and precise intonation while rendering the line and articulations with style. Her sound and gestures matched the music well, and the audience was transported to the stage through her performance.
Likewise, bass-baritone Christopher Humbert Jr. gave an impassioned performance of the meditation 'What makes a man a man?' from Terence Blanchard's Champion, which served as a fine introduction to the style and idiom of this recent opera. Humbert gave the piece the intensity it needs and showed his voice to excellent effect.
Bass Wm. Clay Thompson delivered 'Mögst du, mein Kind', Daland's aria from Der fliegende Holländer, convincingly. His diction and intonation set the tone for the nuances in the music and helped to set the scene depicted in this number.  Wagner's sometimes extended lines found a good voice in Thompson, and I look forward to hearing him during the new season. The selection, following soon after Mazzola's distinctive reading of the overture, gave vocal shape to the themes and motives that Wagner introduced instrumentally. It was a pleasure to hear such a solid performance of a familiar work.
The entire program was strong, and I enjoyed seeing the Lyric Opera Orchestra on stage instead of in the pit. Just as Mazzola brought out the overt gestures that characterize the overture to Der fliegende Holländer, Donald Lee III gave the details of the ballet music from Verdi's Aida clear definition in music that gets lost in some productions.
James L. Zychowicz
2023-2024 Season: Wagner's Fliegende Holländer (23 September-7 October); Donizetti's La fille du régiment (4-25 November); Janáček's Jenůfa (12-26 November); Rossini's La Cenerentola (21 January-10 February); Blanchard's Champion (27 January-11 February); Verdi's Aida (9 March-7 April).