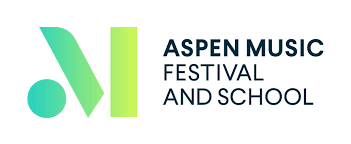 United States Aspen Music Festival 2023 [7]: Benedict Music Tent, Harris Hall, Aspen, Colorado. [HS]
At a glance, John Williams's movie music and Maurice Ravel's piano music might seem to have little in common, except that both composers very much reflect their nationalities. Williams's American brashness jumps out of almost every score he wrote for some of the most popular movies ever, and Ravel's colorful piano music reflects Frenchness in every splashy, sinuous, seductive phrase. And both composers' music is darned fun to listen to, demanding the highest skills, both technical and interpretive, from players.
Handling the keyboard for his mostly-Ravel recital Thursday in Harris Hall, Jean-Efflam Bavouzet got better and better as he climbed the ladder of difficulty for Ravel's music. Most effective was his command of every nuance in Ravel's Miroirs, a collection of pianistic snapshots that demand flowing arpeggios, supple rhythms, climactic chords and an impeccable sense of rhythm and rubato. And did he ever deliver.
The zigzag rhythms of 'Noctuelle' ('Night Moths') flitted about deftly, and the chirping of various birds brightened 'Oiseaux tristes' ('Sad Birds'). The sweep and swell of the incessant arpeggios in 'Une barque sur l'océan' ('A Boat on the Ocean') created their own magical musical pictures, and Bavouzet met all the challenges of 'Alborada del gracioso' (better known in Ravel's popular orchestration). The soft pealing of 'La vallée des cloches' ('The Valley of the Bells') brought things to a serene close.
The opening piece, Haydn's Piano Sonata in E-flat major, got a bit of a heavy-handed reading. More stylish were three examples of Ravel trying his hand at the eighteenth-century minuet. Picking up after the 'Tempo di Menuet' sonata finale, he began with the jolly 'Menuet sur le nom de Haydn', then 'Menuet antique' and finally the minuet as the central movement in Sonatine. These lay squarely in the pianist's wheelhouse.
As an encore, Bavouzet honored his mentor, the French pianist and teacher Pierre Sancan, with 'Mouvement', a three-minute, pedal-to-the-metal whirlwind of pianistic flourishes that at one point requires the left hand to play a phrase at the top of the keyboard and the right hand at the bottom. The comic moment only added to the showmanship.
Tuesday's special event in the music tent, a concert of film music by John Williams, drew the biggest and most enthusiastic crowd of the year. And why not? For more than 50 years, the greatest film composer of our lifetime has enriched our ears with unforgettable music for so many movies, including most of Steven Spielberg's and George Lucas's.
Ever since the London Symphony Orchestra played the score for the first Star Wars film (1977), the series' signature sound has been produced by big symphony orchestras. It made perfect sense when things started off Tuesday with the spirited title music for Star Wars and ended with a rousing 'Imperial March' (Darth Vader's theme) as an encore.
Under the able baton of Maurice Cohn, in his second year as assistant conductor of the festival, the all-student (except for concertmaster David Halen) ensemble played with vigor and admirable precision. Softer music, such as 'A Prayer for Peace' from Munich and the majestic opening-credit music from Jurassic Park, got smooth, admirably clear-headed readings.
Two solo works put individual students into the spotlight. Charlotte Rose Marckx played the gorgeous violin music from Schindler's List with elegance and admirable purity of tone, and Zachary Gassenheimer delivered a faux-cabaret clarinet tune from The Terminal with a savory bounce from the orchestra.
Big scary moments shook the rafters, such as the 'Devil's Dance' from The Witches of Eastwick and Williams's creative expansion on what Cohn noted was 'the most famous two notes in film history' – from Jaws. Like most of the music on the program, these were not simply the cues from the films but were reworked as concert pieces by Williams himself.
Cohn proved himself a conductor who can talk to audiences personably, offering just enough background to pique one's interest, and with a sense of humor when called for.
If there was some grumbling among classical music purists about this concert not being serious enough, that may well have been the point. It is just possible that the incomparable sonics of a symphony orchestra, playing beautifully crafted, inspired and well-loved music, might encourage potential concertgoers suspicious of classical music to come for some Mozart or Mahler too.
Movie music has long been a fertile source for concert programs, from Prokofiev to Korngold and Bernard Herrmann, but you do not have to go back that far. A long list of contemporary composers, from Philip Glass and John Corigliano to Hans Zimmer, Hildur Guðnadóttir, Alexandre Desplat and Howard Shore, may not have the name recognition that Williams does, but audiences know and appreciate their music. Perhaps, one night per summer, a live orchestra playing the score against a film might be a worthy idea.
The music at James Conlon's provocative presentation Wednesday of what he calls 'Recovered Voices' was absorbing, but I wish I could have discerned more than about half of what he was saying. The sound system muddied his comments on why composers such as Erwin Schulhoff and Alexander Zemlinsky deserved to have their music heard. When the Nazis ostracized these Jewish composers in the 1930s and 1940s, their music essentially disappeared.
Conlon has made it his 'life's mission' to bring their music to light a century later, and he often includes their works in programs he conducts. Although he usually selects pieces that are especially easy on the ears, this chamber music evening was a bit more challenging for listeners.
Schulhoff, for example, was a musical chameleon, embracing jazz, Stravinsky-like rhythmic vitality and Debussy-like harmonies. The string sextet on offer Wednesday, however, opened with a bristly Allegro that leaned toward Schoenberg at his densest. The middle movements lightened up a bit, and it finished with a spooky Adagio that combined sparse harmonies and fascinating slow-mo interplay among the pairs of instruments (with cellist Darrett Adkins at the center of it all).
Zemlinsky wrote two operas that Conlon has conducted and that have been produced in recent years. His eight-minute vocal piece, for another string sextet plus soprano, was based on the poem that inspired Schoenberg's extravagantly Romantic Transfigured Night. Sung by Melissa Moultrie with spinto-level expressiveness, it made an interesting comparison to Schoenberg's better-known version. The harmonic language was similar, but Zemlinsky's was less effusive.
Schoenberg himself was represented by the last piece he wrote before diving fully into atonality, the Chamber Symphony No.1 in E major. The piece resists all temptation to repeat melodies or harmonic sequences (for centuries a staple of musical form, guideposts to follow the logic of a piece). Avoiding obvious harmonic resolution keeps us unmoored, sort of like atonality does.
Like the Schulhoff sextet, the piece made its best impression in the final five minutes or so, when elements of the first 15 minutes were recombined into an unexpectedly uplifting and satisfying finale.
Harvey Steiman
25.7.2023: Movie music of John Williams: Aspen Festival Ensemble / Maurice Cohn (conductor). Benedict Music Tent
Main Title from Star Wars Suite
Shark Theme from Jaws Suite
'Raiders March' from Raiders of the Lost Ark
Theme from Three Pieces from Schindler's List: Charlotte Rose Marckx (violin)
'Viktor's Tale' from The Terminal: Zachary Gassenheimer (clarinet)
'Across the Stars' (Love Theme from Star Wars: Episode II)
'Throne Room' & End Title from Star Wars Suite
'Devil's Dance' from The Witches of Eastwick
Theme from Jurassic Park
'A Prayer for Peace' (Avner's Theme from Munich)
'Harry's Wondrous World' from Harry Potter and the Sorcerer's Stone
Love Theme from Superman
'Adventures on Earth' from E.T.: The Extra-Terrestrial
26.7.2023: Recovered Voices, Aspen Festival Ensemble / James Conlon (conductor). Harris Hall
Schulhoff – String Sextet, Op.45: Paloma Martin and Da Won Ghang (violins), Brian Jennings and John-Paul Shoemaker (violas), Kamila Dotta and Darrett Adkins (cellos)
Zemlinsky – 'Maiblumen blühten überall': Marissa Moultrie (soprano)
Schoenberg – Chamber Symphony No.1 in E major, Op.9
27.7.2023: Recital: Jean-Efflam Bavouzet (piano). Harris Hall
Haydn – Piano Sonata in E-flat major
Ravel – 'Menuet sur le nom de Haydn', 'Menuet antique', Sonatine, Miroirs