United Kingdom Edinburgh International Festival 2023 [2]: (SRT)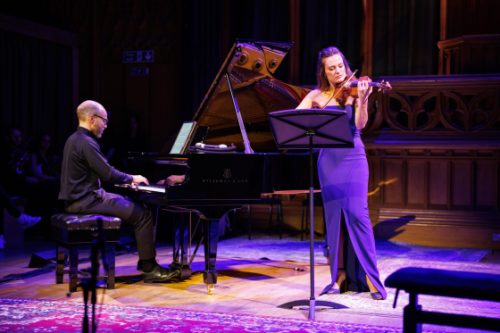 Where Do We Go From Here? – Jennifer France (soprano), Nicola Benedetti and Tom Service (presenters), BBC Scottish Symphony Orchestra / Ryan Wigglesworth (conductor), Usher Hall, 6.8.2023.
Hans Abrahamsen – Let me tell you
Helen Grime – Virga
Elizabeth Ogonek – as though birds
Mark-Anthony Turnage – Three Screaming Popes
First Night at The Hub – Various musicians including Nicola Benedetti and Stefan Jackiw (violin), Geza & The 5 DeViLs, Orion Weiss (piano), The Hub, 6.8.2023.
One of Nicola Benedetti's central objectives as director of the Edinburgh International Festival is to make the festival in general, and classical music in particular, more accessible. Both of these concerts gave an insight into how she is planning on doing that and hats off to her for doing it with that thorniest flower in the musical garden: contemporary classical.
Sunday evening's Usher Hall concert with the BBC Scottish Symphony Orchestra was entitled Where Do We Go From Here? which is also the central question that Benedetti has put over the entire 2023 festival. It featured four pieces by contemporary composers, but that wasn't the most unusual thing about it. For one thing there were no printed programmes for the audience: instead Benedetti herself was joined onstage by BBC Radio 3's Tom Service to talk about the music and introduce it to the audience. Conductor Ryan Wigglesworth and the orchestra took sections of the music apart to show how it worked, and the presenters gave context to demystify the music and say a bit about its context and secrets of its power.
And mostly it worked. There have been many times when I have attended a premiere when I'  had wished the composer had been a bit explicit about their intentions, or given more of a window into a piece, so it is both refreshing and enlightening to hear two such engaging personalities as Benedetti and Service speaking about what makes a piece of music tick. True, none of these were premieres, but getting an insight into their often-dense textures and structures couldn't help but shed some light on them. The presentations helped the audience to focus on the individual components and, therefore, to appreciate how they cohere as a whole. True, it was a bit of a love-in at times, which could become a little wearying. Everything was absolutely marvellous (something a find a little grating about Service's presenting style at the best of times) and a lot of applause was commanded from the audience.
As an event it worked well, however, and that is also thanks to the performers themselves. The BBC Scottish Symphony Orchestra have a lot of experience in contemporary music, and their performances of all four pieces allowed each component to glitter while contributing to the whole. Turnage's Popes was full of raw power and rhythmic energy, while Grime's Virga seemed to hang and disperse in mid-air while it played. The short blast of Ogonek's as though birds suffered from coming right after the concert's undoubted star turn, Hans Abrahamsen's remarkable song cycle Let me tell you, given a performance of astonishing power by soprano Jennifer France. Her voice remained smoothly expressive even while scaling the stratosphere, and the orchestra shone a light through Abrahamsen's textures that illuminated it from within as a masterpiece.
But later that evening another, altogether more exuberant, vision of the future was unfolding just across town in The Hub. The Hub is the headquarters of the EIF, a huge church-like building at the top of the Royal Mile whose offices contain the festival's year-round base but which also contains a hall that can be used as a performance venue, and which is being pressed into service more consistently this year than has happened in the past. This year's Hub concerts are designed to be an altogether different experience to what happens in the more formal concert halls and theatres, and this first night jamboree showcased that remarkably effectively.
For one thing, they are designed to be a lot less formal. A member of EIF staff came out at the beginning to go through the expectations and told the audience to treat the space like an extension of our own living room. We could relax and go to the toilet/bar any time we wanted and, shock horror, photos and videos on our phones were encouraged, so long as we didn't mind sharing them on social media. The hall was laid out with soft seats and sofas to encourage the relaxed vibe, with rugs on the performance space, and in its new format it turns out to be a rather lovely place to listen to music.
The vibe seems to have rubbed off on the musicians, too. The first night was, in Benedetti's words, 'a celebration of who's in town', and when she put it like that I instantly wondered why on earth nobody has thought of doing that sooner. Edinburgh is packed full of some of the finest talent in music for these few weeks, so why not bring them together for something relaxed and informal? The featured musicians included violinist Stefan Jackiw and his colleagues who had opened the Queen's Hall series the previous morning, lutenist Thomas Dunford who will be there tomorrow, Geza Hosszu-Legocky and his troupe of 5 DeViLs who will be playing later this week, together with members of the Benedetti foundation and Nicola herself. It even featured Batubagen, the extraordinary Mongolian throat singer who starred in Buddha Passion (review here). They all played something which (I assume) they had chosen themselves, and which hadn't been announced in advance. For example, Jackiw and pianist Orion Weiss played a Romance by Clara Schumann, Weiss played four Debussy Etudes, and he and Benedetti played Elgar's Sospiri. Six string musicians played two movements from Tchaikovsky's Souvenir de Florence, and they ended with a gloriously exuberant mash-up which involved nearly everyone, beginning with Bach's Double Concerto and whizzing through a cocktail waltz into some high-kicking Hungarian Gypsy music.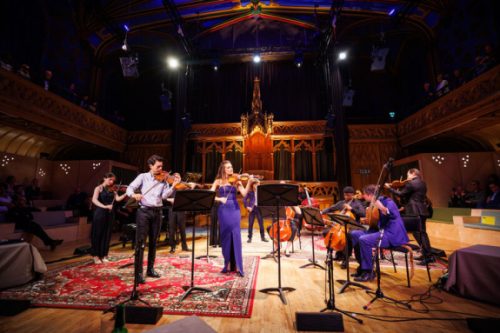 That final number felt blissfully improvised, as though no one was entirely sure where it would end up, and the whole evening had a beautifully strange intimacy to it, like a bunch of mates jamming together for fun. The audience loved it and, perhaps more importantly, the musicians did, too. In fact, I can see a series like this being a helpful component of drawing talent to future festivals: Edinburgh faces stiff competition in a globalised world of the arts, so anything that will attract the finest talent has to be welcomed. That might end up being one of Benedetti's greatest strengths as Festival Director.
Anyway, this new artist-led Hub series is clearly something to watch, and I will be keeping an eye on it here. Taken as a pair, though, these concerts helped to crystallise a bit more of what Benedetti is trying to do. Whether it is the massed forces of a symphony orchestra or in the intimate setting of a jam session, she wants to bring people together and break down barriers. It is in all of our interests that she succeeds.
Simon Thompson
The Edinburgh International Festival runs at venues across the city until Sunday 27th August click here for details.