Sweden Dala-Floda Opera Festival 2023 [2] – Gala Concert: Soloists, Ola Ottosson, Mischa Carlberg and Alexandra Orrgård Solén (accompanists), Dala-Floda Church, Dalecarlia, 6.8.2023. (GF)
A Gala Concert with the impressive line-up of artists who performed during the festival week has been the obligatory final chord of the Dala-Floda Opera Festival ever since its inception a dozen years ago. There is always a special focus on young singers and instrumentalists, and in many cases very talented singers who were anonymous choristers now get an opportunity to step into the limelight. One such artist was soprano Linnea Simon who chose to show her credentials in Come scoglio!, Fiordiligi's big aria from Così fan tutte, one of the toughest challenges there is for any soprano, with its enormous range and intricate coloratura. She turned out to be in possession of a magnificent voice with the requisite technical capacity and dramatic power to match. This is a singer to watch out for in future, as I already wrote a year ago. She returned in the second half of the programme with a convincing reading of the 'Embroidery Aria' from Benjamin Britten's Peter Grimes. The latter was an inspired choice of repertoire and not a piece you hear every day.
It was actually significant for this concert that there were very few pieces from the Top-Ten list. Bass-baritone Edward Ahlström had, for instance, opted for the beautiful 'Vi ravviso, o luoghi ameni' from La sonnambula by Bellini – a dream piece for a bass. Adam Emilton Andersson and Liv Nyberg had found an entertaining duet by Guillaume Louis Cottrau, 'Trippole Trappole', which also included some choreography. Adam returned a bit later, together with Sophia Yildir, with Robert Schumann's 'Ich bin dein Baum', from Minnespiel. He also had a solo on his own towards the end of the concert, 'Chanson Romanesque' from Ravel's little song cycle Don Quichotte à Dulcinée. Alexandra Orrgård Solén, who also was one of the three accompanists, sang two of Henri Duparc's marvellous songs, which are performed much too seldom: 'Chanson triste' and 'Au pays où se fait la guerre' with deep involvement. Julia Mattei has been a regular participant in various roles at Dala-Floda throughout the years and it has been a pleasure to follow her development. Last year she sang three songs from Schumann's Frauenliebe und -leben, this year the choice was three songs from Johannes Brahms's Zigeunerlieder. She has an obvious affinity for the German romantic composers.
During the festival week there is also a special four-day course for young people with special talents, during which they study, rehearse and perform an opera. This year it was Carmen, and 16-year-old Teodor Frej – who also took part in last year's concert – conquered the audience with a heroic reading of the 'Flower Song'. For several years now soprano Paulina Pfeiffer has been the prima donna in many Dala-Floda opera productions. Last year she was on parental leave, but now she was back with a popular favourite, 'Song to the Moon' from Dvŏrák's Rusalka, sung with intensity and warmth. A newcomer in Dala-Floda last year was Karl Peter Eriksson, who was a superb Schaunard in La bohème. This year his Belcore in Kärleksdrycken (L'elisir d'amore) was also a great success. With his roots in the Region of Dalecarlia, for his first appearance he chose a poem by Dalecarlian Nobel Prize Winner Karlfeldt, set to music by Wilhelm Peterson-Berger, 'Sång efter skördeanden'. Besides his expressive and elegant singing he also has a dynamic stage presence to offer, as was apparent during his rendition of Purcell's hypnotic 'Song of the Cold Genius' from King Arthur – a piece he also sang last year.
We were also treated to several instrumental pieces. Mischa Carlberg played 'Première communion de la vierge' from Messiaen's monumental suite Vingt regards sur l'enfant Jésus, featuring both church bells and the bird song so typical of the ornithologist Messiaen, more of which followed after the interval thanks to a work composed 200 years earlier, Rameau's 'Le rappel des oiseaux'. Before the interval we also enjoyed Leonard Solén's virtuoso violin playing in a 'Fantasy' on melodies from Verdi's La traviata. He was accompanied by his mother, Alexandra Orrgård Solén.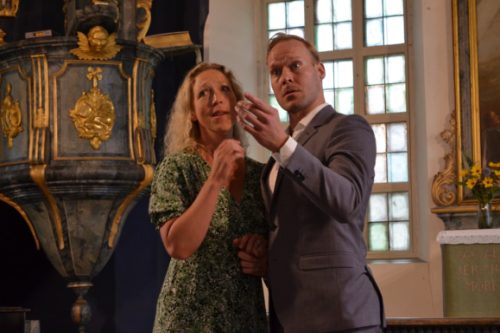 Each part of the concert was rounded off with a duet, both of them surefire favourites. In the first finale Paulina Pfeiffer was joined by the festival's founder and artistic director, Anna Eklund Tarantino, in 'Sous le dôme épais' from Delibes's Lakmé. The grand finale was the duet between Zerlina and Don Giovanni from the first act of Don Giovanni, with Paulina as the vacillating Zerlina and Karl Peter Eriksson as the seductive Don, treating us to grand theatre in the narrow aisle of the little church. This was followed by all the participants marching onto the tiny stage, led by Paulina carrying her baby, what a marvellous conclusion! Let me also add that the three accompanists had a busy afternoon, in particular Ola Ottosson, who took on the lion's share. All three did a marvellous job. The standing ovations at the end bore witness to the deep appreciation of an enthusiastic audience.
Göran Forsling
Participants:
Edward Ahlström (bass-baritone)
Adam Emilton Andersson (tenor)
Mischa Carlberg (piano)
Anna Eklund Tarantino (soprano)
Karl Peter Eriksson (baritone)
Teodor Frej (vocals)
Julia Mattei (mezzo-soprano)
Liv Nyberg (soprano)
Alexandra Orrgård Solèn (soprano, piano)
Ola Ottosson (piano)
Paulina Pfeiffer (soprano)
Linnea Simon (soprano)
Leonard Solén (violin)
Sophia Yildiz (soprano)
Programme (in alphabetical order):
Bellini – 'Vi ravviso, o luoghi ameni' (from La sonnambula)
Bizet – 'Flower Song' (from Carmen)
Brahms – 'He Zigeuner!'; 'Hochgethürmte Rimafluth'; 'Kommt dir manchmal in den Sinn' (from Zigeunerlieder)
Britten – 'Embroidery Aria' (from Peter Grimes)
Cottrau – 'Trippole Trappole'
Delibes – 'Sous le dôme épais' (from Lakmé)
Duparc – 'Chanson triste'; 'Au pays où se fait la guerre'
Dvŏrák – 'Song to the Moon' (from Rusalka)
Messiaen – 'Première communion de la Vierge' (from Vingt regards sur l'enfant Jésus)
Mozart – 'Come scoglio!' (from Così fan tutte); 'La ci darem la mano' (from Don Giovanni)
Peterson-Berger – 'Sång efter skördeanden'
Purcell – 'Song of the Cold Genius' (from King Arthur)
Rameau – 'Le rappel des oiseaux'
Ravel – 'Chanson Romanesque' (from Don Quichotte à Dulcinée)
Schumann – 'Ich bin dein Baum' (from Minnespiel)
Verdi – 'Fantasy' on La traviata