United Kingdom Prom 30 – Boulanger, Rachmaninov, Walton: Alim Beisembayev (piano), Sinfonia of London / John Wilson (conductor). Royal Albert Hall, London, 6.8.2023. (CK)
Lili Boulanger – D'un matin de printemps
Rachmaninov – Piano Concerto No.2
Walton – Symphony No.1
John Wilson brought his relaunched super-orchestra, the Sinfonia of London, back to the BBC Proms for a programme ideally suited to his (and their) rhythmic buoyancy and needle-sharp ear for detail. Unlike Wyn Morris's Symphonica of London of 50 years ago (which has left us an unusual and still interesting recording of Mahler's Eighth Symphony), Wilson's elite band seems here to stay; on the evidence of this Prom, we certainly need them to.
Wilson is a very impressive conductor. Everything he does expresses, and elicits, energy and precision: there is nothing drily didactic (Boulezian?) about him – there is too much dynamism and desire to communicate along with the sharp focus. I cannot imagine Boulez crouching until his baton is practically inside the first viola's nose (I know, Boulez didn't use a stick).
Having heard Lili Boulanger's version of D'un matin de printemps for piano trio at the Romsey Chamber Music Festival in May, it was good to encounter it again in its full orchestral dress, glinting and gossamer-light, in a performance that confirmed both the sense of loss at such a talent cruelly cut short and the desire to celebrate (as the programme note enjoined us) her remarkable musical achievements in such a short life.
The Royal Albert Hall was packed to the rafters, and there was a long queue for returns; the main reason being the presence on the programme of Rachmaninov's 2nd Piano Concerto. The popular Benjamin Grosvenor had been slated to make his second Prom appearance this season as soloist: his indisposition gave the 25-year-old Kazakhstani pianist Alim Beisembayev, winner of the Leeds International Piano Competition in 2021, just two days to prepare and rehearse this performance. He cut a modest and unassuming figure as he came on to play and it was soon apparent that his was to be a performance that preferred poetic sensibility to leonine firepower.
Knowing the story of this work's genesis in the wake of disaster and breakdown (and, perhaps, remembering the recent Prom performance of Rachmaninov's later choral symphony The Bells), it is hard not to hear the opening crescendo of tolling piano chords as doom-laden, implacable: the approach of a negative force with which the piano engages and wrestles, and which it finally overcomes. The trouble is (if, indeed, it is a trouble) that Rachmaninov's music is so beautiful that we succumb to it without registering that there is a struggle going on.
The dark sheen on the string tone in the orchestra's opening theme immediately confirmed the thoroughbred quality of the Sinfonia's strings (the violas, in particular, shone throughout the evening); and the clarity of Beisembayev's fingerwork was matched by the pellucid playing of the woodwinds. The horn solo introducing the gently aspiring second theme was sensitively (though not quite impeccably) played. Beisembayev's playing had a spontaneous, natural, almost improvisatory quality that suggested that he was discovering the music for the first time and was allowing us to do the same. Nothing was forced, and we never got bogged down in Romantic over-expression. The second movement was given wings, kept light and airy; there was magic in those hushed chords edged with the lightest of cymbal touches. In the finale Beisembayev scaled up his playing to meet the movement's more heroic demands; strings and horns soared aloft; and so to the close, full of fire and feeling, and a rapturous and well-earned reception. The orchestral players, rather movingly, were every bit as enthusiastic as the Prommers.
Of course Beisembayev had to give us an encore. He played the piano transcription of Stravinsky's 'Infernal Dance' from The Firebird with breathtaking virtuosity and athleticism: we were duly impressed, though it was not those qualities that had endeared him to us. And then he left, as modestly as he had arrived.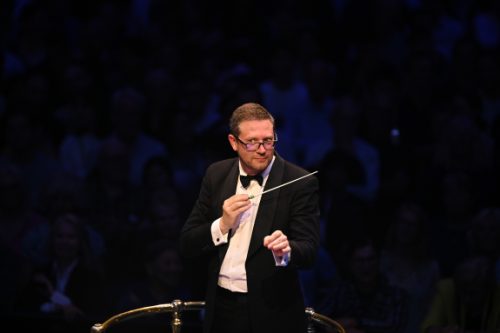 After the interval, an electrifying account of Walton's First Symphony, its accents sharpened, its sinews laid bare. Those baleful horns that drive the first movement to its bitter climax reminded me of a performance around Walton's 75th birthday in which Colin Davis doubled them to eight: an unforgettable sound. In the scherzo – Presto, con malizia – Walton requires the orchestra to spit like a cat; they did, the strings as venomously as the winds. Every player, it seemed, was equal to the extreme demands of rhythmic accuracy that Walton places on them. The wounded lyricism of the flute (Adam Walker) that opens the Andante con malincolia (and, brokenly, ends it) almost rivalled the solo in the finale of Mahler's Tenth Symphony; and the strings exposed all the music's passion and pain.
It is remarkable to me that in these three movements Walton uses a smaller orchestra than Elgar in his symphonies: no larger – give or take a trumpet or tuba – than Brahms, Tchaikovsky or Sibelius. The sounds he conjures from these relatively modest forces is extraordinary. In the finale, of course, he adds a second timpanist and percussion, to titanic effect: the timpanists (Antoine Bedewi and Matthew Hardy) saw to it that the symphony's eventual triumph was as theatrical as it was musical. Before that, there was much to admire: notably the violas again, incisive and light on their feet, launching that leaping fugue. Troubling questions about the effectiveness of this finale were submerged in the sheer brilliance of it all. If Wilson and his orchestra were to record the symphony, we might finally have a version to rival Andre Previn's classic account with the London Symphony Orchestra over half a century ago.
This was quite a performance: a perfect marriage of conductor, orchestra and work. There was more – Gershwin's Prelude No.2 (Andante con moto) – which I missed, having to dash for a train; but I am already looking forward to hearing them performing again.
Chris Kettle