United States Blossom Festival 2023 [3]: Simone Lamsma (violin), Cleveland Orchestra / Fabien Gabel (conductor). Blossom Music Center, Cuyahoga Falls, Ohio, 26.8.2023. (MSJ)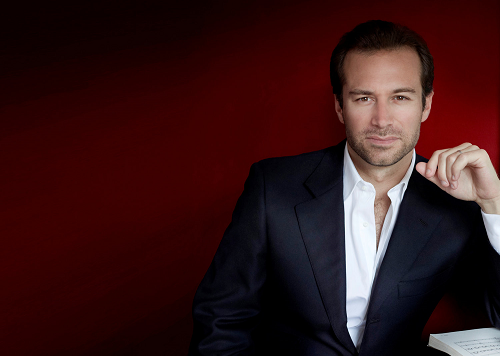 Ravel – Alborado del gracioso; Suite No.2 from Daphnis et Chloé
Saint-Saëns – Violin Concerto No.3 in B minor
de Falla – Suite from The Three-Cornered Hat
While this concert may have lacked new or unproven works, it was still a perfect example of a delightful summer program. The emphasis was on light and color, the darkest thing on the program being the sinister undercurrents of Ravel's Alborado.
Conductor Fabien Gabel returned to the Blossom Festival with a program similarly sculpted to his trademark French repertory. He certainly displayed his assurance and flair with these works, making sure that the dark shadows and brittle humor of the Alborado – depicting a jester's morning song – were as viscerally compelling as they were entertaining. The principal bassoon's solo embodiment of the jester was the perfect blend of grotesquerie and longing.
The evening also closed with Ravel and an intoxicating performance of the second suite from Daphnis et Chloé. I have gone on record as a skeptic about the complete ballet: the perfumed sensuality of the daybreak scene is gorgeous, but the complete ballet offers way too much amorphous perfume.
Thus, I love this suite which gives us a taste of bewitching bedazzlement, then moves on to other material. Gabel shaped it beautifully, and the acoustics of the Blossom Pavilion made the Cleveland Orchestra's winds sound like enchanted beings. Perhaps in that acoustic, I might even be able to enjoy the whole ballet!
Another ballet suite came from Manuel de Falla's The Three-Cornered Hat. Gabel's shaping of this highly colorful music was skillful and vivid. The orchestra's wind soloists were in stellar form, and the performance was an unqualified success.
Part of what was so effective in the Ravel and de Falla works was Gabel's attention to crisp shaping and punching out of important details. Likewise, this approach kept the soft-grained orchestration of Saint-Saëns' Violin Concerto No.3 energized and aerated. Soloist Simone Lamsma brought a vigorous attack, countered with an almost sweetly operatic lyricism in the score's many quiet parts. The quiet parts predominate, for I suspect the composer started with the intention to write a moody, romantic concerto, and was just not that sincerely committed to the stormy music.
Lamsma gave suitable vigor to the dramatic opening, but her focus was on the lyrical parts, making the concerto speak more than in the many performances that try to pretend it is a work of tortured depths. It isn't, and Lamsma's lyrical playing did it greater justice.
The concert was a highly successful return to the Cleveland Orchestra for Fabien Gabel. It would be interesting at this juncture to hear him in a concert of less colorful, more thoughtful music, and to see how far his assured range extends.
Mark Sebastian Jordan