Austria Salzburg Festival 2023 [9] – Martinů, The Greek Passion: Soloists, Concert Association of the Vienna State Opera Chorus, Salzburg Festival and Theatre Children's Choir, Angelika Prokopp Summer Academy of the Vienna Philharmonic, Vienna Philharmonic Orchestra / Maxime Pascal (conductor). Felsenreitschule, Salzburg, 22.8.2023. (MB)
Salzburg's new production of Bohuslav Martinů's opera The Greek Passion has much going for it, but, alas, one major thing against, at least for me. The latter I shall come to but let us first consider the positives. The theme of the opera and Nikos Kazantzakis's novel from which it is adopted could not be timelier. A tragedy in which refugees are rejected by a stern, unbending, mendaciously 'Christian' society, shown for what it is by the ostracism and death of one of its own for showing proper Christian charity, has a multiplicity of resonances today. It surely follows well in the wake of Nono's Intolleranza, which Covid had me miss.
Performances were generally very good, often excellent. Maxime Pascal, known primarily for more overtly modernist music, a complete cycle of Stockhausen's LICHT underway with his ensemble Le Balcon, could hardly have offered more committed advocacy at the helm of the Vienna Philharmonic. A wild, often bewildering, variety of musical styles was vividly characterised. Playing was sharp, warm, weighty, delicate, and so much more, as required. Choruses were equally impressive, hymnal and more violent confrontation of two great masses of human beings brought to equally vivid aural life.
Sebastian Kohlhepp gave a powerful, vulnerable portrayal of Manolios, the shepherd given the role of Christ in the village Passion play and ultimately murdered for taking Christ at His word. Gábor Bretz made for an implacable priestly foe as Grigoris, whose social rigidity and machinations set the tragedy in motion. Charles Workman as the compassionate pedlar Yannakos, Łukasz Goliński as Fotis, the priest at the head of the refugees, Christina Gansch as Lenio, who transfers her affections from Manolios, and Sara Jakubiak as the other object of his affections, preparing to play the role of Mary Magdalene, all impressed in detailed interpretations, well sung and acted. So did others in smaller roles, of which there are a good few.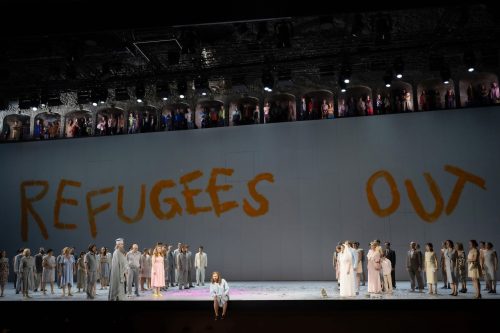 Simon Stone's production did its job well enough too, perhaps at its best in using the great space of the Felsenreitschule stage to show the two communities at odds. Painting a wall with the words 'REFUGEES OUT' is not subtle, but subtlety is hardly what is called for here. The appearance of live animals, a donkey and goat included, onstage brought back unwelcome thoughts of Francesca Zambello's School of Zeffirelli Carmen. It seemed to entertain the audience, especially when the donkey refused to budge, but what it offered beyond that, I really do not know. I wondered whether more might have been done to help the innocent viewer understand who was who on a more detailed, personal level, but responsibility for that really lay elsewhere.
That brings me, alas, to the real culprit for me: the work itself. This is the second, 1961 version of the work, written after rejection by the Royal Opera. According to Michael Beckerman's programme note, the first 'is considered more experimental, is perhaps more conventionally dramatic, and has much more spoken dialogue.' For the first two of those criteria, I cannot help but wish we had heard the first, for what we saw and heard was anything but ground-breaking and, far more important, lacking in the basic dramatic tools to which it seemed to aspire. There is nothing discernible in the way of musical characterisation, making Beckerman's hyperbolic claim 'Martinů had much in common with Mozart' especially unfortunate. (I could probably suggest points I have in common with Dame Joan Collins, but that would not make me a natural Alexis.) There is little in the way of musical continuity, and the libretto, Martinů's own, is at times shockingly bad. I had to check that it was not a ham-fisted English National Opera translation. I sympathise as I could not write a libretto in, say, German; I doubt I could write one in English. But the composer's word-setting is also un-idiomatic. And to be fair, I do not try to write operas. I do not think it would be helpful to go into great detail and should note this was one of the most enthusiastic receptions I encountered at this year's Festival. Mine was a minority view, though shared still more vehemently by my companion.
I had assumed the spoken scenes were Stone's, it seeming unlikely Martinů would have used, for instance, the word 'donkeyfucker', for instance. Whoever wrote them, they added nothing to what we knew already, coming across mostly as an attempt to sound 'edgy'. Alas, everything seemed at best caught between largely incomparable stools. To do something for refugees is, of course, admirable and necessary. Despite the obvious objections, that can include artistic endeavour, indeed arguably must. Intolleranza is a case in point. It would need, though, to be more convincing than this. In the meantime, donation to a refugee centre would be a better way forward.
Mark Berry
Production:
Director – Simon Stone
Set designs – Lizzie Clachan
Costumes – Mel Page
Lighting – Nick Schlieper
Dramaturgy – Christian Arseni
Chorus director – Huw Rhys James
Choir director – Wolfgang Götz
Cast:
Grigoris – Gábor Bretz
Manolios – Sebastian Kohlhepp
Katerina – Sara Jakubiak
Yannakos – Charles Workman
Lenio – Christina Gansch
Andonis – Matteo Ivan Rašić
Michelis – Matthäus Schmidlechner
Kostandis- Alejandro Baliñas Vietes
Panais – Julian Hubbard
Nikolio- Aljoscha Lennert
Old Woman – Helena Resker
The Patriarcheas – Luke Stoker
Ladas – Robert Dölle
Fotis – Łukasz Goliński
Old Man – Scott Wilde
Despinio – Teona Todua