United Kingdom Prom 21 – Skye, Copland, Adams: Annelien Van Wauwe (clarinet), BBC National Chorus of Wales, Crouch End Festival Chorus, BBC National Orchestra of Wales / Ryan Bancroft (conductor). Royal Albert Hall, London, 31.7.2023. (CK)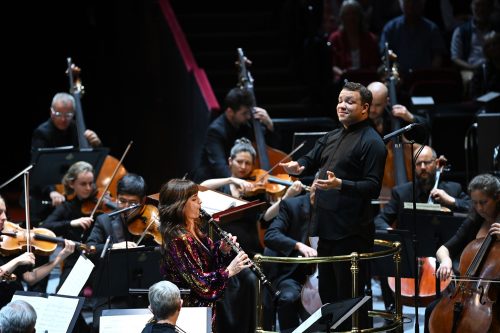 Derrick Skye – Nova Plexus (world premiere)
Copland – Clarinet Concerto
Adams – Harmonium
Ryan Bancroft and the BBC National Orchestra of Wales (plus their Chorus) brought an all-American programme to the Proms last Monday: and an enterprising one at that. First up was a world premiere – Nova Plexus by Bancroft's fellow-Californian Derrick Skye (friends since their schooldays, said the man sitting next to me, who turned out to be Skye's father).
Skye's programme note listed a dizzying range of techniques and influences: microtones, polyrhythms, West African drumming, Indian classical music, Balinese gamelan, a Persian tuning system, and more. The orchestra is large, with extensive percussion, and an electronic trio (synthesiser, bass, guitar) sending out solar emissions for the rest of the orchestra to react to. So: how did it all sound?
Surprisingly beguiling: the mesh of intricate, overlapping sounds and rhythms coalesced into something euphonious and predominantly gentle, its surface light and dancing. Shapely, too: with pools of quiet, where a basking solo cello, and later a flute and a cor anglais had their moment in the sun. Plenty to catch the eye and ear (double basses slapping the woodwork) and a spectacular finish: but a very busy 22 minutes for the orchestra provided continual enchantment rather than occasional excitement. I am more than happy with that.
Copland's Clarinet Concerto provided a palate-cleansing touch of astringency (and a well-earned break for most of the orchestra). it was given a feisty and characterful performance by the young Belgian clarinettist Annelien Van Wauwe, resplendent in a shimmering topcoat. I liked the opening movement's simple gifts of gentle melancholy better than the second movement's mash-up of Copland/classical and Benny Goodman/jazz: but in the brilliant cadenza at the work's centre Van Wauwe certainly earned the enthusiasm – bordering on adulation – of the audience and, indeed, the orchestra.
John Adams must be one of the wittiest, most articulate and intelligent composers around: so much so that I sometimes find what he writes about his music more interesting than the music itself. I have still not worked out what is going on in his breakthrough choral blockbuster Harmonium – in particular, where he is with the relationship between words, music and himself, and the alchemy that arises from the combination of the three. He chooses a (rightly) obscure John Donne poem – applying, in one of his less successful conceits, a theological idea (approaching a definition of God by eliminating what he isn't) to Love; and he describes his setting as 'a vector pointing heavenwards'. Why choose mediocre and difficult Donne? (I think I hear his riposte: Why not?).
With Emily Dickinson we are on safer ground: it is easy to be borne along on the current of Adams's settings of her most famous poem and her most openly erotic one. And the music is prime Adams. Michael Steinberg has described a group of his pieces – including this one – as 'full of surprises, always enchanting in the glow and gleam of their sonority and bursting with the energy generated by their harmonic movement.' I can't do better than that. And perhaps it is the oceanic ebb and flow of the music that matters more than the detail, its tectonic plates rather than its teeming surface.
The piece was given a barnstorming performance by Bancroft, the BBC National Orchestra and Chorus of Wales, and the Crouch End Festival Chorus (a choral body of well over 200). The Royal Albert Hall is not an easy place to coordinate large forces in a work that requires pinpoint rhythmic accuracy throughout: conductor, players and singers achieved this triumphantly.
This concert must have posed a huge challenge for the orchestra in particular. Skye's father told me it had taken them three days to learn to play Nova Plexus. That they did so is a triumph in itself; and with the always-demanding Adams on top of that, they certainly earned the right to play Tchaikovsky 5 the following night.
Chris Kettle