Austria Salzburg Festival [6] – Mozart, Le nozze di Figaro: Soloists, Concert Association of the Vienna State Opera, Vienna Philharmonic Orchestra / Raphaël Pichon (conductor). Grosses Festspielhaus, Salzburg, 20.8.2023. (MB)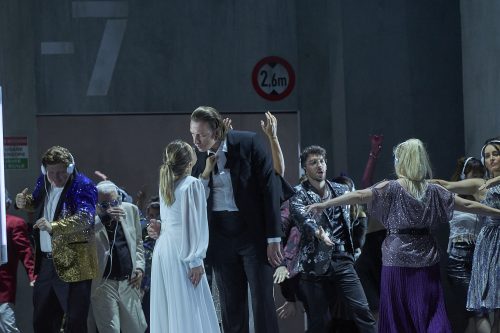 Production:
Director – Martin Kušej
Set designs – Raimund Orfeo Voigt
Costumes – Alan Hranitelj
Lighting – Friedrich Rom
Sound design – Max Pappenheim
Dramaturgy – Olaf A. Schmitt
Cast:
Count Almaviva – Andrè Schuen
Countess Almaviva – Adriana González
Susanna – Sabine Devieilhe
Figaro – Krzysztof Bączyk
Cherubino – Lea Desandre
Marcellina – Kristina Hammarström
Bartolo – Peter Kálmán
Basilio – Manuel Günther
Don Curzio – Andrew Morstein
Barbarina – Serafina Starke
Antonio – Rafał Pawnuk
Martin Kušej's new Le nozze di Figaro is my third in Salzburg, after Luc Bondy (my very first visit and my very first Figaro in the theatre) and Claus Guth. (I did not see Sven-Erik Bechtolf.) My hopes were high. Kušej is, of course, an eminent director, a key figure in Austrian theatre, with an estimable track record in opera in general and Mozart in particular. His Don Giovanni and La clemenza di Tito for Salzburg I only know from DVD, but both make compelling and, in the best sense, provocative dramas; his Idomeneo for Covent Garden was predictably misunderstood by most, yet also proved a thoughtful, urgent piece of theatre.
Were hopes, even expectations, then fulfilled? In part; or, if you prefer, with reservations. The first two acts seemed to me stronger than the latter two. During the overture, we briefly meet the characters for the act-to-come, many preparing with a narcotic of choice. Notably, the Count – or plain Almaviva, as surtitles suggest we should know him in this contemporary setting – has no need of them, a drug perhaps to himself and others, at least the leader of a pack one would not be entirely surprised to discover dispensing as well as consuming. In a welcome change from the tiresome camp-fest to which we have latterly become accustomed, without textual warrant, for Basilio, here the singing-teacher is a sinister priest, or at least a dog-collared figure; on harder stuff than most; thoroughly in control; and with a gun, one of many in this production, concealed in his guitar-case. Dr Bartolo is a distinctly sinister figure too, cigar ever in hand, gun often so, filming what he can with Marcellina. This gangland crew may be met properly in and around Don Curzio's bar (also a third-act venue), passing through, never at home, in need of something they rarely if ever get and which is certainly not the usual.
The lack of evident distinction of rank and social order, so crucial to Da Ponte and to Mozart, offers certain dramatic opportunity. Characters need to be drawn, indeed somewhat redrawn, all the more sharply, something Kušej largely accomplishes. There is, though, as ever loss — and I hope I do not say this as an operatic reactionary. Quite apart from the compromise to intricate delights, meaning, and trajectory, there remain loose ends or at least puzzling aspects. We should probably not make too much of the obvious question – if he is plain Almaviva, why is she not simply Rosina? – but Figaro's role, as well as the Countess's, is diminished. We can fill in some things for ourselves; he would doubtless challenge the Count more openly if he could, but the latter's charismatic advantage is a different matter from manorial justice. And the reunion of Figaro with his parents neither rings true nor has anything much in the way of meaning. I am sure one could, moreover, argue that the Countess is liberated by being shown to be just as bad as the rest of them; perhaps she is. It does not feel like it, though, whatever the erotic suggestion of a potential three-way between her, Cherubino, and Susanna. Her forgiveness is unconvincing and, again, divested of much of its meaning and indeed purpose. Figaro is far from impossible to reinvent; ask Claus Guth, whose Strindbergian reading remains a turning-point. This has many good points, not least the anomie of Kušej's places of transition; it is a serious piece of theatre, such as one would (sadly) be unlikely to encounter in this work in Britain. But it has problems (for me) too. The odd pampas-grass setting for the fourth act raises questions a touch carelessly rather than fruitfully.
In my experience, one often – this is just a tendency, not a rule – encounters either an outstanding pair of baritones or sopranos. (Figaro was first sung by a bass, but that is rarely the case today.) This was different, perhaps in part a reflection of Kušej's priorities, yet clearly a matter of strength of performance too. The electricity between Andrè Schuen's Count and Sabine Devieilhe's Susanna is palpable throughout. The latter wins, of course, partly because she recognises the purely transactional nature of the 'real', non-feudal master. He can pay a woman for services rendered, including dressing him – haughtily, contemptuously impassive – afterwards, but there are limits, not only ontological and social, but also of his personal making. Schuen's third-act aria as staged by Kušej proved a masterclass in more than one sense. But so did Susanna's quickness of mind, as transmuted into words, music, and gesture throughout. By their side, Krzysztof Bączyk's Figaro, admirable in many ways, seemed a little too bluff. Adriana González sang 'Dove sono' beautifully, but 'Porgi amor' was at times unfortunate, González incapable of sustaining the opening line. Lea Desandre made, once more, for a characterful, animated Cherubino. Especially worthy of mention otherwise were Serafina Starke's finely sung (and acted) Barbarina and Manuel Günther's newly interesting Basilio.
Behind, or rather below, them were Raphaël Pichon and a Vienna Philharmonic on very good form. It must be a little nerve-wracking to even the most confident of conductors to approach this work with this orchestra, but the chemistry seemed genuine, and Pichon, thank God, made no apparent effort to make the Viennese sound other than they will. (It would never work, so why try?) Pichon is clearly attentive to words as well as music, and has evidently encouraged his cast in that respect too. Tempi were mostly well chosen, with none of the fashionable hectic quality that mistakes Mozart for Rossini. There were some post-Harnoncourt allargandi, yet with better dramatic justification and greater flexibility. This was a highly creditable main-stage debut.
The fashion for hyperactive continuo playing continues apace. Pedro Beriso was no exception, but unusually, his playing often fulfilled a role more dramatically important than shouting 'look at me'. Given the particular requirements of Kušej's production, Beriso was often called on to provide connecting music, Mozart's or Mozartian, not unlike an organist during a service. Use of Mozart's extraordinary, almost dodecaphonic G-major Gigue, KV 574, as a dividing piece between scenes was a lovely surprise. In its toying mix of the familiar and unfamiliar, as well as thought-through if, in some quarters, controversial liberty with Mozart and Da Ponte's text, it offered a sample of as well as a metaphor for the whole.
Mark Berry