United Kingdom Prom 49 – R. Schumann, Das Paradies und die Peri: Soloists, London Symphony Chorus, London Symphony Orchestra / Sir Simon Rattle (conductor). Royal Albert Hall, London 22.8.2023. (CK)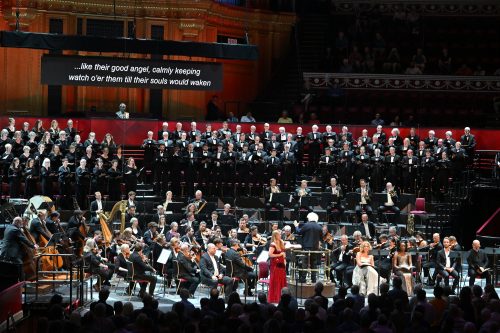 Peri – Lucy Crowe
Young Girl – Jeanine De Bique
Angel – Magdalena Kožená
Narrator – Andrew Staples
Young Man – Linard Vrielink
Gazna/Man – Florian Boesch
In a Symposium on Schumann published 70 years ago John Horton, after damning this work with faint praise, conceded that 'it should be given at least an occasional "token" performance'.
Well, there was nothing 'token' about this performance, its Proms premiere masterminded by Sir Simon Rattle. He clearly loves the piece: and a hearteningly large audience showed that thousands – few of whom can have heard of it, let alone heard it – were prepared to trust his judgement. There was an expectant buzz in the Royal Albert Hall. Some, indeed, may have shared my initial disappointment that the words of Thomas Moore's poem Lalla Rookh that Robert Schumann chose to set in German translation were not printed in the programme book: but the surtitles soon made it clear that the decision to save paper was the right one (sample: Peri, is it really true/That thou dost long for heaven's blue?).
The music is a different matter. The sinuously beautiful string lines at the very opening suggest that despite the exoticism in the score – which cast a stronger spell for contemporary audiences than it does for us – it is Schumann's lyricism that counts. Lucy Crowe made an immediate impression with the radiance of her singing as the Peri, full of human feeling (despite her semi-supernatural ancestry). So too did the chorus, entering the fray with thrilling attack (and a notably strong tenor section). Schumann's battle music brought hints of Berlioz (he had heard the Requiem), and even a foretaste of that later three-part cantata, Mahler's youthful Das klagende Lied. Florian Boesch (baritone) impressed with his powerful singing as Gazna in Part One; and Jeanine De Bique (soprano) was moving as the Young Girl, soothing her lover's brow in Part Two.
Schumann's orchestral commentary – impassioned strings, plangent woodwind – flowed seamlessly: in place of traditional recitative, marked off from the arias with a dominant-tonic chunk-chunk, the Narrator's fluid arioso (finely sung by Andrew Staples) was absorbed into the music's mainstream. But it was the warmth of Magdalena Kožená's singing as the Angel that bound the first two parts together (was Elgar aware of Schumann's Angel, I wonder, when writing The Dream of Gerontius?). Crowe's poignantly beautiful singing – hoping that this time the gates of Eden will swing open for her – left us aptly poised for the interval: the celestial decision is delayed, so that Part Two follows Part One in ending on a mild cliffhanger.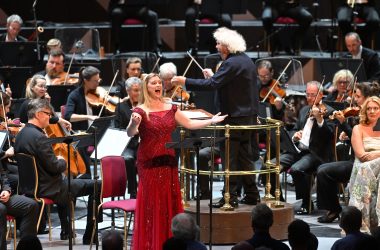 Part Three: after a decorously tripping Houris' Chorus (with delightful woodwind accompaniment), Lucy Crowe's Peri moved centre-stage, and we found ourselves immersed in a genuine drama (as long as you ignored the words – 'The bar of Eden moves not' stirred thoughts of being stuck at a level crossing). Harrowing in her wretchedness at her second failure, she picks herself up for a final attempt with ringing determination; and the music moves into deeper waters. A gravely beautiful woodwind chorale beneath the sinner's confession; an affecting chorus joined by four of the soloists; a moving passage begun by clarinets and double basses; flutes, cellos, hints of Wagner – and a pin-drop silence from us, the audience. At last the gates open and the Peri's voice soars (it was rather touching to see Kožená and De Bique smiling at Crowe supportively as she went for it): and all the forces come together for a rousing conclusion.
'The listener can enjoy Schumann's earthly travels with the Peri', concluded the Schumann expert Joan Chissell, 'but he will not quite get to Paradise'. Yes, the ending is conventional, and much of the choral writing has nowhere to go; but musically, in the finest stretches of the third part, I think Sir Simon and his forces – pre-eminently Lucy Crowe – got us there. The audience's reception certainly suggested that this was the case.
Chris Kettle