United Kingdom Prom 56 – Poulenc, Mahler: BBC Singers (chorus master: Sofi Jeannin), London Symphony Orchestra / Sir Simon Rattle (conductor), Royal Albert Hall, London, 27.8.2023. (JR)
Poulenc – Figure humaine
Mahler – Symphony No.9
A long queue had formed at the evening box office of the Royal Albert Hall for this stand out BBC Prom concert and most punters had to be sadly disappointed; there was only one ticket left, and that was at top price. This was Sir Simon Rattle's farewell to the UK as music director of the London Symphony Orchestra. So it was appropriate that he chose two extraordinary works for the occasion, no showstoppers or crowd-pleasers for him: an intimate choral masterwork by Poulenc and a farewell-to-life symphony by Mahler.
In the first 'half' we were treated to what some regard as a highlight of Poulenc's musical output, certainly as far as the unaccompanied human voice is concerned. His Figure humaine (The Face of Humanity) is typically eclectic. Poulenc wrote this twenty-minute work in 1943 during the dark days of the Nazi occupation of France, setting to music texts by French Resistance poet Paul Éluard, encapsulating the struggle of an oppressed nation as a defiant hymn to victory over tyranny. The final part entitled Liberté was printed en masse and British aircraft dropped thousands of copies over occupied France in support of the Resistance. It was heartwarming to see, and of course hear, the so nearly extinct BBC Singers. They came on to stage to huge cheers. They had sung this work at its very first performance, in London, in 1945. These handpicked top singers excelled in this difficult piece, with perfect intonation and crisp and intelligible French diction throughout, bringing life and meaning to the words. The work is set for two SATB choirs; there were sixteen singers, even though Poulenc had a much larger choir in mind when he composed the piece. Poulenc's mastery was felt in the juxtaposition of the more sombre, jarring melodies and slower tempi with lighter, jauntier, even rollicking pieces, such as Le menace sous le ciel rouge full of motoric energy – the pièce de résistance, however, or should I say the pièce pour la Résistance, was undoubtedly the final song, Liberté. Twenty times the poet says he has written a particular word in a variety of places, until finally revealing the actual word, 'Liberté', sung to a thrilling top E6 by two of the sopranos.  
After the interval and a hastily completely re-arranged stage, Sir Simon guided us masterfully through the intricacies of Mahler's final (completed) symphony. Mahler had lost his oldest daughter to scarlet fever, his marriage to the much younger Alma was on the rocks, he had been diagnosed with a serious and incurable heart condition (which killed him a year later) and his reign as artistic director of the Vienna Court Opera had been brought to an intrigue-ridden end. No surprise then that his last symphony is not full of fun but of regret and sadness.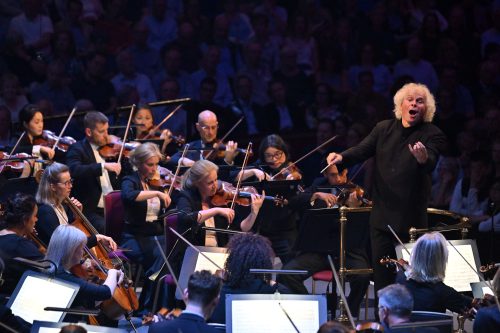 Eschewing a score, as is his style, Sir Simon did not hold back on discordances, with shrieking woodwind to the fore to heighten the anxiety. The lengthy first movement opened extremely quietly, setting the sombre scene with its irregular heartbeat; the serene ending left the audience dumb-struck. The flawless playing of the LSO (lush strings, rich brass, incisive woodwind) saw to that; I highlight the faultless and magnificent playing by Timothy Jones, principal horn, but the whole orchestra played their marvellous part in this overwhelming performance, full of great subtlety – responding to their outgoing boss's every gesture, this was the most apt way for them to say goodbye to him.
The inner movements were tours de force for both orchestra and conductor, the mellow viola of Jane Atkins caught my ear. At the end of this behemoth of a work, the music simply dissolves into thin air. The audience then played its part by doing Sir Simon the greatest honour – making no sound to disturb the moving close to the work. Had they all, awestruck, stopped breathing? No: after what seemed an eternity after the final note, the audience erupted into thunderous applause, for the sublime playing of the orchestra, for the magnificence of the work but chiefly for Sir Simon, to whom those who had been seated gave a standing ovation. He becomes Conductor Emeritus of the orchestra and we can but hope for his return in the not-too-distant future. This was, ultimately therefore, an evening rather tinged with sadness: of course, we wish Sir Simon well in Munich. Meanwhile, it has to be 'farewell' or as Mahler wrote in the original score 'Leb' wohl!'
John Rhodes