United States 2023 Tanglewood [7] – John Williams, Richard Strauss, Ravel: Anne-Sophie Mutter (violin), Boston Symphony Orchestra / Andris Nelsons (conductor). Koussevitzky Music Shed, Lenox, 11.8.2023. (CSa)
John Williams – Violin Concerto No.2
Richard Strauss – Death and Transfiguration, Op.24
Ravel – La Valse
Composers have been known to dedicate instrumental works to individual instrumentalists, or occasionally write a concerto with a particular soloist in mind. It is comparatively rare, though, to encounter a made-to-measure work in which each movement is specifically tailored to the strengths of an individual musician. John Williams's Violin Concerto No.2, completed in 2021 with the words 'Especially for Anne-Sophie Mutter' enshrined in the title of the piece, is a case in point. Williams and Mutter, one of the world's greatest violinists, have collaborated closely for many years and enjoy a close professional friendship. 'I can only think of this piece as being about Anne-Sophie Mutter and the violin itself … I took my inspiration and energy directly from this great artist herself' writes Williams in his explanatory note. The instrument in question is the Lord Dunn-Raven Stradivarius of 1710 which Williams refers to as 'the unsurpassed product of the luthier's art'. The concerto is divided into four movements. After a short introduction, the Prologue moves forward with a fast-paced 'quasi-improvisation'. Williams was responding to Mutter's 'very evident affinity for this idiom … and her flair for an infectious rhythmic swagger that is particularly her own'. The movement is hard-edged and abstract, punctuated by occasional melodies. These are shared with a harp, centrally located in the front row of the orchestra, and played with great delicacy by Emily Levin. The second movement subtitled Rounds explores a shimmering, rippling Debussy-like soundworld, although the composer claims to have been influenced by the jazz composer Claude Thornhill rather than Claude Debussy. A third syncopated movement abstrusely called Dactyls (which, according to Wikipedia, is a form of poetic meter in which one long syllable is followed by two short ones) featured some unlikely but snazzy instrumental exchanges such as a conversation between violin, timpani and harp. Violin and harp combine again in the final movement Epilogue which, according to Williams, 'might suggest healing and renewal'.
Mutter's playing certainly met the composer's expectations. She brought humour, grace and breathtaking virtuosity to the work's technical demands, and produced a deliciously mellow tone from her Strad. What of the concerto itself? Williams concedes that its meaning must reside in 'the ear of the beholder'. The influence of a number of twentieth-century composers – Schoenberg, Shostakovich and André Previn – could all be discerned in the Williams mix but, at least to this beholder, the rhythms and melodies did not engage the emotions, and albeit on a first hearing, made little immediate impact. Entertaining enough, but less impressive, and certainly less memorable than the extraordinary performance by Williams's chosen soloist. Nonetheless, for the many Williams fans in the audience, there were two encores conducted by the composer: 'Hedwig's Theme' from Harry Potter and 'Helena's Theme' from Indiana Jones and the Dial of Destiny.
The concert's second half featured two large-scale orchestral tone poems written less than 30 years apart. Both are wistful depictions of transience and loss. Richard Strauss's Death and Transfiguration (Töd und Verklärung) chronicles the thoughts, memories and sensations of the dying artist in the last hour of life. Like Elgar's Dream of Gerontius, Strauss does not simply ask what is the meaning of life, but what happens to us after death? Ravel's La Valse mourns death of a different kind: the passing of the old order of the Hapsburg Empire, its subjects dancing mindlessly towards the horrors of the First World War.
Poise and balance are key to any interpretation of Strauss's opulent work, and under careful direction of Andris Nelsons, the contributions from each orchestral section were perfectly weighted. The string playing was notable for its lush richness of tone, and the contribution from brass and woodwind, warm and well measured.
Ravel's frenzied waltz presents an orchestra with highly complex rhythmic intricacies and difficulties in phrasing and modulation. A successful performance depends on tight control if the wildness in the music is to be liberated – a feat which Nelsons, with a little help from his top-class players, achieved with élan. The haunting opening bars were bathed in a soft glow, and instrumental contrasts beautifully judged as the piece built up to its frantic, hysterical conclusion.
2023 Tanglewood [8] – Mozart, Bartók: Seong-Jin Cho (piano). Boston Symphony Orchestra / Susanna Mälkki (conductor). Koussevitzky Music Shed, Lenox, 12.8.2023.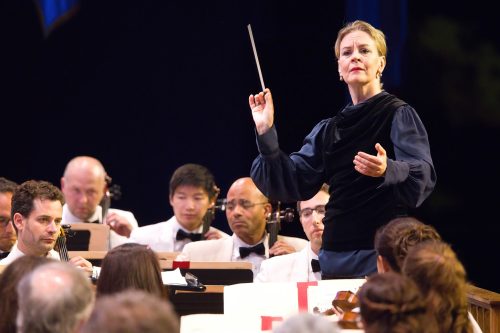 Mozart – Piano Concerto No.9 in E-flat, K.271
Bartók – Concerto for Orchestra
After the anguish of Strauss's Death and Transfiguration and chaos of Ravel's La Valse the previous night, it was comforting to return to the more ordered and emollient world of early Mozart, and a fine performance of his piano concerto No.9 in E-flat K.271 by the accomplished Seong-Jin Cho, and the Boston Symphony Orchestra under the Finnish conductor Susanna Mälkki. It included cadenzas in all three movements written by Mozart himself. Completed in 1777, when Mozart was only 21 years old, the concerto's nickname, the 'Jeunehomme', derives not from the composer and his comparative youth at the time of writing, but from the French touring pianist for whom Mozart wrote this work, and with whom he was most likely infatuated: Mlle Victoire Jenamy, known professionally as 'Mlle Jeunnehomme'.
Seong-Jin Cho, who in 2015 won first prize at the Chopin International Competition in Warsaw, has developed into a formidable Mozartian. Now 29 years old, his glittering bravura technique is lightly masked by an air of modesty. Sensitively accompanied by the BSO, authentically reduced in size, he brought poise and elegance to the first movement Allegro, and to the gorgeous second movement Andantino, an understated yet heartfelt tenderness. The finale – a sweeping, trilling Presto – was executed with passion and precision, triggering a call for an encore, even before the last thrilling notes had died away. Cho obliged with an understated but poignant account of Chopin's Nocturne in E-flat.
The second half of the concert featured one work – Bartók's Concerto for Orchestra. Commissioned by Serge Koussevitzky for the BSO in 1943, when the composer was terminally ill, this iconic work covers familiar ground for the players. Although it regularly features on Tanglewood programmes, its compositional brilliance and dazzling originality never fail to impress and delight. In the Introduzione, Mälkki drew vibrant colour from strings and woodwind, and propelled the growing momentum within the funereal first movement with increasing intensity. Artful exchanges between woods and muted trumpets, combining in pairs, distinguished the second movement, while the nocturnal, shimmering world of the third movement, punctuated by violent outbursts from the full orchestra, were dramatically realised. Bartók's playful Intermezzo, a tongue-in-cheek Shostakovich pastiche brought chuckles from the audience, and Mälkki's reading of the final movement Presto burst with energy and excitement.
2023 Tanglewood [9] – Julia Adolphe, Richard Strauss, Stravinsky: Renée Fleming (soprano), Boston Symphony Orchestra / Andris Nelsons (conductor). Koussevitzky Music Shed, Lenox, 13.8.2023.
Julia Adolphe – Makeshift Castle
R. Strauss – Songs with Orchestra: Muttertändelei, Op.43, No.2; Wiegenlied, Op.41, No.1; Waldseligkeit, Op.49, No.1; Ruhe, meine Seele, Op.27. No.1; Zueignung, Op.10, No.1; Morgen, Op.27, No.4
Stravinsky – Petrushka, Burlesque in Four Scenes
There have been very few reported incidents of Covid in the Berkshires over the last year, so it was extremely unlucky that Yo-Yo Ma contracted the illness a few days before he was scheduled to perform Shostakovich's Cello Concerto No.1 with the BSO and Andris Nelsons at last Sunday's afternoon concert. However, the Yo-Yo no-show resulted in a last-minute, compensatory change of programme: a selection of songs by Richard Strauss, and the surprise appearance of soprano Renée Fleming to sing them. A familiar presence at Tanglewood over many seasons, she was greeted with rapturous applause. While her voice may have lost the peachy down texture of earlier years, it is still a gloriously rich and agile instrument. The six orchestrated songs she chose represented Strauss's prodigious outpouring of vocal works over six decades from 1885 to 1948. Her performance included a charming account of Muttertändelei (Mother Chatter) which expresses the joy of a mother cooing over her new-born babe, and her refusal to give the child away 'for all the coins in the world'. Ruhe, meine Seele (Rest, my soul) was written as a wedding present for Strauss's wife Pauline, and Fleming's honeyed tone injected an almost hypnotic quality to the poet's invocations for spiritual peace. Last, and most moving of all came Morgen (Tomorrow), the last of Strauss's Four Last Songs, Op.27 which promised that 'the sun would shine again'.  Fleming sung with lustrous beauty, exquisitely accompanied by solos from the BSO's Associate Concertmaster Alexander Velinzon, and principal harp Jessica Zhou.
Julia Adolphe's Makeshift Castle opened the concert. According to the composer, this work explored 'contrasting states of permanence and ephemerality'. The orchestra skilfully presented every aspect of Adolphe's shifting and disquieting musical landscape, which included a childhood memory of her father crying at the beauty of a sunset, and her grief when he died.
After the interval came a precision-tooled, immaculately articulated performance of Igor Stravinsky's 1947 revision of his 1911 ballet Petrushka, written for Diaghilev's troupe in Paris. In a dramatic contrast to the languorous late-Romanticism of the Strauss songs, the BSO under Nelsons emphasised the hard-edged cubist elements of Stravinsky's early masterpiece. In a colourful and dynamic reading of the score, the musicians recounted the sad fairytale of the little fairground puppets, Petrushka (characterised on the piano, and outstandingly played by Vytas Baksys), a ballerina and a Moor. There was sparkling playing from every section of the orchestra. The final confrontation between the two male puppets, embodied by murmuring strings and shrill woodwind soloists, brought a richly varied musical afternoon to a magical end.
Chris Sallon