United States 2023 Tanglewood [10] – Bruce Liu (piano): Seiji Ozawa Hall, Lenox, 16.8.2023. (CSa)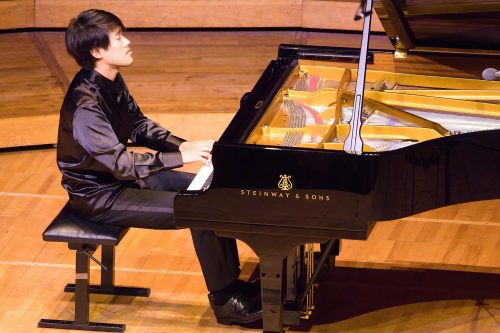 Rameau – Six selected pieces from the suites for harpsichord
Beethoven – Sonata No.21 in C, Op.53 Waldstein
Chopin – Trois Nouvelles Études, Op. posth
Kapustin – Variations, Op.41
There is much to be said for the revival of historically informed performances by instrumentalists which aim to recreate an 'authentic' sound by use of period instruments for which the music was originally composed. Equally, 'a narrowly musicological approach to stylistic reconstruction [can be] both modernist in culture and inauthentic as a living performance', as the philosopher Lydia Goehr writes in The Imaginary Museum of Musical Works. There is certainly much to be gained where a modern instrument is substituted for the one originally intended by the composer, if the music is played with skill, sensitivity and integrity. Such was the case in a recent recital of works by Rameau, Beethoven and Chopin at the Seiji Ozawa Hall by Bruce Liu, the extraordinary young Canadian pianist who won First Prize at the 18th Chopin International Piano Competition in 2021
Having chosen one of 80 Steinway grands from Tanglewood's impressive collection, he opened his recital with six selected pieces from Rameau's suites for harpsichord. Each was written in the 1720s and given a title to describe specific scenes, ideas or emotions. Liu's account of the first piece, Les Tendres Plaintes (Tender complaints) was languid and sensitive in all respects. In contrast, Les Cyclopes (The Cyclopes) was an example of Rameau's work at its most intricate and elaborately ornamented. Such was the elegance and clarity of Liu's technique that he immediately evoked the courtly world of the eighteenth century. These finely nuanced sketches were followed by extracts from Rameau's Suite in G. Liu's rendering of Les Sauvages (The Little Savages) was invested with almost demonic energy while his La Poule' fussed and clucked like a broody hen. Piano playing of such subtlety and dexterity made irrelevant the question of whether the use of a harpsichord would have been more historically correct.
The next item on the programme was Beethoven's Sonata No.21, dedicated to his patron Ferdinand Count von Waldstein, whose name it bears. Liu captured the intricacy and full dramatic impact of the opening Allegro con brio. Taken at an electrifying tempo, he propelled the listener with great surges of energy and gorgeous washes of sound without sacrificing the movement's fine details and overall poetic beauty. The middle movement, which is marked Introduzione and Adagio molto, was imperturbably played, ushering in an interlude of ethereal calm and reflection before an ebullient Rondo brought us joyously back to earth. Would the performance have been enhanced if Liu had decided to use a fortepiano of the period rather than on a contemporary concert grand? He might possibly have elicited a more intimate sound and greater delicacy of texture in the ornamental passages, but the full symphonic heft we have come to expect, and which Liu so brilliantly delivered, would have been absent.
The second half of the recital featured three works: Chopin's Trois Nouvelles Études followed by his Sonata No.2 in B-flat minor, and Variations, Opus 41 by the contemporary Russo/Ukrainian composer, Nikolai Kapustin.
Chopin remains central to Liu's repertoire. His performance of the three Études was as heart-felt as it was assured. The first in F, a study in chromaticism, was dreamy and languorous, and those in A-flat and D-flat, were tender and full of yearning. The Sonata too, was executed with complete command of the keyboard, and a full range of expression. Liu imbued a sense of foreboding in the opening movement and gave us a Scherzo which was tempered yet passionate. He brought nobility to the dark, relentless beats of the Marcia funèbre, and introduced 'a ghostly wind over the grave' as Vladimir Horowitz once described the closing Presto.
The inclusion of Kapustin's Variations, a syncopated homage to the American jazz piano tradition set in a traditional classical form, was an inspired piece on which to end the programme. Designed not merely to lift the mood of the evening, it also showcased another aspect of Liu's remarkable virtuosity. Replicating the silky fluency of a latter-day Art Tatum or Erroll Garner, Liu appeared to  improvise the passages so carefully written into the music. A tour de force and deserving of the standing ovation and demands for more. Liu duly obliged, returning to home base with an exquisitely wrought Chopin Nocturne No.20 in C-sharp minor.
Chris Sallon